Serbia Business Run - A Team Building Event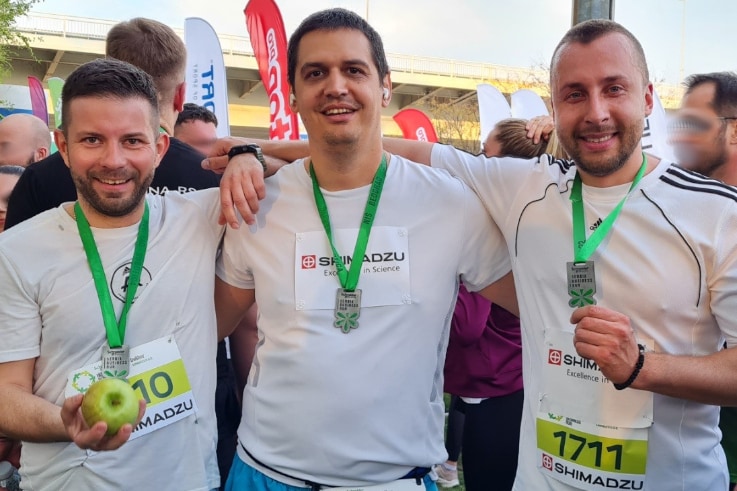 From left to right: Dalibor Tasevski, Dalibor Kišeljovski, and Nenad Milojević
Three employees from the Serbia office of Shimadzu d.o.o. participated in the Serbia Business Run on April 7th in Novi Sad. They were ranked 33rd out of 99 companies!
Serbia Business Run
This event is a series of 5 km races held in four cities in Serbia: Novi Sad (April 7th), Subotica (April 21st), Nis (September 8th), and Belgrade (September 29th). It aims at promoting employees' health, team building and communication with other participants. All employees working at companies or organizations located in Serbia can join in regardless of their position in their company.
After the race, participants enjoyed a dinner party and had a great chance to connect with employees from other companies.
Comment from Participants
The race was great! It was my first racing experience. I did my best to make the result as good as possible and to represent the company in the best way.

(Nenad Milojević)
After experiencing many other races, I ran a short 5 km race for the first time at the Serbia Business Run. It was a very interesting event. There were some people who tried their best to finish the race, and I felt the sports spirit, "it is important to participate". After the race, I joined a social gathering in the open space by the river. I met many colleagues from other companies and enjoyed a concert and fireworks together. I recommend other employees to participate in such events.

(Dalibor Tasevski)
It was a great racing experience. I ran for the first time in an event like this and I would like to continue. The comfortable atmosphere and cordiality of the most beautiful city in Serbia, Novi Sad, made it a wonderful experience!

(Dalibor Kiseljovski)
Page Title and URL Copied.