X-Ray CT Systems Capable of Non-Destructive Observation of the Interior of Objects
Science and technology support our daily lives. The theme of this article is non-destructive testing using X-rays, and you can feel Shimadzu technology closer to you!
As an example, we can see through the internal structure of a disposable diaper three-dimensionally and observe the condition of the water absorbent.
Analyzing Internal Conditions Using X-Rays
Non-destructive testing is a technique used to observe and evaluate internal conditions or defects without damaging the object being inspected. Shimadzu specializes in analytical technology for seeing through and visualizing the interior of objects using X-rays.
There is a wide range of analytical needs for investigating the conditions inside an object. Shimadzu's X-ray non-destructive testing systems are used in various fields including electrical equipment and electronics, automobiles, materials, and food products.
In terms of applications, they are utilized not only for quality control and failure analysis but also for basic research. They are also being used to examine Buddhist statues and other cultural properties.
Shimadzu has extensive experience with X-rays. Back on October 10, 1896, Genzo Shimadzu Junior's research team succeeded in taking an X-ray image . This was 11 months after Dr. Roentgen in Germany first discovered X-rays.
CT Systems Enabling 3D Observations
CT systems, a kind of non-destructive X-ray testing system, can observe the interior of objects in three dimensions from any angle or cross section.
The 3D imaging data obtained from CT systems can be output, converted and read into computer-aided design (CAD) software. In addition, it can be reproduced by modeling with 3D printer software.
In our example of the observation of a disposable diaper, it was possible to visualize the distribution and density of the water absorbent. Such data can lead to evaluations of water absorption efficiency and water holding capacity.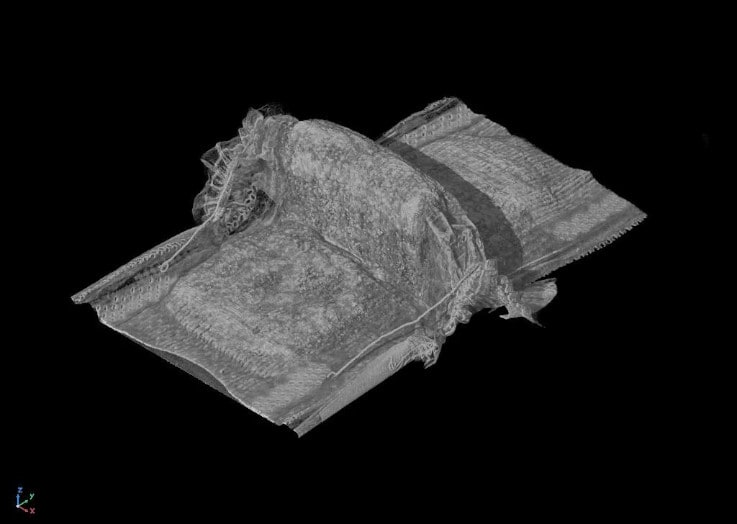 Observation of a disposable diaper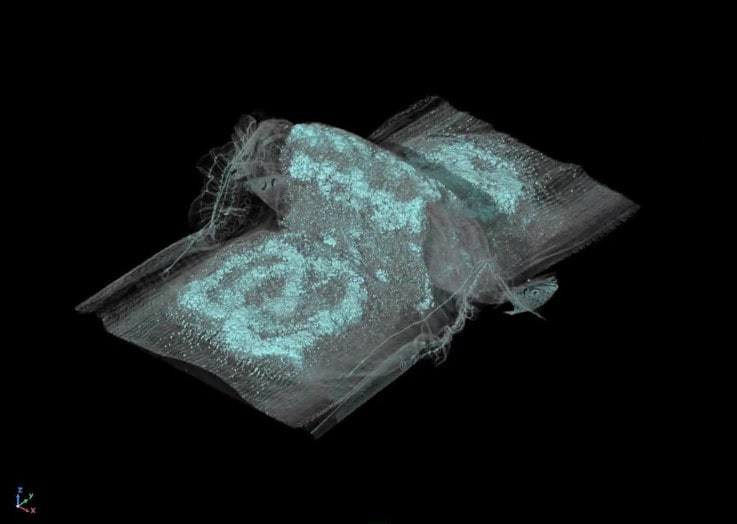 Visualization of internal water absorbent materials by image processing
For Easier and Faster Observations
Due to their size, conventional industrial X-ray CT systems have limitations on where they can be installed. At the same time, many customers want to obtain inspection results more quickly.
To resolve such issues, Shimadzu released the XSeeker 8000 in April 2022. This bench-top X-ray CT system is the world's smallest* and lightest* high-output (160 kV class) instrument, and is equipped with the latest software, so it is easy to use even for first-time users.
*In-house investigation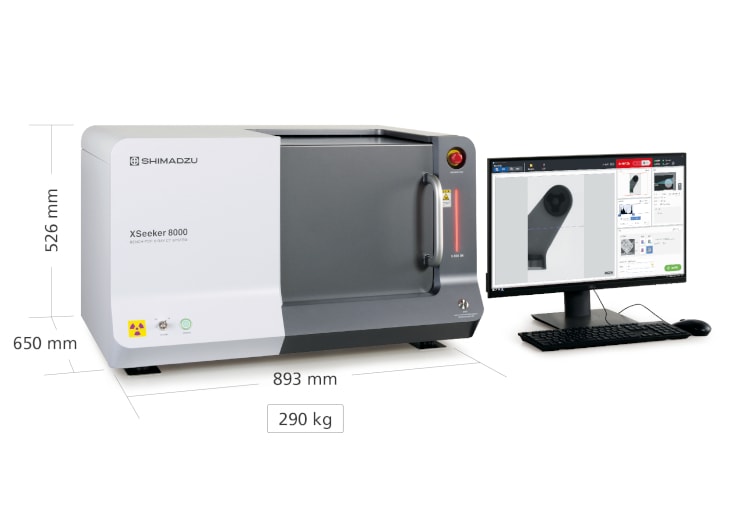 Comment from the Staff who Develops X-Ray Non-Destructive Inspection Systems
Staff in the Non-Destructive Inspection Business Unit of the Analytical & Measuring Instruments Division provided the following comments.
The XSeeker 8000 is a bench-top X-ray CT system equipped with a high-output X-ray generator and a high-resolution detector. Despite its compact housing, the system provides a high 160 kV X-ray output. It can observe the interiors of resin molded parts, aluminum die-cast parts, and resin/metal composite parts. The newly developed control software provides better operability and higher throughput.

It accommodates a wide range of applications from product development and failure analysis to product quality control and contributes to quality improvements at manufacturing sites.
Press release of the XSeeker 8000 is available here.
Page Title and URL Copied.