SHIMADZU Breaker's Mai Hontama Selected to Represent Japan in International Competition!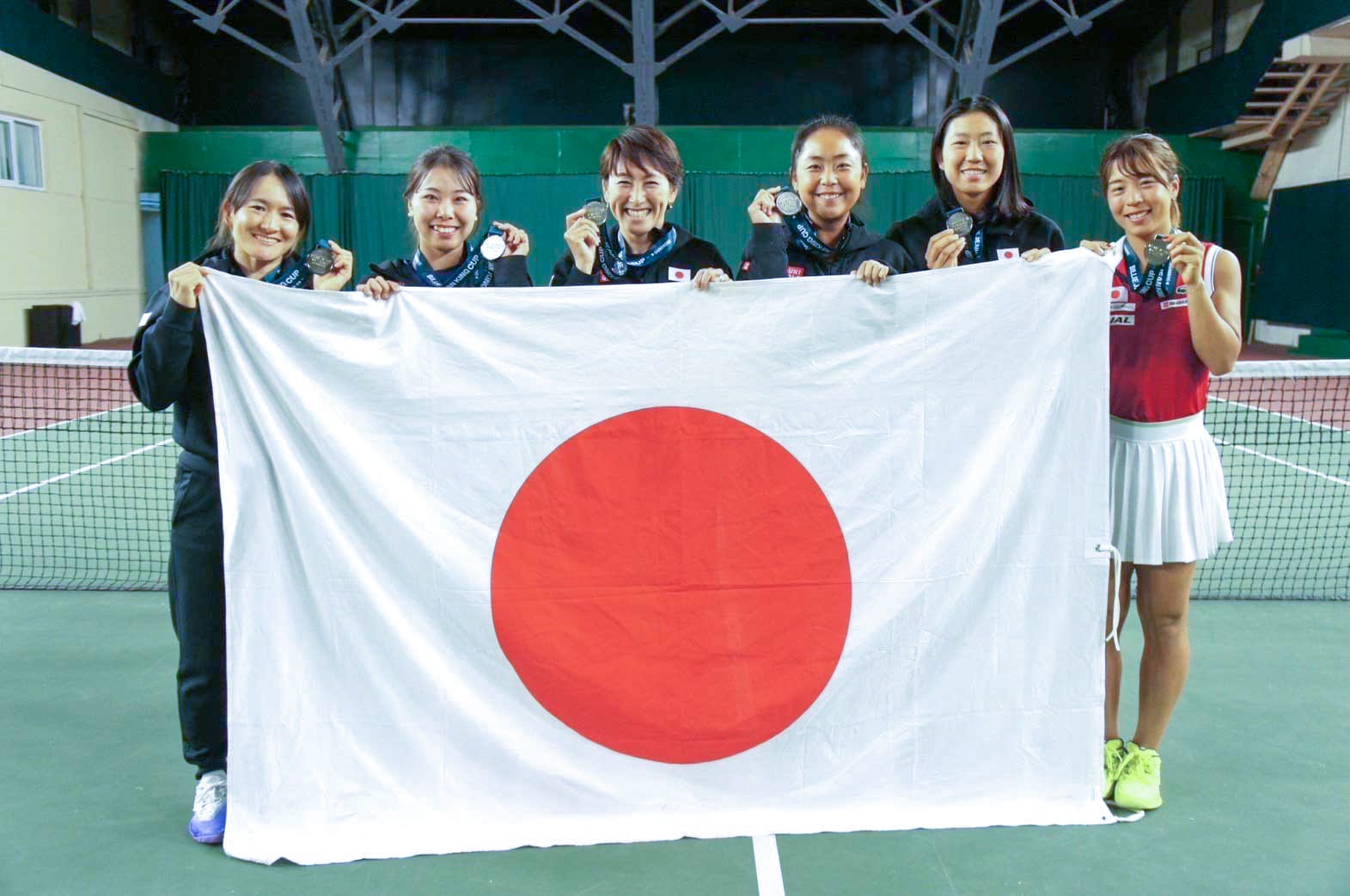 Members of the Japanese National Team (Hontama is on the far right)
Professional player Mai Hontama, a SHIMADZU Breakers tennis team member, represented Japan in the "Billie Jean King Cup by Gainbridge" international tennis tournament and contributed to the team's victory in Asia/Oceania Group I matches.
Here is a look back at the group league matches in which Hontama played as a representative of Japan!
A Key Player in Winning the Group League Championship!
The Asia/Oceania Group I matches of the "Billie Jean King Cup by Gainbridge" women's international tennis tournament were held in Tashkent, Uzbekistan, from April 11 to 15. The group includes Japan, China, India, Republic of Korea, Thailand, and Uzbekistan, and the six countries played a round-robin tournament to determine the two spots for the playoffs, which will be held in November.
Each round consisted of two singles matches and one doubles match. Hontama played in all five rounds and won her all singles matches! The Japanese team won all five rounds and qualified for the playoffs to finish first place in their group.
Opponent Country
Score
Results of Hontama's Individual Matches
Round 1
Republic of Korea
3-0
Singles 2
◯ 6-1 6-4 BoYoung Jeong
Round 2
Thailand
2-1
Singles 2
◯ 6-1 6-1 Anchisa Chanta
Round 3
Uzbekistan
3-0
Singles 1
◯ 6-1 6-1 Sevil Yuldasheva
Round 4
India
3-0
Singles 2
◯ 6-1 6-0 Rutuja Bhosale
Round 5
China
2-1


*Doubles discontinued

Singles 1
◯ 7-5 6-2 Wushuang Zheng
Message from Hontama
The team finished first in the group league of the "Billie Jean King Cup" and will advance to the playoffs! I personally felt very confident as I was able to play all five rounds and we won the tournament. I will do my best to make the most of this experience on the upcoming tour. Thank you for your support.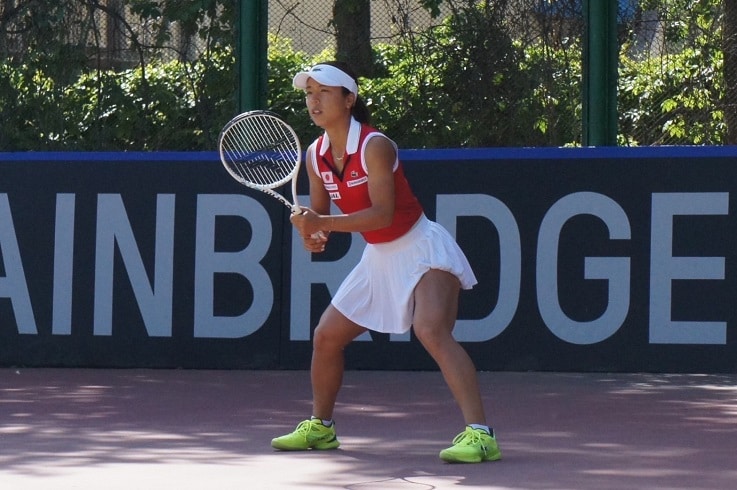 Heading to the Grand Slam Tournament
Hontama says her goals for this season are "to play in a Grand Slam tournament and to make the top 100 in the world rankings."
Hontama has qualified for all four Grand Slam tournaments. Last year at Wimbledon, she won three qualifying matches and qualified for the main draw for the first time. She hopes to continue her quest for a place in the main draw in the future.
At the French Open, which started on May 22, she participated in the singles qualifying!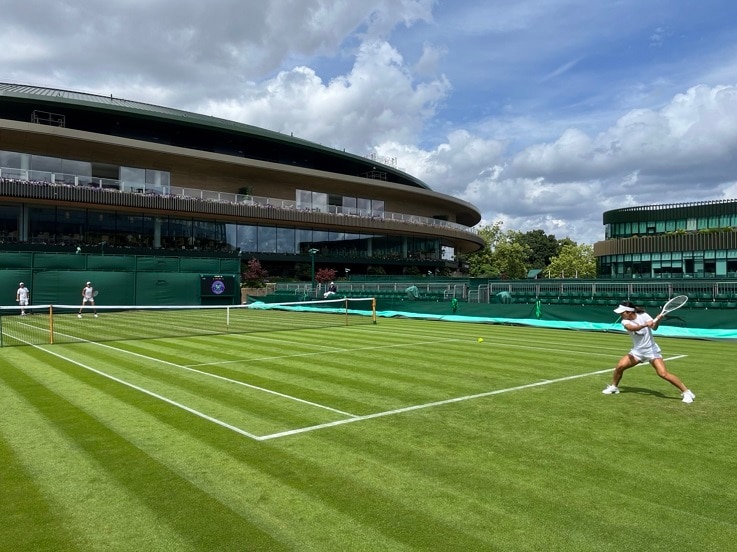 Practicing at the site of last year's Wimbledon main draw
Hontama's goal is to reach the top 100 in the world rankings, which will allow her to compete in the Grand Slam in singles from the main draw. Hontama has already won one singles match and three doubles matches in international tournaments this season.
She is steadily improving her ranking! In the world rankings as of June 19, she is ranked 176th in singles and 134th in doubles.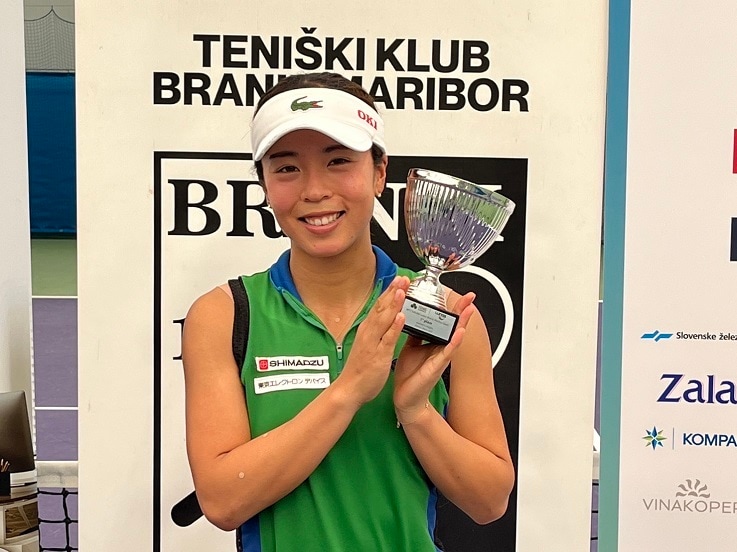 Won her first singles title of the season in March
The Billie Jean King Cup is an international women's tennis tournament that has been held since 1963. It is said to be the equivalent of the men's Davis Cup. First named the "Federation Cup," it became the "Fed Cup" in 1995. The tournament was then renamed the "Billie Jean King Cup" in September 2020 in honor of legendary women's tennis player Billie Jean King.
Page Title and URL Copied.