October is Breast Cancer Awareness Month and Pink Ribbon Month
Shimadzu Pink Ribbon Campaign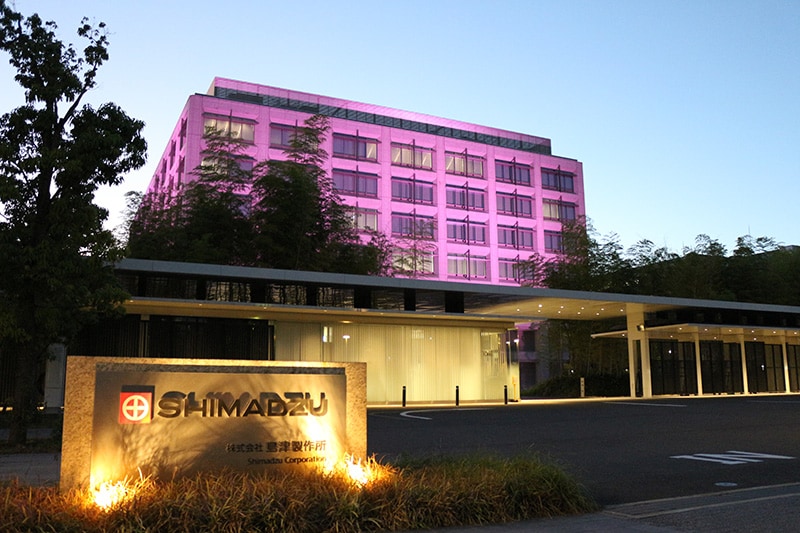 Illuminated Head Office Building (Nakagyo-ku, Kyoto)
October is Pink Ribbon Month and Breast Cancer Awareness Month. The Shimadzu Group is promoting the Pink Ribbon campaign to contribute to raising breast cancer awareness, and to improve the rate of breast examinations.
Video "Shimadzu Pink Ribbon Campaign 2023 – Message from Shimadzu Group Employees"
The Shimadzu Group is again emphasizing the importance of breast cancer awareness (attention to the condition of one's breasts daily) this year.
The video delivers a message from the Shimadzu Group regarding the importance of breast cancer awareness and early detection and treatment through breast exams.
Illuminating the Corporate Office Building with Pink Lights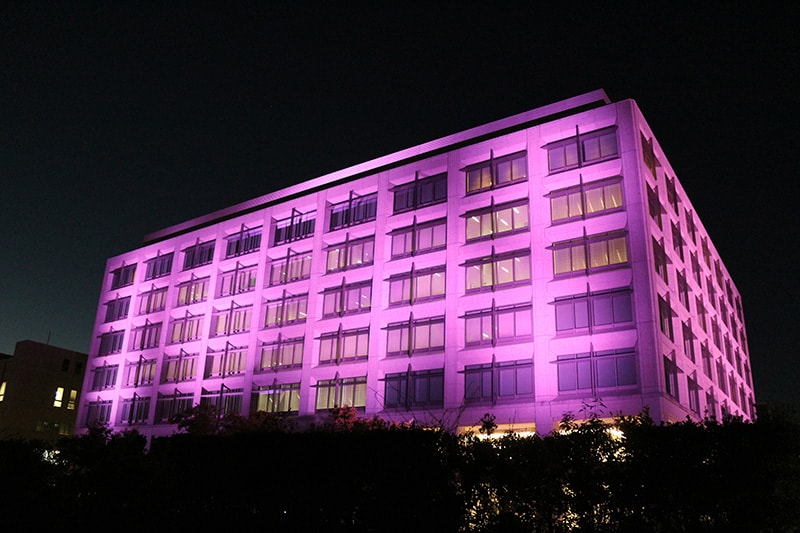 Shimadzu Corporation is a special supporter of the Pink Ribbon Kyoto campaign, which brings together medical specialists, municipalities, businesses, NPOs, and students. As part of this campaign, the Head Office building was lit up from October 2 to 6.
Comment from the Person in Charge of Pink Ribbon Campaign
The Shimadzu Pink Ribbon campaign began in 2017. Under the banner of Breast Cancer Awareness, the Shimadzu emphasizes the importance of regular examinations as well as learning to note the condition of one's breasts on a daily basis.

Once again this year, we will explain how to perform a breast self-examination through both internal and external events. The best approach is to check yourself from time to time, for example, when taking a bath and noting how your breasts look and feel. Getting an examination immediately if something seems strange will protect you and your loved ones.
Page Title and URL Copied.