Evaluation of Toner by Compression Test
Desirable toners have sufficient low-temperature fixing properties and superior anti-blocking properties. They are able to form sharp images with no scumming, without being crushed by stresses inside the developing unit. Consequently, to improve low-temperature fixing properties, capsules should deform and break at as low a load level as possible, but not below a certain load level, to ensure they can withstand the stresses inside the developer.
To evaluate these characteristics, a micro-compression testing machine was used to perform compression tests and evaluate samples based on the resulting compressive strengths and load vs. compression-displacement curve.
The following describes an example of performing such a test.

Samples: Toners No. 1, No. 2, and No. 3 (mean particle diameter: about 6.5 µm)
A summary of test results (mean values) is shown in Table 1.
Results showed that in terms of strength, samples ranked as follows: No. 3 > No. 2 > No. 1.

An overlay of the load vs. compression-displacement curve for each sample is shown in Fig. 2.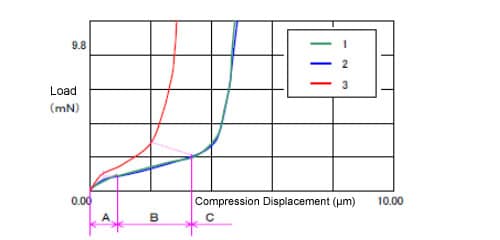 The load vs. compression-displacement curves indicate that toner particles compress in a relatively linear manner as load increases in the initial stage, as indicated in Region A, then an inflection point appears in Region B, where significant changes occur in compression-displacement. This indicates that the particles can no longer withstand the load and suddenly deform by a large amount. Finally, in Region C, there is another inflection point and particles deform only a little even when the load increases significantly. This indicates they are already fully compressed by the load.
The Shimadzu MCT-W Series Micro Compression Testing Machine uses a diamond compression plate to apply load to samples and measure the relationship between test force and compression-displacement in real time. It allows evaluating the strength of individual microparticles in various micro parts or processed powders or individual microfibers in engineered materials. Special systems are also available, such as systems that allow observing the particles as they are compressed, measuring their resistance during compression, or measuring compression under heated conditions (max 250 °C).