ICPE-9800 Series - Applications
Multitype ICP Emission Spectrometers
{"hasMore":true,"more":{"id":"tbaleAnchor_more","label":"More"},"anchors":[{"id":"tbaleAnchor_applications","label":"Applications"},{"id":"tbaleAnchor_technical","label":"Technical Documents"},{"id":"tbaleAnchor_manual","label":"Manuals"}]}
{"title":"Applications","columnTitle":"Applications","source":"product","key":3378,"filter_types":["applications","application_note","posters"],"config_list":[],"anchor":"tbaleAnchor_applications"}
{"title":"Technical Documents","columnTitle":"Technical Documents","source":"product","key":3378,"filter_types":["technical","technical_reports","white_papers","primers"],"config_list":[],"anchor":"tbaleAnchor_technical"}
{"title":"Manuals","columnTitle":"Manuals","source":"product","key":3378,"filter_types":["manuals"],"config_list":[],"anchor":"tbaleAnchor_manual"}
Regulations addressing hazardous elements have become increasingly stringent, as the demand grows for food safety. Moreover, labeling that lists the nutritional content of foods, in accordance with defined nutrition labeling standards, is now mandatory in many places. Such labeling generally includes minerals and other components that support a balanced diet and an individual's health. In the area of food products, it has become increasingly important for analytical instruments to efficiently produce highly reliable data over a broad range of concentrations, whether the targets are trace hazardous elements or highly concentrated elements such as minerals.
With the ICPE-9800 Series
Achieves a broad dynamic range from ppb to percent order due to axial and radial views. This allows comprehensive analysis of a broad range of concentrations all at once, thus enhancing throughput.
The all-wavelengths acquisition system detects the influence of the matrix, and always offers the optimal method. Accurate analysis values can be acquired at great speed.
Shimadzu's proprietary features (Eco mode, Mini-torch system, and Vacuum spectrometer) result in greatly reduced consumption of argon gas.

Simultaneous analysis of elements in cheese and drinking water
Element
Pb
Cd
Fe
Mn
K
Mg
Na
Ca
Cheese
decomposition
solution
mg/L
< 0.001
< 0.0003
0.04
0.007
23.0
11.7
469
337
View orientation
Axial
Axial
Axial
Axial
Radial
Radial
Radial
Radial
Drinking water
mg/L
< 0.001
< 0.0003
0.06
0.005
0.70
2.95
4.48
12.5
View orientation
Axial
Axial
Axial
Axial
Axial
Axial
Radial
Radial

The environmental field requires robust, high-sensitivity analysis capable of complying with regulations in order to always meet the stringent target values that have been established to assure the safety of the water supply and protect the environment. Moreover, in laboratories where more than 100 samples are processed per day, increasing the throughput and saving energy are issues of concern.
With the ICPE-9800 Series
Offering the highest level of robustness, the sample injection system (vertical torch orientation) is designed to minimize torch clogging and memory effects. Even with boron, which tends to produce memory effects, measurements can be repeated with short rinse times, thus resulting in a shorter analysis time.
The axial view has been optimized in order to provide the utmost in sensitivity.
Realize an even higher level of sensitivity by making use of the optional ultrasonic nebulizer or a hydride generator.

The ICH Q3D guideline established, which aims at harmonization among the regulatory authorities in Japan, the U.S., and the EU concerning the analysis of elemental impurities in drugs. The regulations by individual authorities are accordingly revised. As part of the quality control measures for pharmaceuticals, detection limits must meet the stringent permitted daily exposure (PDE) values. Validation is also important to guarantee the reliability of analysis values. Moreover, measuring organic solvents, such as DMF, that are commonly used for the dissolution of samples requires simplicity and stability.
With the ICPE-9800 Series
Highly sensitive, large, 1-inch CCD detector satisfies strict detection limit requirements.
In addition to being highly sensitive, the instrument always acquires data for all wavelengths. This makes it easy to quickly confirm the effect of matrix interference when analyzing tablets or capsules with matrices such as titanium oxide.
The torch is designed to resist the adhesion of carbon, thereby allowing the direct analysis of organic solvent samples without introducing oxygen.
This realizes stable analysis without the expenditure of extra costs or time.
Analysis of ICH Q3D Guideline for Elemental Impurities in Drug Products by ICP-AES
Element
Oral PDE
Permissible Concentration
Concentration after Processing
Additive Concentration
Measured
Value
(in tablet)
Recovery
of Additive
Tablet Conversion
Detection Limit (3σ)
µg/day
ug/g
µg/mL
µg/mL
µg/g
%
µg/g
As
15
75
1.5
0.5
<DL
107
0.5
Cd
5
25
0.5
0.1
<DL
100
0.007
Hg
30
150
3
1
<DL
101
0.1
Pb
5
25
0.5
0.1
<DL
98
0.07
・ PDE: ICH Q3D step5 draft
For analysis results covering all 24 elements refer to refer to relevant Application News No.J99
In the chemical field, ICP-AES is used for a broad range of analysis in order to manage trace amounts of hazardous metals in the manufacturing process, manage additive elements essential to the functionality of a product, and manage the environment of the entire factory. Therefore, it is desirable to have a robust, highly stable system able to reliably accept the injection of a broad variety of samples, regardless of the type of solvent (aqueous/organic) or the presence of matrices. It is also important to simplify processes and reduce costs, which enhances the productivity of daily quality control work.
With the ICPE-9800 Series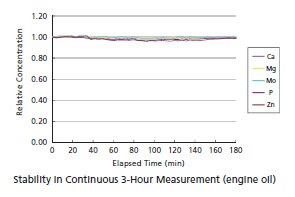 The vertical orientation of the torch, which reduces memory effects, ensures stable analysis results even for samples with high concentrations of acids or salts, or for a variety of organic solvents.
With greatly enhanced usability, the latest software (ICPEsolution) makes everyday analysis even easier and simpler.
Shimadzu's proprietary features (Eco mode, Mini-torch system, and Vacuum spectrometer) result in greatly reduced consumption of argon gas.

In fields related to metals and electrical/electronics, ICP-AES is primarily utilized for quality control of materials. The demand is for high-accuracy analysis and long-term stability. Additionally, with minerals and electronic waste materials, for example, there are sometimes complicated, high matrix samples. In such cases, it is important to avoid interference in order to obtain reliable analysis results.
With the ICPE-9800 Series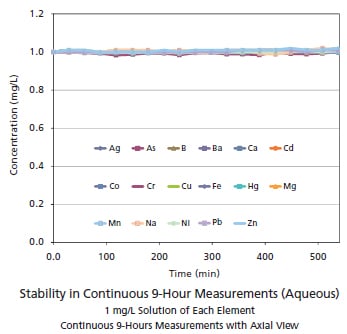 Obtain accurate measurement values, even when analyzing complicated materials, using the data acquired for all wavelengths, plus a comprehensive wavelength database that includes interference data.
Achieve the highest level of reproducibility and long-term stability due to the instrument's proprietary high-frequency power source, a sample injection system that leaves no memory effects, and a robust optical system.
The axial view unit can be removed, and the system can be used exclusively for radial view.