Celebrating 65 Years of Gas Chromatography Innovation

2022 marks the 65th anniversary of the first Shimadzu GC (GC-1A)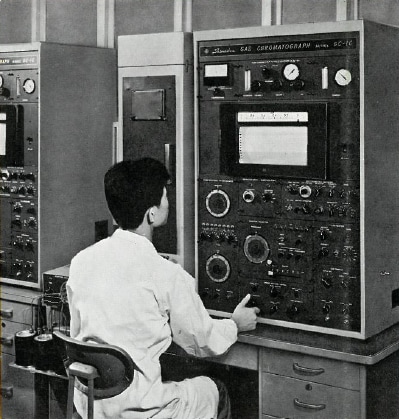 The Shimadzu Corporation is celebrating its 65th anniversary since the company began mass-producing gas chromatographs (GCs) in 1957. The history of Shimadzu GC started with its use in petrochemical research applications in Japan. Shimadzu has expanded GC product lineup to include automated sampler systems, gas chromatographs, and gas chromatograph mass spectrometers (GC-MS). Customers use them in various markets worldwide, including petroleum, chemical, food, environmental, pharmaceutical, and analytical industries. We thank all the Shimadzu users around the world for celebrating our 65th anniversary. In recent years, analytical laboratories requiring higher productivity have faced various challenges, such as the generational change of skilled analysts and the problem of helium supply, an essential gas for GC/GC-MS.

Shimadzu has been solving these issues by incorporating state-of-the-art Analytical Intelligence technology into its GC systems. We will continue to refine our latest analytical technologies and support our customers in solving their problems and help make the leap to the next technological era.
A History of Cutting-Edge Innovation
Shimadzu has continued to develop gas chromatography products for over a half-century of Shimadzu's 147-year history. From this history, a tradition of excellence and quality emerged, and today our various GC systems are tailored to meet the needs of laboratories around the world. Representing a combination of our pride in manufacturing and technical capabilities.

Automated support functions utilizing digital technology, such as M2M, IoT, and Artificial Intelligence (AI), enable higher productivity and maximum reliability

Allows a system to monitor and diagnose itself, handle issues during data acquisition without user input, and automatically behave as if an expert operated it.

Supports the acquisition of high-quality, reproducible data regardless of an operator's skill level for routine and demanding applications.
Solutions and Initiatives
As we strive towards a sustainable society, we will continue to develop equipment that is both highly capable and eco-friendly, providing solutions that reduce operating costs and power consumption.