UF-Amino Station - Applications
LC/MS Ultra Fast Amino Acid Analysis System

Most of the documents on the LITERATURE is available in PDF format. You will need Adobe Acrobat Reader to open and read PDF documents. If you do not already have Acrobat Reader, you can download it free at the Adobe's Website. Click the GET ADOBE READER icon on the left to download a free copy of Adobe Acrobat Reader.
Diverse Applications Using UF-Amino Station
Analysis of meat extracts using PTC pre-column derivatization and UV detection results in amino acid peaks that overlap each other or suffer matrix interference, which often impair the accuracy of quantitation. UF-Amino Station exploits the high selectivity of LC/MS to offer accurate detection and quantitation, even in complex matrices like meat Faster Analysis of Food and Biological Samples extracts or culture fluids.
Naturally, it can also be applied to the conventional quantitative analysis of amino acids in beverages and fermented foods.
Amino Acid Analysis in Commercial Serum-Free Medium
(supplied by Ajinomoto Co. Inc.)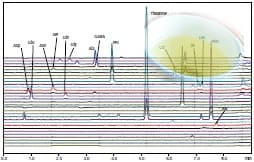 Analysis of Amino Acids in Commercial Tea Drink
Analysis of Amino Acids in Commercial Beer
Analysis of Amino Acids in Rat Blood Plasma