inspeXio SMX-100CT Plus - Features
Microfocus X-Ray CT System
Basic System to Achieve High Performance
System Structure and Basic Principles
The measurement target (sample) is positioned between the X-ray generator and the X-ray detector, as shown in the figure below.
X-ray fluoroscopic data is collected from every angle by rotating the sample 360 degrees, and computed tomographic images (CT images) are calculated.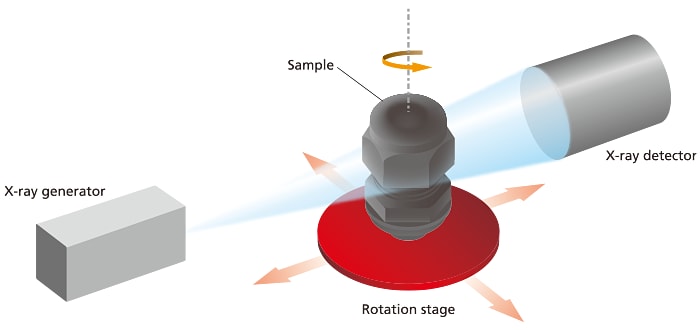 MPR Display
(Arbitrary cross sectional display)
Stands for Multi Planar Reconstruction.
Multiple CT images are stacked in a virtual space, and four images — a CT image, mutually orthogonal longitudinal section images, and an arbitrary section image orthogonal to the longitudinal section images — are arranged for display.

VR Display
Stands for Volume Rendering.
Multiple CT images are stacked in a virtual space, and rendered in three dimensions.
Easy and Fast CT Scanning
Intuitive User Interface
The new user interface features a simpler arrangement for intuitive operation.
| | |
| --- | --- |
| Main System Window | Displays the stage position, scan field of view, equivalent voxel length, and other information in real time (the yellow box), making it easy to scan images with the specified resolution and field-of-view size. |
| MPR Window | Displays slice, oblique, and double-oblique images, enabling the easy observation of cross-sections. |
Automated CT Scanning Function  
The new automated CT scanning function enables scan parameters to be specified easily.
Simply select the material, the desired CT image resolution, and the contrast level, and the system automatically optimizes the CT scanning parameter settings accordingly.
HPCinspeXio High-Performance Computing System ver. 3.0 
The HPCinspeXio high-performance computing system is around 50 times faster* than the previous version.
*When the fast acquisition mode is configured and the CT slice size is set to 1,024 × 1,024 pixels
Even Faster 2,048 × 2,048 Pixel Cone-Beam CT Reconstruction 
The high-performance computing system is updated. The processing time for 2,048 × 2,048 pixels Cone-Beam CT reconstruction* is around 1.5 times faster than the previous version.
*1200View, full scan, AUTO scaling factor, reconfiguration (2,048 × 2,048 pixels)
Obtain CT Images in Three Easy Steps
No calibration process is necessary before scanning. Scans can be started immediately after sample placement.
3D CT Scan Region Display Function
As the CT stage moves, the corresponding CT scan region is displayed and overlaid in real-time on the MPR display.
Based on the previous CT scan image, additional CT scans for areas of interest can be obtained.
Unique Functions
Advanced 3D image Reconstruction 
It is possible to enlarge only the focused areas in images once acquired and perform the reconstruction calculation. High-magnification cross-sectional images can be obtained even in the works that enlargement ratio is difficult to be improved. Equipped with a high-resolution flat panel detector, clear cross-sectional images can be obtained even when performing reconstruction. It is not necessary to perform the CT scanning once again when performing reconstruction only.
CR Scan
To obtain fluoroscopic images with no distortion in the vertical axis direction, data is only collected from the centerline of the X-ray detector while the sample is moved vertically.
DICOM Conversion Function
This enables converting obtained CT image data to the DICOM format, the world standard for medical imaging.
This function is essential for analyses with medical imaging analysis software.
*Operation with all DICOM compatible software is not guaranteed.
*CT image brightness is displayed in 16-bit grayscale, and does not conform to Hounsfield units.
 A conversion function is provided for CT image brightness values via manual input.
Software Limit Function
The software limit function, which can be configured to suit the sample size, helps prevent collisions between the X-ray generator and sample.
Routine Inspection Function
The minimum necessary routine inspections are performed when the system starts up. A software wizard has been adopted for the routine inspections, so that the system can always be used safely.
Sliding Door Finger-Pinch Preventive Mechanism
A finger-pinch preventive mechanism has been provided to prevent pinched fingers when the sliding door is closed.
Collision Sensor
Installed near the X-ray generator, this collision sensor stops the CT stage in an emergency (sample collision).
Door Interlock Mechanism (for X-rays)
Double interlock circuits are provided on the sliding door.
X-ray exposure is impossible when the sliding door is open.
Door Interlock Mechanism (for CT stage)
This stops internal CT stage movement when the sliding door is open.
Downloads
Download the latest brochure.