Q: What sort of sample concentration should I use for measurements by the KBr pellet method or diffuse reflection method?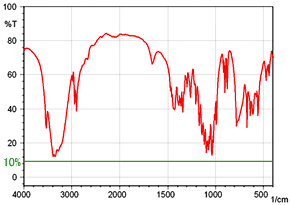 A : With the KBr pellet method, approximately 1 % of the KBr concentration is generally suitable. In practice, as the molecular absorption coefficient differs according to the sample, the concentration is adjusted based on the transmittance or absorbance.
It should achieve a maximum peak intensity in the spectrum of approximately 10 % transmittance (or approximately 1 Abs absorbance). The spectrum measured for lactose is shown as an example. (See Fig. 1.)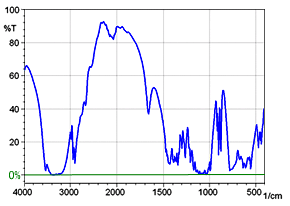 If the maximum peak intensity is close to 100 % transmittance, the noise may appear too large for the peak.
Conversely, as the maximum peak intensity approaches 0 %, the absorbance peak becomes saturated. This means that an accurate spectrum cannot be obtained. Take due care. (See Fig. 2.)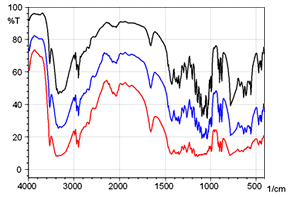 With the diffuse reflection method, approximately 5 % of the KBr concentration is regarded to be suitable. However, the actual concentration is adjusted according to the maximum peak intensity. However, with the diffuse reflection method, absorbance may be saturated at just 10 % reflectance due to the effects of the sample surface reflection. The concentration should be adjusted to achieve a higher reflectance at the maximum peak intensity. (See Fig. 3.)
For transmission measurements, such as the film method, liquid membrane method, or microscope transmission measurement, the sample thickness and light path length should be adjusted while referring to the maximum peak transmittance (approximately 10 %).
In some cases, the sample concentration may be increased to check the trace component peaks.
Movies
Related applications