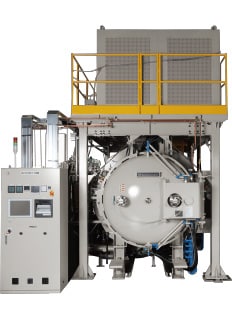 Features
Pressurizes and Heats
Heats under pressurized gas conditions (0.9 MPa/• G) and performs sintering in a pressurized gas environment.
Performs Degassing, Dewaxing and Sintering (Pressure Sintering) in Sequence
Uses internal tight box to discharge binder vapors and prevent them from adhering to or contaminating furnace walls or the heat-insulating layer.
High-Performance Cooling
Uses pressurized gas and cooling fan for cooling process, increasing cooling efficiency.
Applications
Superhard Alloys
Performs dewaxing, degassing, and sintering or pressure-sintering in sequence
Non-Oxide Ceramics
Performs dewaxing, degassing, and firing or pressure-firing in sequence
Application:Phosphor for LED
Metals
Performs dewaxing, degassing, and sintering or pressure-sintering in sequence
PHS Series Specifications
Pressure-Vacuum Sintering Furnace
Model
PHSgr
20/20/50/50
PHSgr
30/30/60
PHSgr
40/40/100
PHSgr
50/50/120
Effective Intern. Dim. (mm)
W x H x D
200×200×500
300×300×600
400×400×1000
500×500×1200
Max. Temp. (°C)
1600
〈2400〉
Process. Cap. (kg gross)
50
100
250
400
Ultimate Press. (Pa)
7×10-1
(7×10-3)
Max. Pressure
0.9MPa
Power Req. (kVA)
110
140
170
210
Gases
N2,Ar,(H2)