June 9, 2023

| News & Notices Shimadzu Signs Comprehensive Partnership Agreement with Ryukoku University to Promote a Recycling-Oriented Society
Japan's First System for Recycling Packaging Materials into Containers to be Deployed outside Shimadzu
On May 23, Shimadzu Corporation concluded a comprehensive partnership agreement with Ryukoku University intended to contribute to creating a recycling-oriented society. Under this agreement, the university will join our closed-loop recycling system*1, the first of its kind in Japan, in which packaging materials generated by Shimadzu are recycled into polyethylene containers for in-house use. The agreement will promote collaboration on many fronts, such as the relevant departments within Shimadzu helping Ryukoku University to teach environmental science.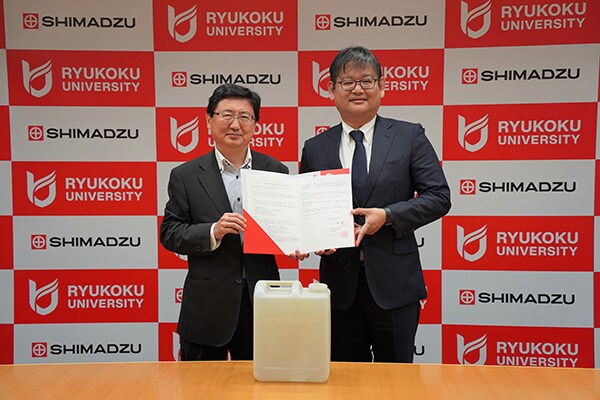 Announcing the Agreement at the Press Conference
(Fuminori Inagaki, Senior Managing Executive Officer of Shimadzu Corporation on the left and Masataka Fukao, Ryukoku University Vice President on the right)
Shimadzu has been implementing measures to reduce the use of plastic and replace it with biomass or recycled materials for many years. R&D departments at Shimadzu use polyethylene containers ("plastic containers") to store liquid waste produced by the use of analytical and measuring instruments such as liquid chromatographs. Normally, these plastic containers are made from pellets of new plastic material. However, to reduce the quantity of polyethylene used, Shimadzu converted used packaging materials into pellets and mixed them with new pellets to create plastic containers made of 30% recycled material. These recycled plastic containers are already being mass-produced by an outside subcontractor and used at the Shimadzu plant located at the Head Office site. Under the new agreement, Ryukoku University will participate in Shimadzu's closed-loop recycling system, recycle used packaging materials generated on-campus, and use the plastic containers at the university research and development facilities.
To help create a recycling-oriented society, Shimadzu Corporation is committed to complying with relevant laws and regulations, promoting the 3Rs (reduce, reuse, and recycle) practices at each workplace, and has set target recycling rates*2 for waste management. The recycling rate in FY 2021 was 99.59 %, which meant we achieved our target for the 12th consecutive year. Based on Shimadzu's management principle "Realizing Our Wishes for the Well-being of Mankind and the Earth," the new medium-term management plan that started in April specifies a policy of "achieving a circular economy" by "utilizing sustainable materials, achieving longer product life, and recycling."
*1: The closed-loop recycling system was established with a 2022 Kyoto Prefecture 3R R&D Support Grant.
*2: Recycling rate = (Quantity of unnecessary material output – Quantity eventually landfilled) / Quantity of unnecessary material output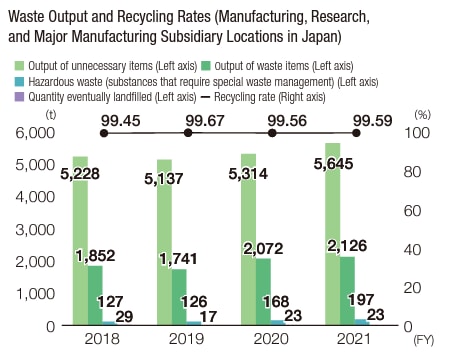 Related Documents
Shimadzu Environmental Management