Risks and Opportunities
Due to climate change, abnormal weather events have been occurring frequently in recent years in Japan and throughout the world. In order to keep the increase in global average temperature to less than 2 ℃ above pre-industrial levels, countries party to the Paris Agreement adopted in 2015 agreed to a 2 ℃ target. Accordingly, Japan set a long-term target of reducing FY 2013 CO2 emissions by 26 % by 2030. Therefore, based on the Paris Agreement, SDGs, and other international frameworks, we are currently preparing medium and long-term environmental goals and a roadmap for achieving those goals. Furthermore, in addition to our previous measures, mainly involving environmental management, we have now renamed the special organization involved in that process the Global Environmental Management Department and have been more actively deploying environmental activities in combination with our business operations to help solve global environmental challenges. For example, we will contribute to the advancement of a sustainable society by identifying difficult customer challenges, such as developing more efficient and environmentally-friendly renewable energies or functionally engineered new materials derived from nature, and then using such challenges as a business opportunity for supplying products and technologies that help customers solve those challenges.
Basic Policy
Shimadzu intends to expand business activities and increase corporate value by solving environmental problems as an "eco-solution provider." That will involve the following four main types of activities.
(1) Constantly improve the energy efficiency and reduce the size of all products to minimize the environmental impact of products over the course of their entire product life cycle.
(2) Strive to reduce our environmental impact by specifying medium and long-term CO2 emission reduction targets for the Shimadzu Group and develop closer partnerships with suppliers to actively increase the use of solar or other renewable energies and reduce the use of hazardous chemical substances, for example.
(3) Contribute to building a sustainable society by supplying instruments for environmental testing of water, air, soil, and so on, and products and technologies that solve challenges involved in developing new materials and alternative energies for reducing global environmental impact.
(4) Partner with community groups or educational institutions, for example, to deploy a wide range of activities, such as creating forests to protect biodiversity or conducting classes at schools or other locations to educate people about the environment. Furthermore.
Four Policies for the Shimadzu Group Environmental Management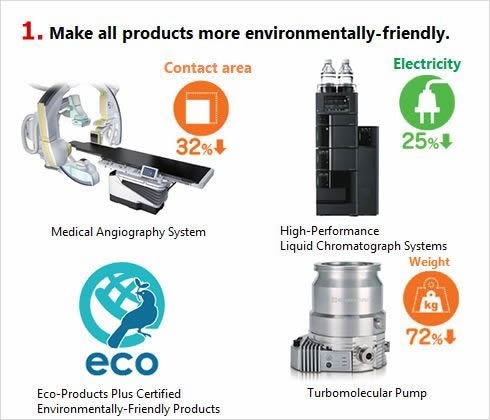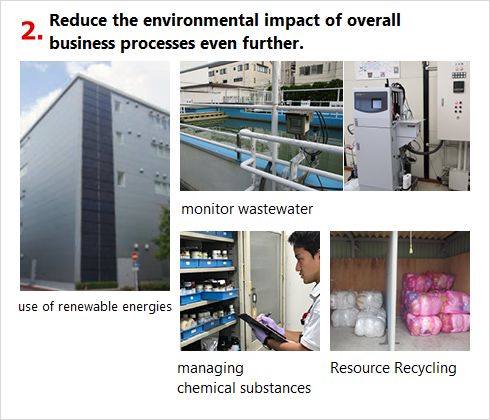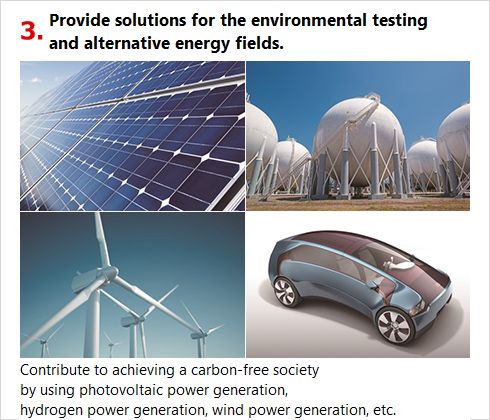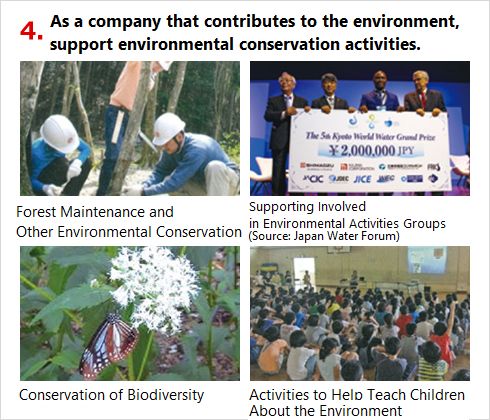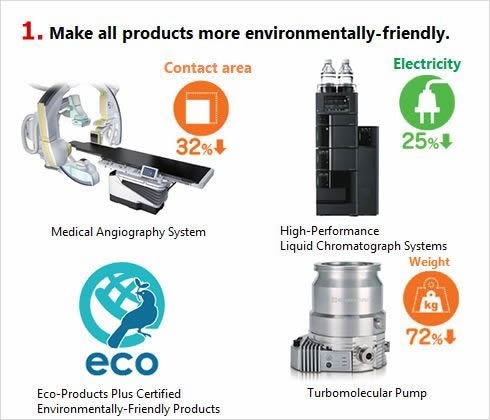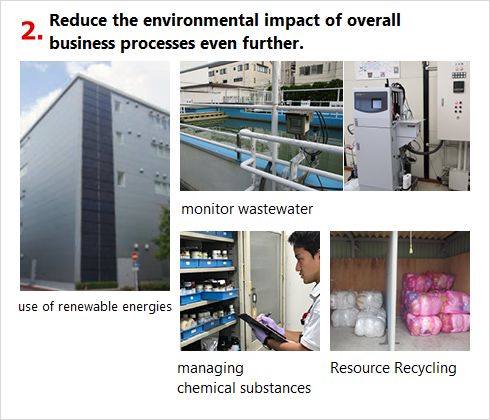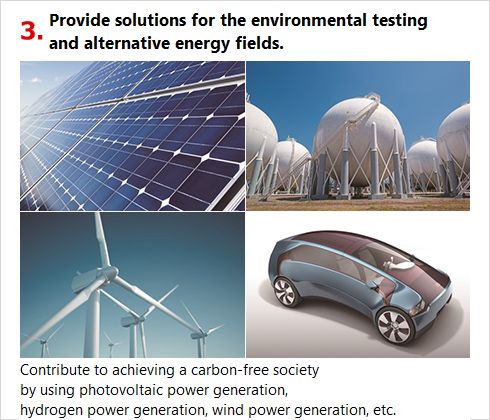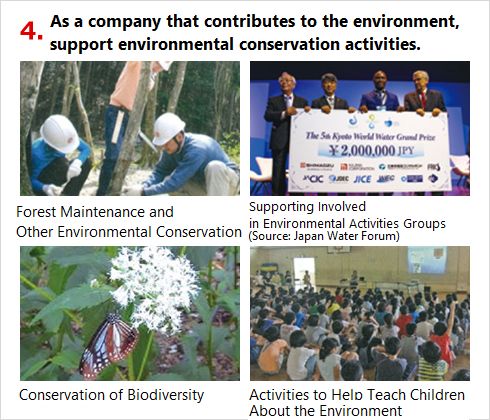 Key Measures of Environmental Management
Key Measures
Strengthen Measures to Reduce Environmental Impact on a Global Basis.
Increase Contribution Volume of Reduction in CO2 Emissions with Environmentally-Friendly Products

Establish an Eco-Products Plus certification system and increase awareness within and outside the company.
Propose measures for strengthening selling capabilities.

Reduce Shimadzu Group CO2 Emissions and Specify Long-Term Global Target Value

Improve the visibility of various environmental information within and outside Japan.
Specify measures for reducing environmental impact and execute corresponding plan-do-check-action (PDCA) cycles.
Specify long-term target values and prepare a roadmap for achieving those targets.
KPI
A≥B (FY 2019)
A: Contribution volume of reduction in CO2 emissions with environmentally-friendly products
B: CO2 emissions of Shimadzu Group
Eco-Products Plus
Net sales: 50 billion yen in FY 2019
Completion of specifying long-term target values and preparing a roadmap for achieving those targets (FY 2019)
Goal for Medium to Long-Term Reductions in CO2 Emissions by the Shimadzu Group
As a medium to long-term goal for the reduction of CO2 emissions in business activities, a 30 % reduction (in comparison to 2017 levels) by 2030 has been established by the Shimadzu Group. The purpose is to take proactive measures as a responsible member of society with respect to global environmental issues, a major concern for society, with particular emphasis on global warming. Shimadzu plans to realize this goal primarily through energy saving efforts both in Japan and overseas, and the introduction of renewable energies that feature limited CO2 emissions.
Key Accomplishments During FY 2017
Global Environmental Conservation Through Technological Development
As a key measure for environmental management, Shimadzu will strengthen measures to reduce global environmental impact. 85 energy and resource-efficient Eco-Products Plus models have been released to the world thus far, which reduced customer CO2 emissions by 33,820 tons in FY 2017. However, CO2 emissions from Shimadzu Group business activities is currently increasing, due to increasing sales volume and an expanding number of business locations during the last several years. Consequently, we are working to improve the visibility of environmental information at respective locations within and outside Japan, and will propose and implement CO2 emissions reduction measures based on respective business conditions. For product CO2 emission reductions to make a greater contribution than the contribution from Shimadzu Group business activities, Eco-Products Plus sales must reach 50 billion yen. Therefore, Eco-Products Plus products are currently actively being developed in order to achieve that goal by FY 2019.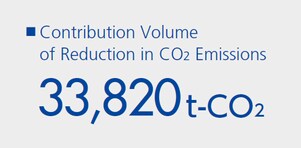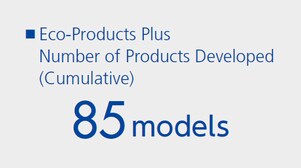 Trends and Goals for Shimadzu Group CO2 Emissions and Contribution Volume of Reduction in CO2 Emissions

Newly Released Eco-Products Plus Products