July 5, 2023

| News & Notices Dynamic Digital Radiology Added to Mobile X-Ray System
Acquiring Dynamic X-Ray Images Helps Diagnose Patients who are Difficult to Move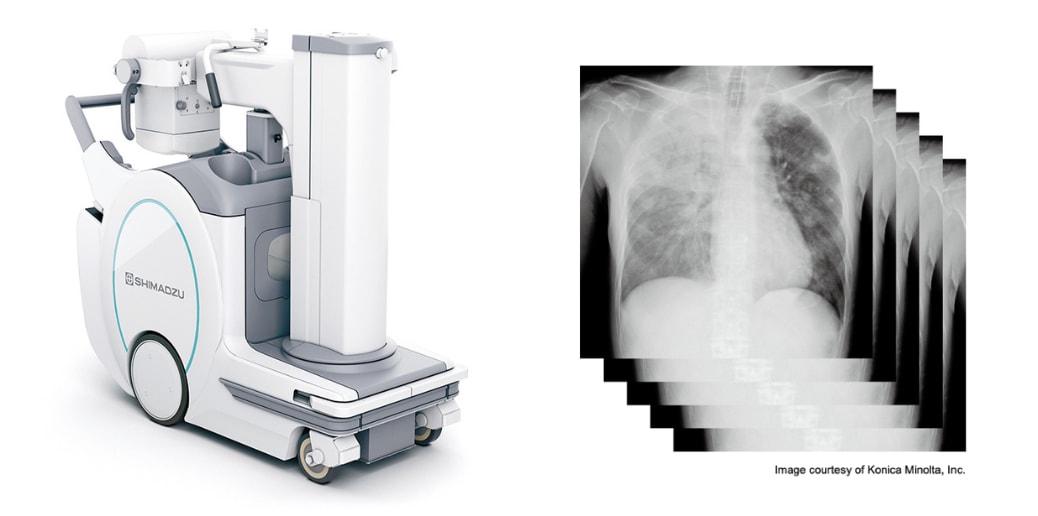 Left: MobileDaRt Evolution MX8 Version k type; Right: Example of Serial Radiography Images
Shimadzu Corporation has released a new mobile X-ray system, MobileDaRt Evolution MX8 version k type, equipped with serial radiography functionality - Dynamic Digital Radiology (DDR). MobileDaRt Evolution MX8 with DDR displays a series of static images captured at high speed as a moving image. Consequently, patient lung movements, for example, can be displayed on the large built-in monitor to help diagnose conditions based on even more information.
Mobile X-ray systems are diagnostic X-ray imaging systems that can be moved wherever necessary to perform X-ray examinations on-site. Despite the approximately 440 kg weight of mobile X-ray systems, they are controlled by electric motor-assisted driving functionality that ensures the systems can be moved smoothly. The systems are used in situations where patients cannot be transported to an X-ray examination room, such as for follow-up examinations after surgery when patients need to be left undisturbed or to diagnose infectious diseases.
In recent years, medical personnel have expressed a need for serial radiography in mobile X-ray systems to provide a way to easily examine lung functions from the patient's bedside in situations where patient relocation is restricted by the COVID-19 pandemic, emergency medical care, or other circumstances. The serial radiography functionality included in the systems can acquire up to 15 images per second for up to 20 seconds. Previous models could acquire images at approximately 10-second intervals, but serial radiography enables acquiring previously unavailable data, such as for observing changes in lung shape during breathing. Therefore, serial radiography can contribute to emergency medical care and other clinical healthcare operations that would benefit from even a little bit more image information.
Shimadzu's medium-term management plan that started in 2023 specifies implementing a so-called "imaging transformation" (IMX) strategy for combining AI and IoT technologies with X-ray radiography systems in order to offer new added value. As part of that IMX strategy, Shimadzu will assist medical diagnostics by offering X-ray radiography systems that can acquire moving images for diagnosing and treating injuries and diseases safely and quickly in a wide variety of situations, including for emergency care applications.
Shimadzu plans to exhibit the new mobile X-ray system, MobileDaRt Evolution MX8 version k type, equipped with serial radiography functionality in the United States at the AHRA (American Healthcare Radiology Administrators) Annual Meeting and Exposition held from July 9 to 12.
Features
1. Achieves Serial Radiography with a Mobile X-Ray System
Due to X-ray control technology for intermittently emitting reliable bursts of X-rays at high speed and improvements in digital X-ray flat panel detector (FPD) technology, the system can acquire a series of up to 15 static images per second for up to 20 consecutive seconds. By viewing the acquired images successively like animation, actual movements can be observed to obtain far more information than from the static images alone. That makes it easy to observe morphological changes in lungs due to breathing or to check the flow of injected contrast media, for example. It also means serial radiography data useful for diagnosing and treating conditions can be supplied quickly without moving emergency care patients from the emergency room.
The serial radiography is an optional functionality of the MobileDaRt Evolution MX8 version k type.
2. Obtaining Even More Information in Combination with Software
The image data from serial radiography can be sent to a Konica Minolta X-ray motion analysis workstation for use in analyzing the images to assist with managing patient pathology. The workstation can also use a variety of image processing techniques to improve the visibility of acquired images. The image processing enables visualization and quantitation of movement and provides information necessary for predicting symptoms or evaluating physical functions.
3. Exceptional Visibility and Maneuverability
The mobile X-ray systems, MobileDaRt Evolution MX8 version k type, feature a collapsible column and compact main unit that provide superior forward visibility and easy maneuverability. The wide movement ranges of support column rotation and arm telescoping actions can cover a wide range of regions for radiography. That ensures radiography can be performed easily even in the limited spaces available in emergency rooms packed with a lot of medical equipment.
For more details, visit
Digital Radiographic Mobile X-ray System - MobileDaRt Evolution MX8 Version k type
website for a Konica Minolta X-ray motion analysis workstation