Digital Radiographic Mobile X-ray System - MobileDaRt Evolution MX8 Version k type

Advanced DR Mobile system with new values

Dynamic Digital Radiography
OPTION
MobileDaRt Evolution MX8 Version k type with wireless FPD supporting dynamic digital radiography enables serial radiography in mobile X-ray systems, and reference serial images can be reviewed on a large touch panel monitor mounted on the main unit. It provides the sequential images as a cine loop to check the lung movements of patients who have difficulty moving. This dynamic information aids in a more precise diagnosis. Serial images can be captured at a maximum frame rate of 15 frames per second, for up to 20 seconds.
* The dynamic digital radiography function is available by combining FPDs that support dynamic digital radiography.
* The dynamic digital radiography function does not include dynamic digital radiography analysis. A dedicated workstation is required for dynamic digital radiography analysis. For more information and availability, please contact your sales representative for details.
Image courtesy of Konica Minolta, Inc.
Glass-Free Flat Panel Detectors
With the MobileDaRt Evolution MX8 Version k type, you can opt for glass-free Flat Panel Detectors. Its lightweight design, lighter than conventional glass-based FPDs, lightens the workload of radiological technologists. Coupling superior durability, it minimizes the risks of damage associated with unavoidable accidental drops, proving to be a pragmatic and dependable choice for healthcare facilities.
* Only AeroDR3 1417HL/1717HL and 1417SL are glass-free.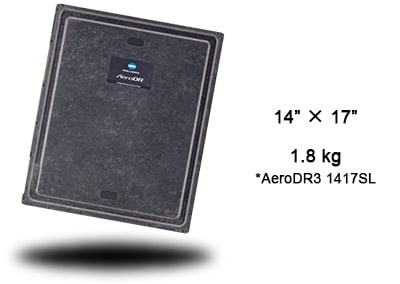 Advanced Image Processing for a Wide Range of Clinical Needs
Scattered X-ray Correction Enables Grid-less Radiography
OPTION
The system can be equipped with a function to remove scatter noise and improve image contrast, making it possible to perform exposures without the use of a grid making it easier to handle FPD's.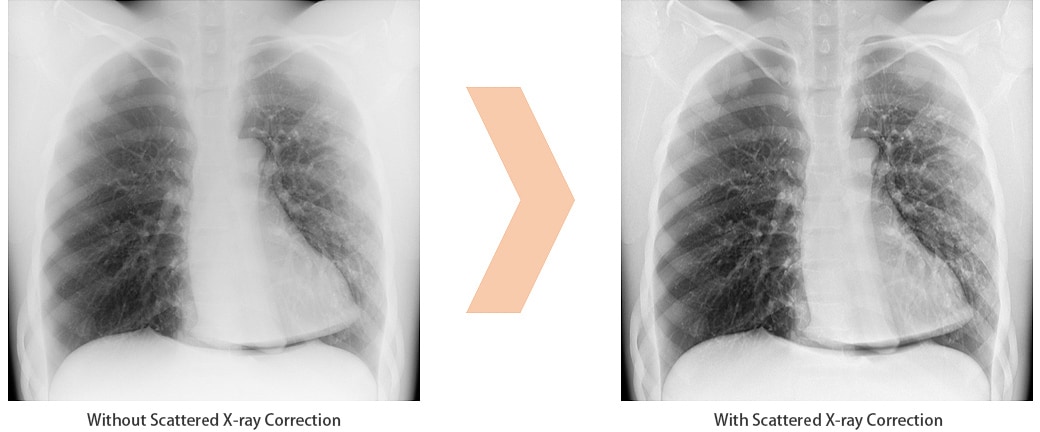 Edge Enhancement for Safer Procedures
OPTION
For use in surgical operations, the new image processing function helps to confirm the absence of residual instruments like gauze and needles. This is also useful to reconfirm locations for the catheter tip in PICC insertion procedures more clearly.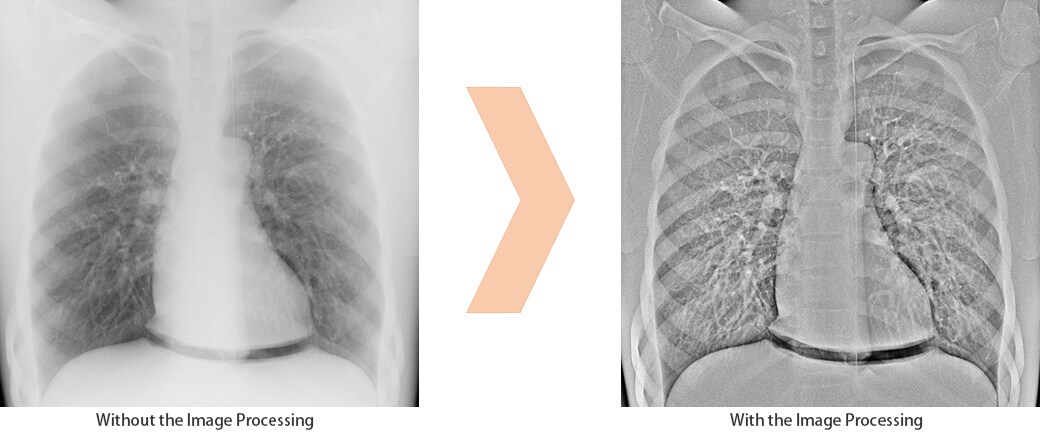 Flat Panel Detectors with Excellent Usability
The lightweight, easy-to-hold design and rounded edges make rounds and bedside imaging more comfortable, minimizing the risk of accidental drops and slips and providing more comfort for the patient. In addition, water resistance(IPX6)* and the high load capacity (400kg)** contribute to daily clinical work with peace of mind.
* It depends on FPD models.
** Distributed load capacity

*In the case of AeroDR3 1417HD2. All specifications may vary by size, installation and usage conditions. Please refer to current product manual for latest specifications.
Select the Perfect FPD for Your Application
A wide variety of FPD models are available to meet various clinical needs, such as physical size and sensitivity. You can share one FPD between multiple units or add different dimension FPDs. A combination with liquid resistant and a light weight FPD makes your daily handling much easier. *
* It depends on FPD models.

User Voice
Medical Center Hospital, USA
Please note that the product or some features/options may not be available in your country.
The appearance of the system, options, FPD and DR user-interface can be different depending on the version or region, and may change without notice. To confirm these detailed availability for you, please contact us.
LITERATURE
Tomoharu Okuno1, Ken Shirota2
Global Marketing Department, Medical Systems Division, Shimadzu Corporation1
Research & Development Department, Medical Systems Division, Shimadzu Corporation2
Hisahiro Kitai
Department of Radiology, Shiroyama Hospital
Eiji Yamamura
Department of Radiology, Toho University Ohashi Medical Center
Shoichiro Nanjo
Department of Radiology, TMG Asaka Medical Center
Toru Hayakawa
Medical Systems Division, Shimadzu Corporation