February 9, 2023

| News & Notices
New Autograph AGX-V2 Series Precision Universal Testing Machines Incorporate World's First Voice Operation Device to Provide Accurate and Safe Testing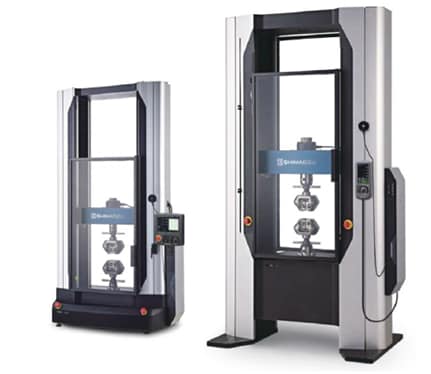 Autograph AGX-V2 Series Precision Universal Testing Machines
(Left: Large Color LCD Touch Panel Equipped Model, table-top model;
Right: Standard Model, floor model)
Shimadzu Corporation announces the release of the Autograph AGX-V2 series precision universal testing machines. This is the world's first series of testing machines equipped with a voice operation device. The series consists of five models, including a standard model; one equipped with a large color LCD touch panel for heightened testing efficiency; a model with a wide testing space for testing large parts; and a separately installed controller model, which is useful for new materials development. With this extensive lineup of machines offering excellent performance, Shimadzu is contributing to the development of new materials, including carbon fiber reinforced plastic (CFRP) and metals, and transportation equipment-related research and development and quality control.
Precision universal testing machines are used for tests that measure the strength of materials and changes when a force is applied. In recent years, electric vehicles (EV) have gained traction and carbon neutral-related development needs have heightened. As a result, there has been an increase in parts and products utilizing new materials and new structures, leading to a higher demand for strength testing. Accordingly, as strength tests have proliferated, so too have the number of operators with little experience in operating testing machines, increasing the need for user-friendly and safe systems. Additionally, the systems must be highly efficient due to the increase in the number of required test cycles.
The models in the Autograph AGX-V2 series are the world's first testing machines that can be voice operated. They are compatible with Japanese, English, and Chinese commands consisting of key phrases. Operations using voice commands can be combined from a selection of 25 operations, including "Start the test," "Show the peak value (test results)," and "Return to start position after the test." Alertness when performing actions is improved, resulting in an accurate and safe testing environment.
Since it began manufacturing testing machines in 1917, Shimadzu Corporation has contributed to a variety of research and development and quality control situations. The existing Autograph AGX-V series are the flagship models of our diverse testing machine lineup. With their high measurement accuracy and wide guaranteed accuracy range, they feature the world's highest level of performance and functionality. Autograph AGX-V series testing machines incorporate multiple safety functions, including a safer cover for protecting operators from debris; an automatic crosshead stop function for preventing jig impacts; a crosshead emergency stop function that performs an emergency stop if the machine detects contact with jigs or hands; and an overload detection function for preventing load cell damage from overloads. This new series carries on the performance and functionality of the Autograph AGX-V series and improves testing efficiency, resulting in a more accurate and safer testing environment.
Further growth is anticipated with respect to transportation equipment, electrical and electronic parts, and chemical materials. Shimadzu is providing new added value, and contributing to problem solving in related industries, including those related to clean energy technologies.
Features
1. The World's First Testing Machines Equipped with a Voice Operation Device
These machines are equipped with the XV-Talk voice operation device as standard. Voice commands can be used for 25 operations that are typically performed with buttons. These include "Start the test," "Show the peak value (test results)," and "Return to start position after the test." The machines are compatible with Japanese, English, and Chinese, and give a verbal response to the specified key phrases spoken by the operator, including "Start the test" and "Execute." Operations using voice commands can be selected to suit the customer's procedural workflow. Test safety is heightened by audible cautions and alerts issued by the machines, so even operators with limited experience will find them straightforward and convenient to operate.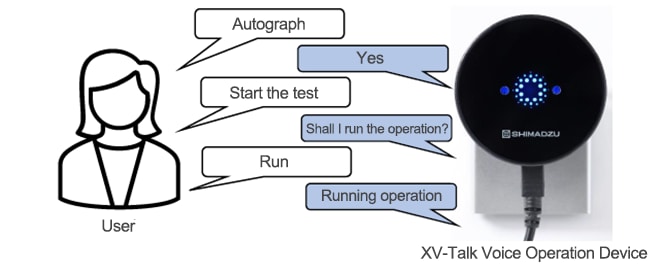 Using the XV-Talk Voice Operation Device
2. Lineup Expanded to Suit the Needs of the Customer
In addition to a standard model, Shimadzu is releasing a large color LCD touch panel equipped model, a wide testing space model, and a separately installed controller model. The large color LCD touch panel equipped model meets the needs of quality control departments for faster, more efficient testing of many samples. The test data and graphs are displayed in real time on the controller touch panel, so the system can be used without a personal computer, heightening testing efficiency. The width of the testing space in the wide testing space model has been increased from 600 mm to 1000 mm, allowing car seats and other large parts to be tested as is at actual size. The separately installed controller model is useful for the development of new materials intended to increase the stiffness and reduce the weight of transportation equipment. Electronic component malfunctions due to dust suspended when composite materials break, or to shocks when high-strength steel (ultra-high-strength steel) materials break, can be prevented.
3. Maintains the World's Highest Performance Levels First Achieves with the Autograph AGX-V Series
The existing Autograph AGX-V series achieved the world's top level of functionality and performance. This includes high test force measurement precision at plus or minus 0.3 % or better of the indicated value; a wide guaranteed measurement precision range from 1/1 to 1/2000 of the load cell capacity; a 10 kHz sampling rate capable of data acquisition at twice the speed of competing brands; and high expandability capable of increasing the number of external input ports to accommodate strain measurements etc. up to 20 channels. The new AGX-V2 series also achieves these performance levels, contributing to heightened efficiency and accuracy in testing operations.
For more details, visit
AGX-V2 Series