August 3, 2021

| News & Notices Realizing Stress-Free Radiography Even in Pandemics, Disasters, or Other Emergent Circumstances
- Release of Mobile X-Ray System MobileArt Evolution MX8 Version -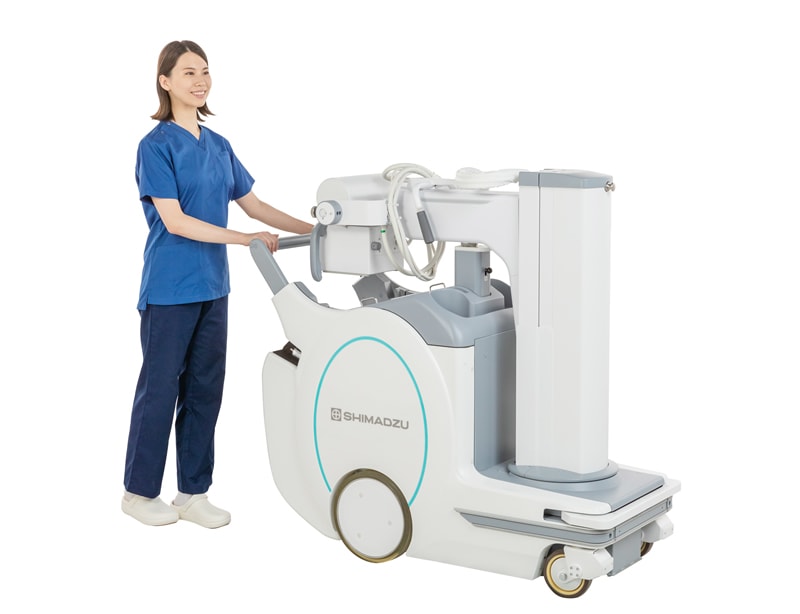 Mobile X-ray System MobileArt Evolution MX8 Version
On August 3rd 2021, Kyoto Japan, Shimadzu launches the state-of-the-art mobile X-ray system "MobileArt Evolution MX8 Version" in Japan and global market, excluding the United States and China. By moving the system to the patient bed side, it enables radiography for patients who are hard to be moved to an X-ray room, such as infection disease patients in a COVID-19 isolation ward.
The MobileArt Evolution MX8 Version features Shimadzu's proprietary GLIDE TechnologiesTM *1, which has been well appreciated globally in other Shimadzu X-ray systems. It is the first analog mobile X-ray system to adopt a collapsible column in its class. With its smooth operability that reflects the operator's intent, operators can effortlessly position the X-ray tube as desired in each examination. Stowing the column provides you broad forward visibility during travels. The slim body width of only 56cm enables your stress-free operation in various circumstances, even in a pandemic or disaster medicine.
The MobileArt Evolution MX8 Version also supports using a flat panel X-ray detector (FPD) for digital imaging workflow and applications. That means it can easily be used in combination with FPDs already available at medical facilities to enable DR (digital radiography) for efficient examinations while minimizing initial costs. The system helps examinations to be performed smoothly by providing a space for placing a laptop computer, which is required to perform DR using the FPD, and is even designed with a compartment for stowing the FPD. It can also be used in combination with a conventional CR*2 cassette type X-ray receptor upon your choice.
Features
1. Collapsible Column and Slim Body Achieve Safer & Easier Travels
Shimadzu's unique GLIDE Technologies provides smoother travels and GLIDE VIEWTM functionality allows the X-ray tube support column to be smoothly collapsed. During travels, the column is collapsed to a height of 127 cm, which prevents obstructing the forward visibility so the staffs can move the unit more safely.
Due to the slim main body that is only 56 cm wide, the system can be positioned more easily even in confined space, such as in intensive care units (ICUs) or operating rooms that are full of other devices.
2. Pursuit for Supreme Operability to Maximize Your Examination Efficiency
X-ray exposure field size adjustment knobs on the rear side of collimator and all-free switches at the bottom of collimator handle (to allow all movements at once, e.g. column rotation, arm extension/retraction, and X-ray tube up/down operations) were newly added. That means the operator can adjust the X-ray tube position and collimation field easily from all around the system, which achieves more efficient radiography operations.
3. Compatible with a Variety of X-ray detectors (DR NEUTRAL)
The MobileArt Evolution MX8 Version supports using a wide variety of X-ray detectors, for DR (*3) or CR upon your choice. Based on Shimadzu's "DR NEUTRAL" concept, that broad compatibility means customers can use the Shimadzu X-ray system in combination with any FPD that best fits their specific needs. Customers can also use existing FPD units already available at their own facility.
The FPD stowing compartment is compact but provides plenty of storage space and includes a locking mechanism for preventing theft. A CR cassette stowing compartment is also optionally selectable, if the system will be used with CR.
*1 GLIDE Technologies: Advanced power-assist technology that uses sensing, shock reduction, balancing, stability control, and torque control technologies to enable light & smooth manual operability of equipment that weighs up to several hundred kilograms.
*2 CR (Computed Radiography): Using an imaging plate (IP) cassette to acquire images and a reader to convert the data to digital signals.
*3 DR (Digital Radiography): Using an FPD (Flat Panel Detector) to convert X-ray into digital signals and have images on monitor in real time without a reader.
For more details, visit
Mobile X-ray System MobileArt Evolution MX8 Version