Motorized mobile X-ray system - MobileArt Evolution MX8 Version

Responsive and Maneuverable Mobility

With a collapsible column and power-assist functionality, MobileArt Evolution offers much easier operability and far more motive power. That makes you easier to position it in confined spaces and execute examinations quickly in a variety of circumstances.
Great Forward Visibility and Intuitive Maneuverability with Safety
The collapsible Column
The collapsible column has been developed to enhance forward visibility during travel. This is a premium feature designed for our premium DR mobile system MobileDaRt Evolution MX8 Version originally, but now we made it available on our Analog system as well.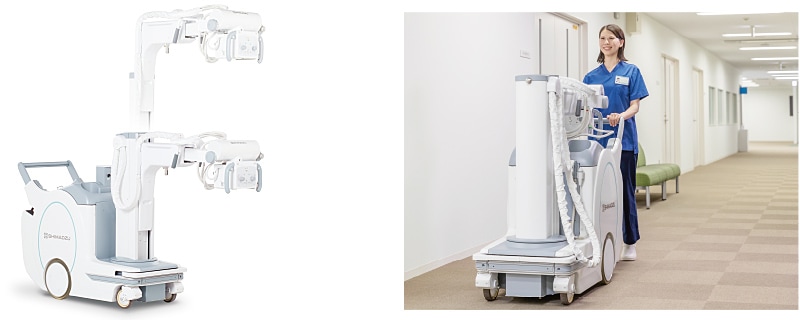 GLIDE VIEW Technology
Optimized power assist system delivers natural light touch driving whether moving forward, stopping quickly or changing directions. The system can be moved lightly and naturally to support your daily works very comfortably.
Compact Body and Safety Design
The compact unit is only 56 cm wide, making it easy to maneuver the cart even in tight spaces. With a collapsible column, settings can be configured without interference from IV drip stands or other tall medical devices. In addition, the body cover has been strengthened to prevent damage should the unit hit an object when moving around the wards. The unique soft-touch bumper automatically stops the unit when even the slightest pressure is detected.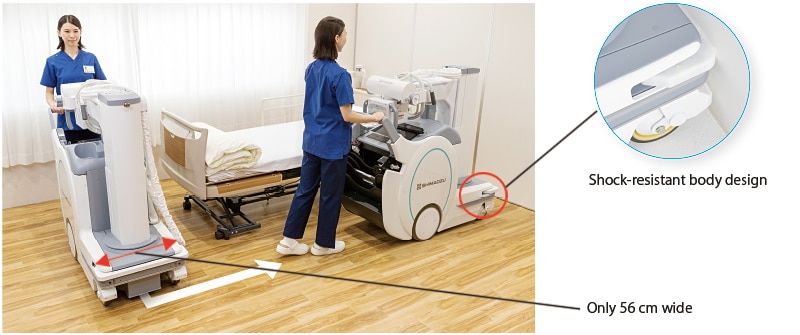 Easy Positioning with a Wide Range
Wide Exposure Range
The system is especially useful for imaging in ICU's, where there are numerous devices around the patient. With the long vertical stroke range of X-ray tube and the max.1200 mm telescopic arm extension, the MX8 is easily positioned for patient imaging.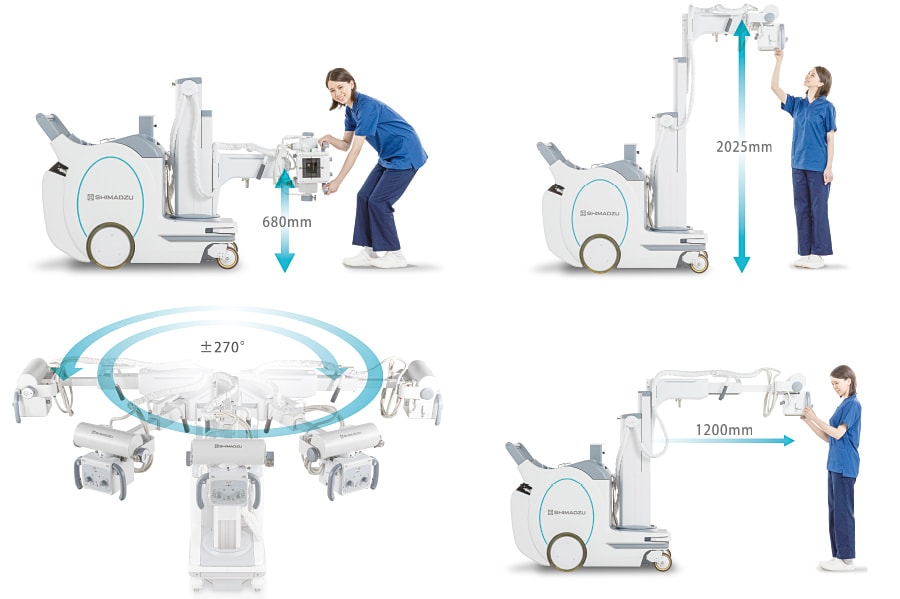 Easy Positioning from Anywhere
The system is designed for allowing radiological technologists to perform positioning from any direction. In addition, SHIMADZU's unique spring-balance mechanism enables smooth operation for precise positioning. It can be easily adjusted for delicate positioning and multi-directional shooting.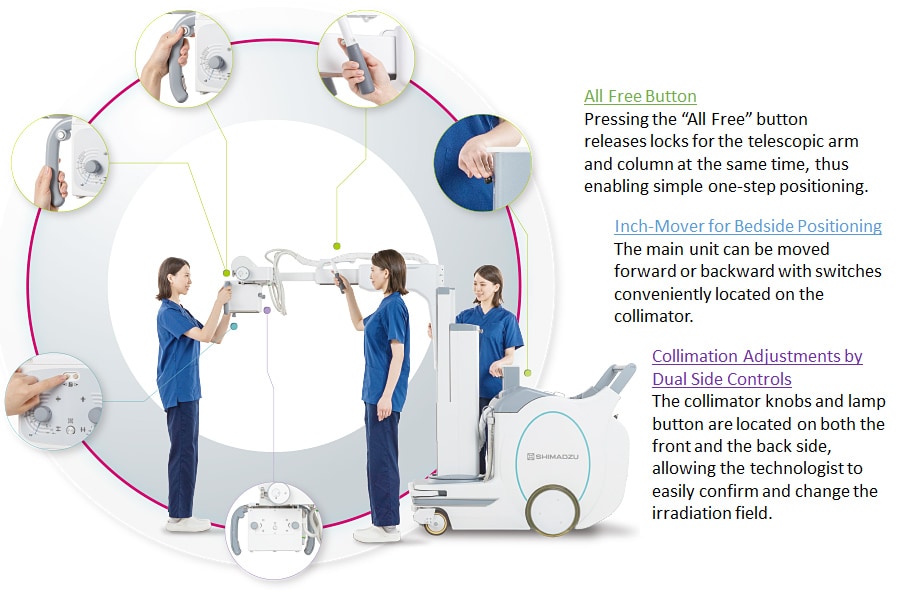 Fits the needs of your facility

Multi-purpose tray
The system provides space for you to place your own laptop PC for DR, etc. This is also useful for small tasks. A wire lock can be attached to the laptop PC to prevent loss of essential patient's data. In addition, the laptop computers can be fastened to the multi-purpose tray with a band during travel.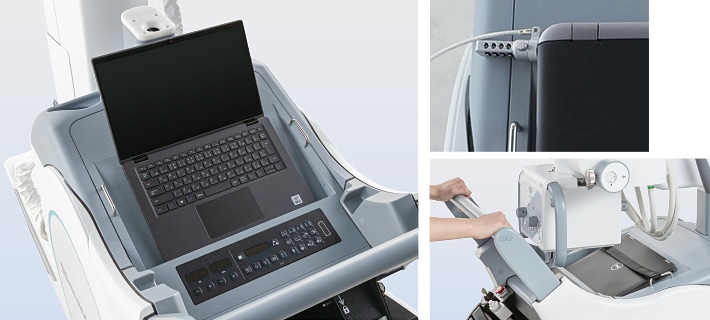 *Laptop PC and/or wire lock are not included in the system.
Selectable FPD / Cassette Storage Boxes
Compact but with enough storage space, the FPD storage box can accommodate 17x17 inch FPDs and grid, and a CR cassette storage type is also available upon your choice.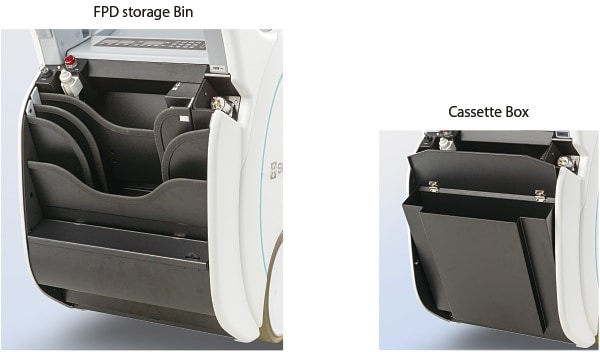 Design for Everyday Use
For daily use, grooves have been added for holding the FPD vertically to put a sterile cover on it. In addition, extra storage spaces are provided at the front to store wipes, pens, markers, etc.

Enhancing Security, Workflow and Dose Management
The system is designed taking every important factor into consideration, such as security, workflow and dose management. If you would like to get more specific information, please see the brochure from here.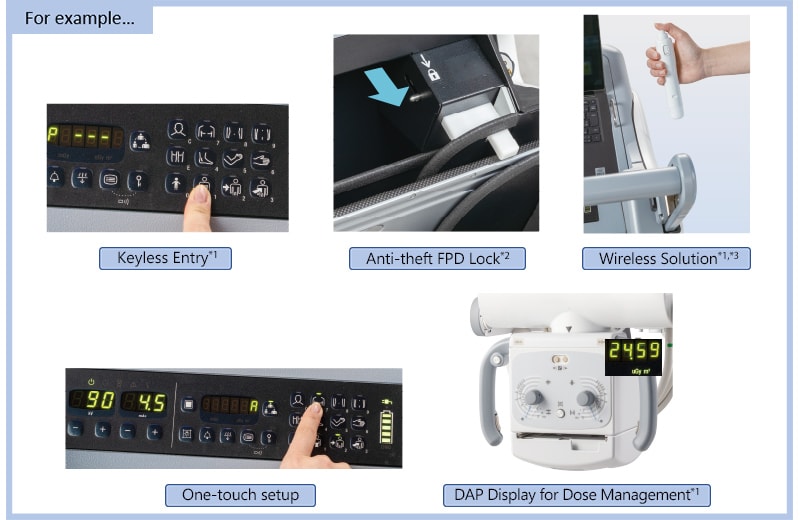 *1) Options
*2) Only when FPD Storage Bin is selected.
*3) Availability of the option depends on the regional radio wave regulation. Please contact Shimadzu representative in the region regarding the availability.
The product design may be partially changed without notice.
This page may contain references to products/items that are not available in your country. Please contact us to check the availability of these products in your country.
LITERATURE
Tomoharu Okuno1, Ken Shirota2
Global Marketing Department, Medical Systems Division, Shimadzu Corporation1
Research & Development Department, Medical Systems Division, Shimadzu Corporation2