March 9, 2022

| News & Notices Selected as a "Health and Productivity Management Brand" for the Second Consecutive Year
Recognized as "White 500" Company with Superior Health Management Practices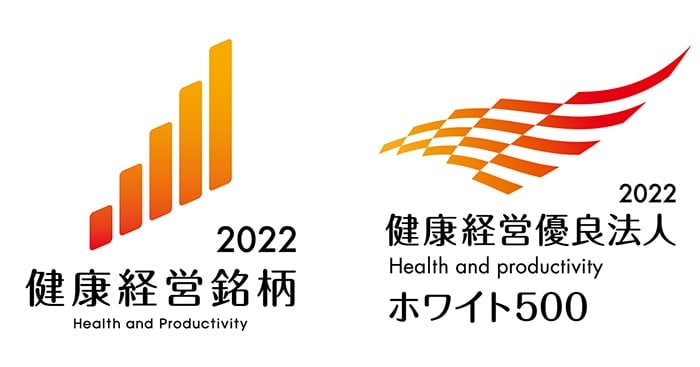 Shimadzu Corporation has been selected by the Ministry of Economy, Trade and Industry and the Tokyo Stock Exchange as a "2022 Health and Productivity Management Brand," which is a recognition of publicly listed companies with outstanding health and productivity management practices. This is the second consecutive year Shimadzu has been selected as a company that implements "health management" in a strategic manner and with a managerial perspective that considers the health of employees and other personnel.
Furthermore, for the sixth consecutive year, Shimadzu has been recognized as a "White 500" company, which are publicly listed or other large companies with outstanding health management practices, selected by the Ministry of Economy, Trade and Industry and the Nippon Kenko Kaigi.
Shimadzu considers employee health, safety, and the freedom to work with vigor and enthusiasm as the basis for company management and believes that ensuring them will result in achieving Shimadzu's management principle "Realizing Our Wishes for the Well-being of Mankind and the Earth."
Shimadzu Health Management Initiatives
In 2017, Shimadzu issued a health declaration to promote maintaining and improving the health of employees and their families, in cooperation with the Japanese Health Insurance Association and labor unions by implementing a "Miru-Miru Genki" program for maintaining and improving health in five areas—exercise, diet, quitting smoking, mental health, and sleep.
This fiscal year, a Health Check Challenge program was deployed to promote improvements in employee health checkup scores assigned based on nine criteria, such as blood pressure and triglyceride levels, for all recipients of regular health examinations. That program improved employee health literacy by supporting measures to improve health while having fun.
In addition, in order to prevent the spread of infections among employees during the current wave of COVID-19 infections, Shimadzu Group employees involved in businesses related to infectious diseases are given regular PCR tests and continue to receive routine health checks by occupational healthcare personnel.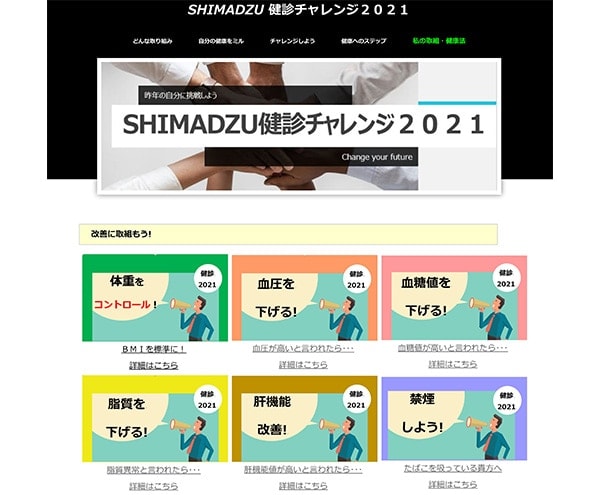 Internal Webpage
for the Health Check Challenge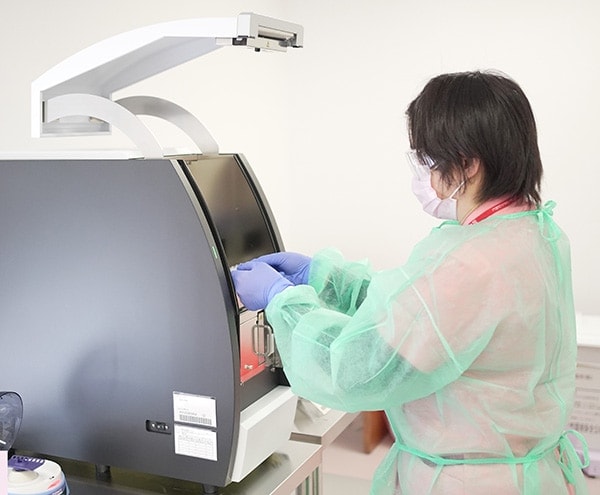 PCR Testing Room
Established in the Health Center at Shimadzu
Health Declaration
Ensuring Health
We will be highly mindful of our own health and engage in independent measures to improve our health. In addition, we will work together with colleagues to create a safe, secure, and comfortable workplace.
Sustaining Businesses through Health
We will continue to promote employee health as Shimadzu always has since the company was founded in 1875. In addition, we will also supply cutting-edge scientific technologies and services that help improve the health of employees and overall society, along with promoting the growth and prosperity of Shimadzu businesses.
Contributing to the Future of Society through Health
As Shimadzu grows and progresses together with society, we will strive to help create a prosperous future for mankind, not only by ensuring the health of our employees and their families, who serve as the core basis of our business operations, but also by practicing our corporate philosophy "Contributing to Society through Science and Technology."