Health and Productivity Management
We believe that ensuring the physical and mental health of each employee will lead to increasing corporate value. Therefore, we have been working to establish systems and create workplace environments that allow employees to work without worrying about their health. In October 2017, we published our Health Declaration and began promoting health management. We also started offering new healthcare technologies and services created by Shimadzu to employees.
Health Declaration
The health and safety of each employee and their ability to work positively and with vitality serve as the basis for achieving Shimadzu Corporation's management principle "Realizing Our Wishes for the Well-being of both Mankind and the Earth". Accordingly, we declare that we will strive toward realizing our wishes for health.
1. Ensuring Health
We will be highly mindful of our health and engage in independently maintaining our own health. In addition, together with our colleagues we will endeavor to create a secure, safe, and comfortable workplace.
2. Sustaining Businesses Through Health
We will uphold the company spirit of promoting employee health, which has continued since the company was founded in 1875. In addition, by supplying leading-edge scientific technologies and services, we will help ensure the health of employees and society and promote the growth and prosperity of our businesses.
3. Contributing to Future of Society Through Health
We will grow together with society and strive to help create a prosperous future for mankind based on ensuring the health of our employees and their families, who are at the core of our business operations, and based on our corporate philosophy "Contributing to Society through Science and Technology".
Preparing the Health Guide "Mind and Body Health Book"
Including topics on exercise, diet, and sleep, the health guide was prepared in March 2018 to help employees improve their health on their own by reviewing their daily routines to prevent lifestyle diseases or improve their life habits. It will be distributed to all Shimadzu Group employees in an effort to promote awareness about health.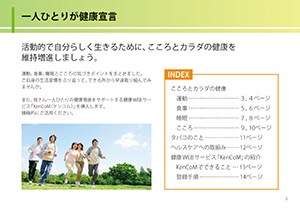 Health Guide
"Mind and Body Health Book"
Introducing KenCoM Health Web Service
The KenCoM health web service was introduced to increase mindfulness about health and instill healthy habits in each employee. With the KenCoM service, users can record step-counts and weight, participate in health events, view health exam results and medication histories, and more. It supports user health improvement efforts by issuing points, which can be exchanged for gift certificates or products, for health event participation or actions that result in lifestyle improvements, while also making participation fun for individuals.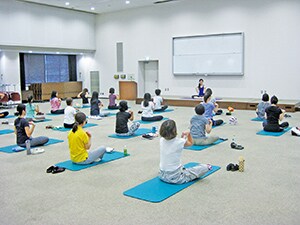 Health Event
Subsidizing Breast Cancer Examination Expenses with Elmammo Avant Class Dedicated Breast PET System
In cooperation with Medical Corporation Chionkai, we established a system for subsidizing the cost of obtaining a breast cancer examination using a Shimadzu Elmammo Avant Class dedicated breast PET system. The subsidy system was established to promote the early detection and early treatment of breast cancer by increasing the ratio of women receiving breast exams. Female employees or spouses of male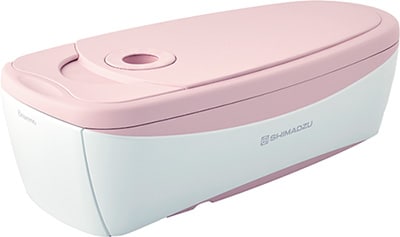 Elmammo Avant Class
Dedicated Breast PET System
Recognized as "White 500" Company with Superior Health Management
For the third consecutive year (2017 to 2020), Shimadzu Corporation was selected as a "White 500" company (large enterprise category) under the "2020 Certified Health & Productivity Management Organization Recognition Program-White 500," which is operated jointly by the Japanese Ministry of Economy, Trade and Industry and the Nippon Kenko Kaigi since 2017 to recognize companies with outstanding health management practices for maintaining and improving employee health.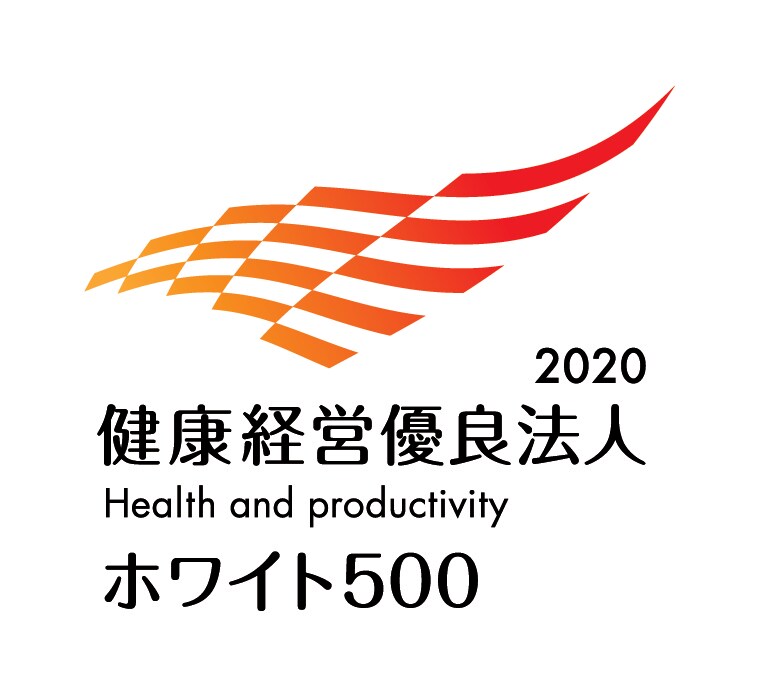 Health Challenge Marathon
Shimadzu holds a Health Challenge Marathon to promote health and a lively workplace. Group participation and pedometer step-count ranking events were added to attract as many participants as possible. Consequently, the number of participants has been increasing each year, resulting in participants inviting other like-minded employees in the workplace to join and spending happily two months together engaged in improved eating and exercise habits.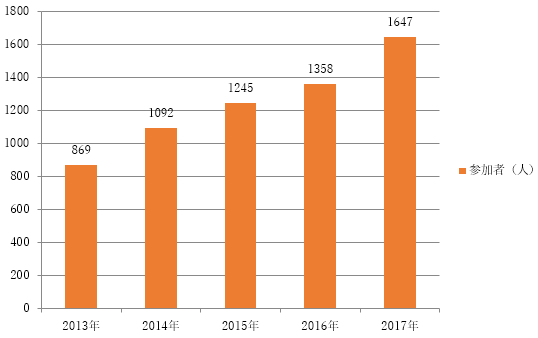 Number of Participants
Comments from Participants
I was able to take breaks from work by stretching as part of a program to prevent video display terminal disorders.
I participated in the walking event. It was a good thing I confirmed the disaster route.
It showed me how good it feels to move my body, but I also learned how difficult it is to keep exercising.
I am glad I participated, because it gave me an opportunity to exercise.
I tried the step-count ranking event. Thanks to the passionate participants, it fueled my motivation to keep trying each day. I also experienced the benefits of walking.
It helped me drink less alcohol while still having fun. I am very grateful for the program.
I participated along with other people I work with. Talking with work colleagues that I normally don't have an opportunity to interact with has really changed our work environment.
Blood Drive Activities

Donating Blood
The Shimadzu Blood Donation Committee holds a blood drive at Sanjo Works twice a year (spring and fall). The 81st blood drive held in the fall of 2017 resulted in cooperation from 194 people.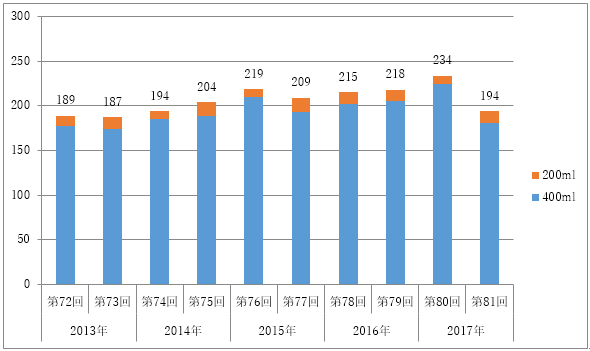 Number of Blood Drive Participants
Activities to Reduce Smoking
In response to the Safety and Public Health Committee decision to reduce the number of smoking areas and reduce the smoking rate, various activities are being performed to promote not smoking.
A health exhibit is displayed during regular health examinations, in cooperation with the health insurance society. In addition to promoting not smoking and offering advice about quitting smoking, an outpatient clinic for quitting smoking was established in the company health examination center. To also prevent exposure to secondhand smoke, Shimadzu is not only promoting no-smoking at any time during the World No-Smoking Day, but also during the "Shimadzu Suwan Day" no-smoking day on the 22nd of each month since June 2018 ("suwan" means "won't smoke").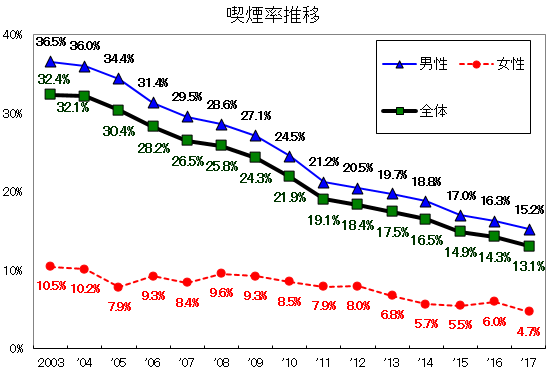 Graph of Smoking Rates in Sanjo District at Regular Health Examinations
Comments from Former Smokers
The first 2 or 3 days was really tough, and I occasionally have an overwhelming urge to smoke, but I have somehow managed to continue my life without smoking. I cough less and spend less money, so the changes are all good (34 year old male).
I don't know why I continued to smoke for so long. It was full of negatives and offered nothing positive (40 year old male).
Promoting Health and Local Production for Local Consumption at Cafeterias
To improve employee health, employees can now choose healthier food for lunch and dinner from healthy menus developed based on calorie intake and nutrition. Furthermore, a seminar was held in February 2013 to give employees that needed to improve their fat level an opportunity to actually try healthy meals made with lots of fish and vegetables.
To promote using locally sourced foods at Shimadzu's Sanjo Works employee cafeterias, the cafeterias actively offer menu items made using vegetables produced in Kyoto Prefecture (such as cucumbers, tomatoes, and Manganji peppers). In 2009, the cafeterias were certified as a Kyoto Prefecture "Tanto Oagari" Producer, which is granted to institutions that are motivated use agricultural products produced in Kyoto Prefecture. That certification has been maintained to this day.