February 3, 2022

| News & Notices Expanding Market Share in the Pharma/Biopharma Market with New LC
Release of the Nexera XS inert High-Performance Liquid Chromatograph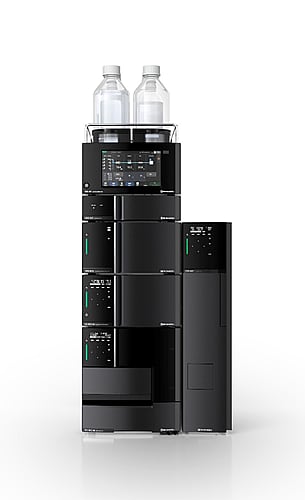 Product Photo: Nexera XS inert High-Performance Liquid Chromatograph
Shimadzu Corporation announces the release of the Nexera XS inert high-performance liquid chromatograph globally. The Nexera XS inert incorporates rust-resistant materials and nonmetallic materials that limit the adsorption of molecules to provide stable measurements of biopharmaceuticals and medium molecule pharmaceuticals*1. Through this product, Shimadzu aims to expand its business performance in the market for biopharmaceuticals such as antibody drugs and medium molecule pharmaceuticals such as nucleic acid drugs.
In recent years, in the pharmaceutical industry, the development of biopharmaceuticals, such as antibody drugs, as well as medium molecule pharmaceuticals utilizing peptides and oligonucleotides has accelerated. These new modalities*2 have chemical characteristics that differ from low molecular compounds, which are currently the mainstream in pharmaceuticals. Accordingly, new techniques will be required in situations such as research and development related to drug efficacy and toxicity as well as in manufacturing and quality control. High-performance liquid chromatographs (LC) and liquid chromatograph mass spectrometers (LC-MS) may also pose problems. For example, molecules prone to adsorption by metals become adsorbed within the instrument during analysis, leading to data inaccuracies and reducing sensitivity. In addition, depending on the test method, the LC system might rust, and performance might deteriorate because of long-term use or insufficient cleaning after use.
Nexera XS inert, based on the outcome of cooperative research (Japan Science and Technology Agency's Adaptable and Seamless Technology Transfer Program through Target-driven R&D(A-STEP ), October 2017 to March 2020) with Professor Yasushi Ishihama of the Graduate School of Pharmaceutical Sciences, Kyoto University, was designed and developed in order to resolve such problems. Nonmetallic materials are used for the flow lines through which the samples pass, preventing adsorption of molecules prone to metallic adsorption by the instrument. As a result, sensitivity in LC and LC/MS tests is not prone to decrease, and the accuracy of data is maintained even in repeated analyses. Additionally, rust-resistant materials are used in the design, so that the instrument provides stable operation and highly reliable data, even after long-term use of saline and other solutions for corrosive to metals.
As an LC manufacturer, Shimadzu has the top share of the Japanese market, and our flagship Nexera series LC system is used by a wide range of customers thanks to its high basic performance level and excellent usability. The Nexera XS inert is intended to expand our global share by strengthening our share of the pharma/biopharma market. By continuing to heighten data reliability, Shimadzu is promoting more streamlined analysis and testing, thereby contributing to the rapid development of bio- and medium molecule pharmaceuticals.
Features
1. Limits Metallic Adsorption and Increases Analytical Reliability of Medium Molecule Pharmaceuticals such as Nucleic Acid Drugs
Nexera XS inert uses nonmetallic materials for the parts in contact with the measurement samples. For example, the SIL-40C XSi autosampler in the Nexera XS inert features nonmetallic materials, so it limits the adsorption by the instrument of nucleic acids and other molecules prone to adsorption by metals. This improves the accuracy and repeatability of analysis data, improves sensitivity, and expands the dynamic range*3. In addition, adsorption-resistant materials have been adopted for the parts that separate the samples (columns), the containers that store the samples (vials), and the consumables that place the samples into containers (pipette tips).
2. Provides Long-Term Stability of Antibody Drugs Analysis Thanks to Highly Corrosive Resistant Materials
The LC-40D XSi solvent delivery pump in the Nexera XS inert inherits high performance of the existing Nexera series, while using highly rust-resistant materials for the flow line parts. This ensures long-term stable data acquisition, even in analyses of antibody drugs using highly concentrated saline solutions.
3. Refined Usability and a Variety of Functions Support the Analysis Process
Functions such as a mobile phase monitor, which prevents analysis mistakes due to insufficient remaining solution, are carried over from the Nexera series.
The system's 105 MPa pressure resistance makes it possible to use long columns and columns packed with fine particles, allowing the Nexera XS inert to accommodate a wide variety of applications.
The newly developed PEEK lining piping has a ratchet fitting mechanism. Anyone can reliably connect columns with a maximum withstand pressure of 105 MPa, without using tools.
With methods such as size exclusion chromatography (SEC), which is used in the analysis of bio- and medium molecule pharmaceuticals, the pH*4 of the mobile phase has an impact on the accuracy of the analysis results. The optional pHM-40 pH monitor records the analysis data together with continuous measurements of the pH of the mobile phase, ensuring data reliability.
Using this system together with Method Development Support Software, which automatically switches between multiple mobile phases and columns, as well as searches for and optimizes analytical conditions, promotes more efficient development of analytical conditions.
*1 Medium molecule pharmaceuticals: Pharmaceuticals that use molecules with a molecular weight between 500 and 2000
*2 Modality: The type and form of pharmaceuticals
*3 Dynamic range: The concentration measurement range in which reliable results are obtained
*4 pH: A measurement unit showing the properties of an aqueous solution. Higher numbers indicate alkalinity and lower numbers acidity.
For more details, visit
Nexera XS inert