May 17, 2023

| News & Notices
Release of Plane Holographic Gratings for High Resolution Spectrometers with a maximum number of groove density of 5000/mm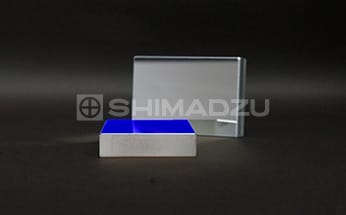 Plane Holographic Gratings for High Resolution Spectrometers
On May 17, Shimadzu has released Plane Holographic Gratings for High Resolution Spectrometers. This can be used in a wide range of spectrometers where high resolution is required, such as emission analysis and light source monitoring using the ultraviolet region.
The most notable Feature of the gratings is its ability of high dispersion and low stray light by high density grooves with newly developed holographic exposure technology. It meets the needs of high-resolution spectrometers in the fields of material analysis and semiconductor manufacturing and inspection.
Two types are available as standard products: one for vacuum ultraviolet region with 4984 grooves/mm (code number: 498-016-601L-MG) and one for ultraviolet region with 4342 grooves/mm (code number: 434-026-601L).
It is possible to customize the substrate material, external dimensions, coating, etc., and to provide products that meet customer needs.
Features
1. High Dispersion
The high density of grooves allows the high dispersion of UV light, contributing to the realization of high-resolution spectrometers.
2. Low Stray Light
The grating grooves are produced by a holographic exposure method. Using this method ensures that the amount of stray light due to periodic errors is much less than mechanically ruled gratings, contributing to accurate spectroscopic measurements.
3. High Quality and Stable Supply
Shimadzu's replica technology enables long-term stable supply of products with little quality variation in mass production.
4. Customizability
It is possible to customize external dimensions, substrate materials and coating materials.
The maximum number of groove density is 5000/mm.