Concave Blazed Holographic Gratings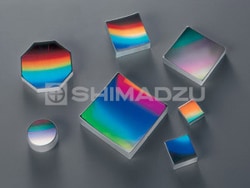 A concave grating has the advantage of setting up a spectroscopic system without any imaging optics like concave mirrors. For this reason, the concave grating is used in a wide range of applications, such as analytical instruments, optical communications, biotechnology, and medical instruments. Spectroscopes incorporating concave gratings are classified roughly into two categories: polychromators or monochromators. Shimadzu offers concave gratings for applications in (1)flat-field polychromators and (2)constant deviation monochromators.
Features
As a concave grating itself has the aberration correction function, it is possible to design a compact spectroscopic system by a concave grating in higher resolution than by a mechanically ruled grating.

Concave gratings with small radius of curvatures are available. It is also possible to make concave gratings with high aperture ratios for fluorescence analysis and optical communication applications.

All the concave gratings for flat-field polychromators and constant deviation monochromators are aberration corrected by the optimum exposure method of Shimadzu's Aspherical Wave Exposure Technology and have excellent imaging performance.

The grating grooves are formed by a holographic exposure method which applies two-laser-light interference. This holographic method ensures that the stray light ,due to periodical errors of grooves, of concave gratings is much smaller than that of mechanically ruled gratings.

Blaze angle is formed by an ion-beam etching technology which easily makes blazed holographic gratings with various blaze angles (blaze wavelengths).

High groove density and high resolution gratings can be manufactured easily and at competitive price.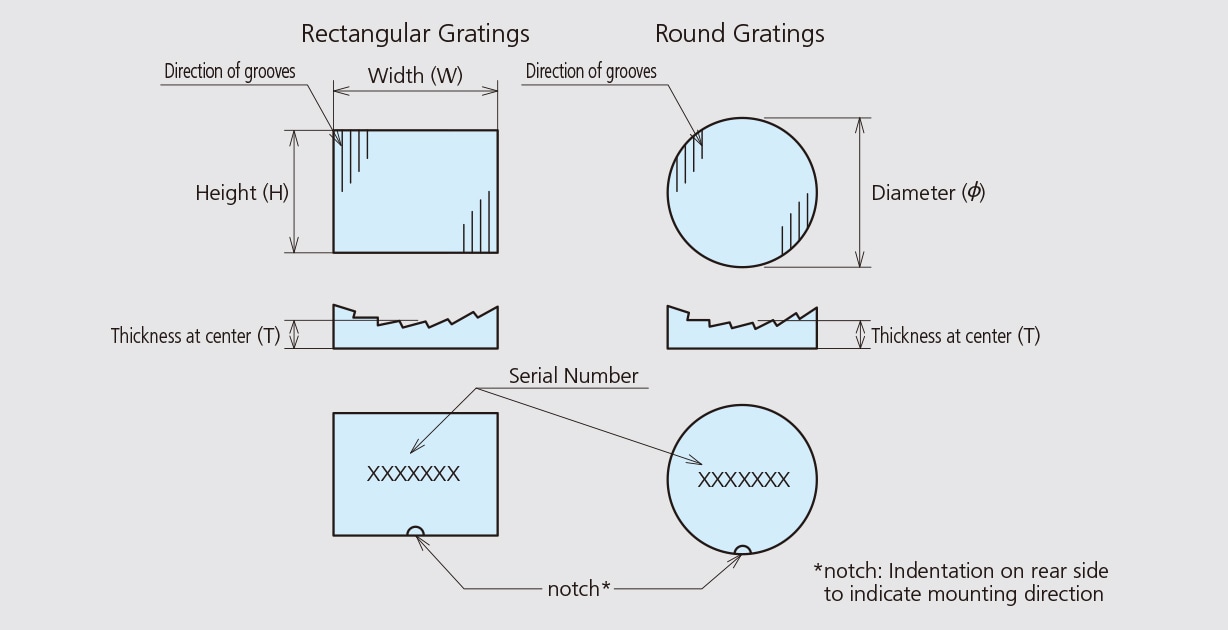 Fig.3 Shape of Concave Gratings
Standard Specifications
Grating Type
Unequally spaced curved-groove replica grating*1
Blank material
Soda glass
Dimensional tolerances
Width(W) and hegiht (H) of rectangular blanks
Diameter(Φ) of round blanks
Thickness(T)

±0.2mm
0/-0.2mm
±0.5mm
Effective area
Total area less a 2mm strip around the perimeter
Groove density tolerance (at center of grating)
±2 grooves/mm
Coating (vacuum evaporation)
Aluminum (Aℓ)
Scratches and digs
80-50 (in accordance with MIL-O-13830A)
Special Specifications
When you need special concave gratings other than our standard, please contact us.

Holographic gratings (HG) are also available.