Failure Analysis Using a Single Switch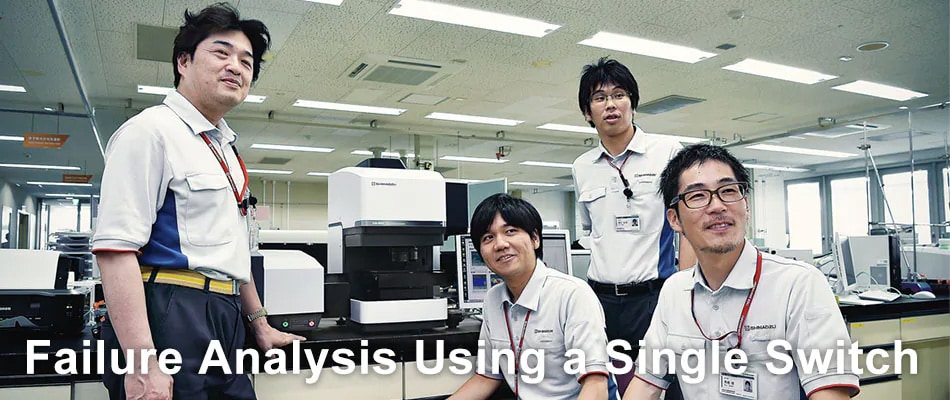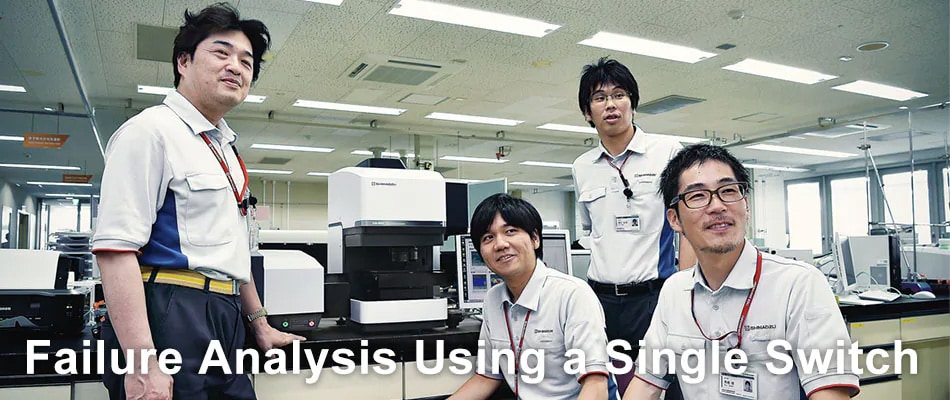 A Revolutionay Solution That Goes Beyond the Basic Concept of an Infrared Microscope
This article traces the path our engineers took to automate the three essential process steps of failure analysis—observe, measure, and analyze, based on a concept of making a system that anyone can easily operate to analyze the cause of failures.
A 20-Year Gap
"Is that really necessary?"
It was in early 2011 at Shimadzu's Sanjo Works when Iso of the R&D Department was persistently asked by Tsuchibuchi whether they should really improve the analytical accuracy of the new infrared microscope they were developing by increasing camera resolution by a factor of 16 compared to the current model. From Iso's perspective, Tsuchibuchi was more than ten years older and had far more skill and knowledge about analysis than himself. Nevertheless, he felt there was a line beyond which he could not compromise.
Infrared microscopes are used to analyze failures. Application examples include identifying foreign substances attached to pharmaceutical tablets or contamination on electrical circuit boards. They can identify target substances at the molecular level, based on how the infrared light is absorbed or reflected. For example, since both polypropylene and acrylic are clear plastics, small fragments of these are indistinguishable using visible light. However, with an infrared microscope, the difference is clearly apparent.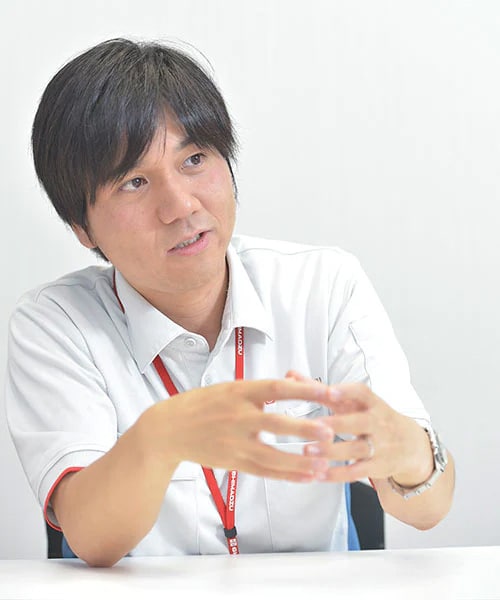 Keisuke Iso
Analyzer Group, R&D Dept.
Analytical & Measuring Instruments Div.
Shimadzu entered the infrared microscope market in the 1980s. The AIM-8800 model released in 1998 offered reliable performance that earned favor from many customers. Twenty years later, though the performance of the AIM-8800 kept improving through various updates, it could no longer keep up with the rapid changes occurring in the market. In the 1990s, customers were mostly analytical specialists at academic and research institutions. Since many researchers developed their own analytical techniques, their biggest need was higher basic performance. However, as infrared microscopes increasingly became used for quality control and to determine the cause of failures in electronic devices, foods, etc., there was a simultaneous increase in the number of non-specialist users. Consequently, customers were demanding easier-to-operate systems that could produce reliable data when operated by users without specialized knowledge.
Let's Not Offer a System That Merely Matches Competing Products
Therefore, Shimadzu formed an infrared microscope development team in 2010. The first thing the team considered was what market to target. It was a question of whether to develop a product for specialists looking for basic performance, as before, or to target the recently growing market segment that was looking for easy operability. Yokota of the R&D Department described the decision this way: "If we were going to design something, I did not want it to merely match the level of competitors. That is why we chose to follow the path of developing a new market."
Starting Development from Nothing
After deciding the direction of development, the development team immediately hit a wall. "Though it sounds like I'm joking, none of us had ever touched an infrared microscope before" (Yokota).
Twenty years had passed since the previous model had been developed. Most of the people at the center of its development had retired and there was little documentation available for reference. Each of the members assigned to the team had previously been in charge of different products. Consequently, the project had to start from nothing, in terms of various aspects.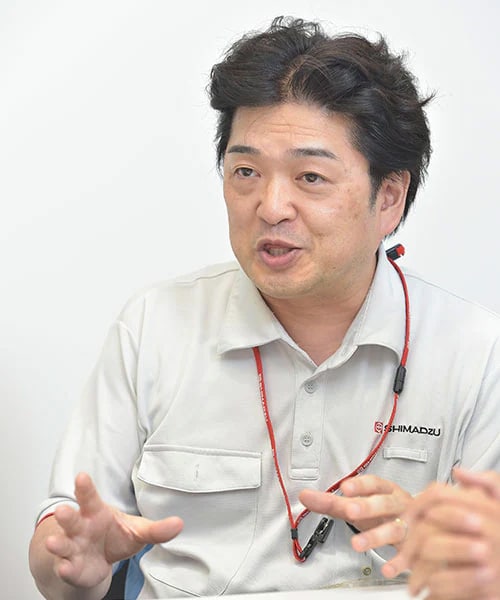 Kazumi Yokota
New Business Development Group, R&D Dept. Analytical & Measuring Instruments Div.
That's when we sought help from the Global Application Development Center (GADC). The center has experts that use infrared microscopes on a daily basis in order to respond to inquiries about analysis received from outside Shimadzu. Tsuchibuchi, mentioned above, was one such expert. (He is currently the General Manager of the Spectroscopy Business Unit.) The development team filmed Tsuchibuchi and others using infrared microscopes to analyze samples, and then watched those videos repeatedly to understand how to actually operate the instruments themselves. In addition, they interviewed Tsuchibuchi and others at GADC about the types of things they wanted. That is when Iso became hung up on the high-resolution camera. "Our resources were limited. If we didn't use our resources with precision, our project would end. I think Tsuchibuchi, who thoroughly knows what customers want, was quite right. However, we had already decided to make an infrared microscope that was easy enough for anyone to use. I was not willing to compromise that point" (Iso). Meanwhile, as they kept repeating analytical processes, the development team realized a major issue. Normally, when a target substance is observed using an infrared microscope, the substance is first viewed via an optical microscope to mark the locations of impurities or failures with tape or a marker pen. Then the marked sample is transferred to the infrared microscope so that the marked locations can be observed.
This positioning process is easy for analytical experts, but for inexperienced people, finding the tiny target locations that are not visible to the naked eye is extremely difficult. Therefore, in addition to the regular microscope camera, which provides a high magnification image with a narrow field of view, Maji (Spectroscopy Business Unit), who is in charge of mechanical design, added a wide-view camera that can be used to view samples at the same magnification as the naked eye. Furthermore, Aoi (R&D Dept.), who is in charge of software, worked with Shimadzu's Technology Research Laboratory to develop software that automatically marked suspected failures using image recognition technology.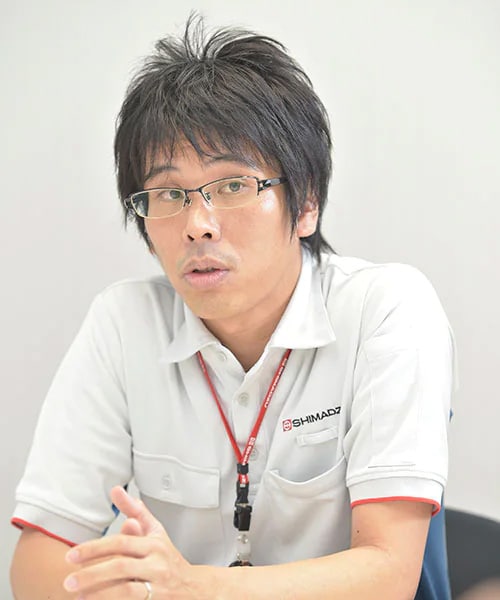 Yusuke Aoi
Imaging Group, R&D Dept.
Analytical & Measuring Instruments Div.
"If we were struggling, then that meant customers were struggling as well. Therefore, we racked our brains trying to find a way to make expert skills available to anyone" (Aoi).
We also took care to provide a good software interface. When we finished the prototype system in 2012, one year after we started the project, we gathered employees with minimal analytical instrument operating experience to perform usability testing for several days and then asked them how it felt to use the system.
"Our goal was ease-of-operation equivalent to using a smartphone app. We also did a lot of research on the user interface of commercially marketed applications" (Aoi).
Completion of Automatic Failure Analysis System
When Maji was performing final testing in late 2015, five years after development started, a certain phrase crossed his mind. "It was 'This is no longer an infrared microscope.' Of course, it was in fact an infrared microscope, but we had poured a huge amount of effort into being able to analyze failure locations as quickly and accurately as possible. That's when I realized that we had created an automatic failure analysis system."
That is how the AIM-9000 automatic failure analysis system came to be released in May 2016. Its unprecedented ease-of-use attracted significant attention and triggered a stream of inquiries from companies that had previously outsourced analysis to specialized companies. Consequently, it added another page to the history of product inspection systems essential for quality control.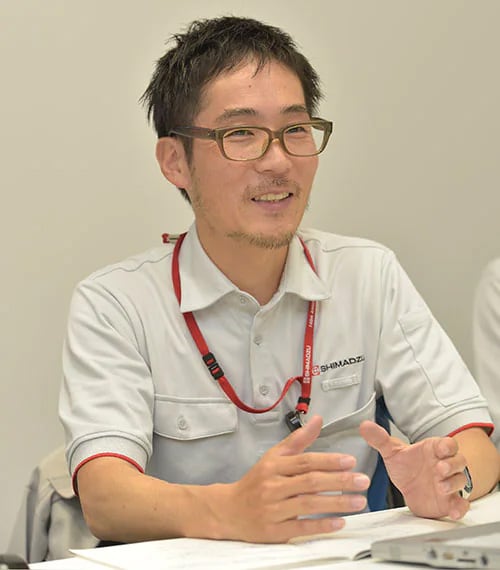 Takeshi Maji
IR Group, Spectroscopy B.U.
Analytical & Measuring Instruments Div.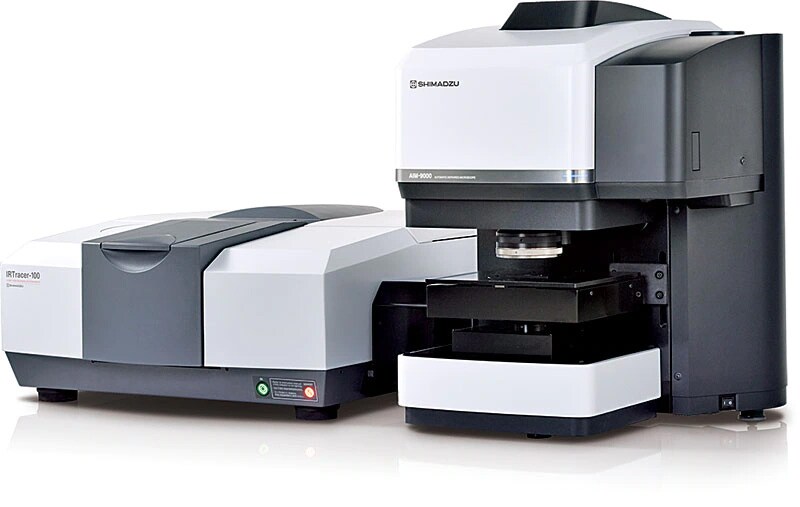 AIM-9000 Automatic Failure Analysis System Infrared Microscope
The Pursuit of Automation Makes "Difficult" Failure Analysis "Easy"
* Affiliates and titles of the persons mentioned in this article reflect their status at the time of the interview.
* The AIM-90000 has been awarded the Red Dot Design Award for Product Design 2018, a prestigious and internationally recognized German design award. Press Release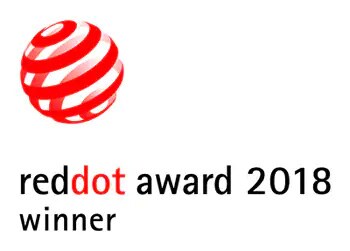 Copied