Fostering Diversity and Inclusion at the Workplace – Embrace the Beauty and Talents of All People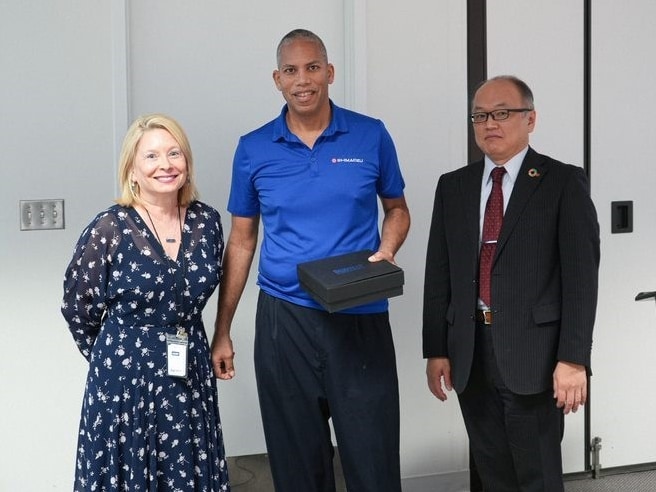 From left to right; Roma S. Brodecki, Diversity, Inclusion and Culture Manager,
Mark Alston, National Service Agreement Sales Director and co-chair of a group of SSI's ERGs and Yoshiaki Maeda, SSI President.
Shimadzu Scientific Instruments (SSI), a Shimadzu group company in the United States, was recognized as a "Great Place to Work" by the Great Place to Work Institute in April 2022. One of SSI's initiatives that make it a great workplace for all employees is being an inclusive workplace and offering Employee Resource Groups (ERG).
What are Employee Resource Groups (ERG)?
ERGs are voluntary, networking groups of employees with the goal of cultivating a diverse, inclusive workplace. Also, ERGs aim at fostering a sense of belonging and inspire conversation of employees. The first ERGs formed in the 1960s as a response to racial tension and workplace discrimination in the US.
SSI is committed to fostering a diverse and inclusive workforce to help attract, retain, and advance employees while moving the company and industry forward. SSI's ERGs are contributing to help this goal with following four pillars of success.
Employee Engagement:
Focus on continual involvement of employees, their commitment to and satisfaction with their work and environment.
Professional Development/Retention:
Provide opportunities for personal growth and professional advancement that serve to enhance employees' contributions to SSI.
Recruitment:
Source for assisting in attracting new talent to SSI.
Community Outreach:
Engage externally with SSI HQ and Regional Office communities.
Community Action & Partnership by Shimadzu Scientists
CAPSS - Community Action & Partnership by Shimadzu Scientists, one of the ERGs in SSI, who works collaboratively in teams across the country with a common goal of impacting, improving, and volunteering in our surrounding communities, has been organizing various volunteer activities.
As part of their activity, they orchestrated coat drive project in each office in the US and send the donated coats to families in need.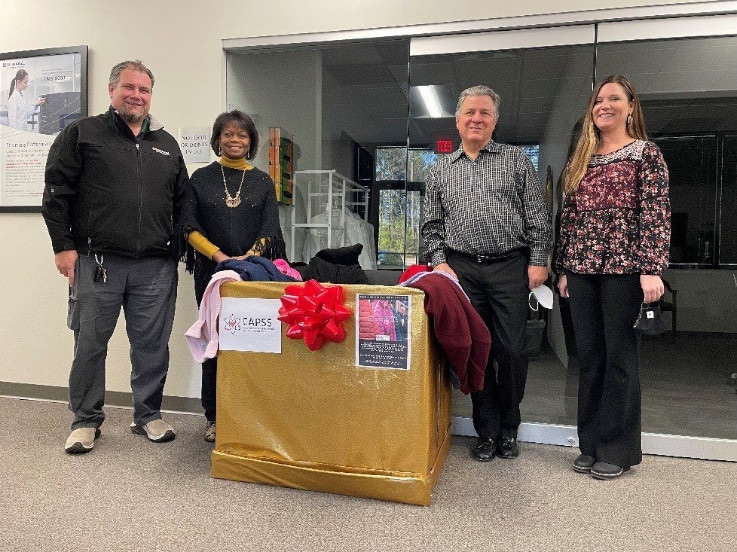 They also held a donation at the May 2022 SSI National Sales Meeting and used them for charity in the community. CAPSS prepares for an online auction to donate handmade items.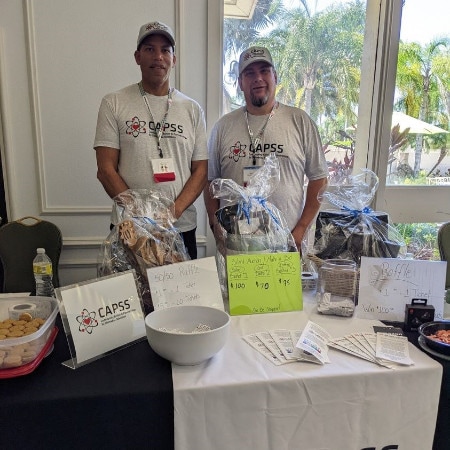 Comment from the Person in Charge
CAPSS orchestrated a successful coat drive with SSI employees from all over the United States donating 320 coats to help families in need. Prizes were given to the regions and headquarters that collected the most coats. Employees living in warm areas of the United States even contributed coats. It was a great SSI Team building, a way to get Shimadzu's name out into the community and help people.

(Mark Alston, National Service Agreement Sales Director, and co-chair of CAPSS Employee Resource Group)
Page Title and URL Copied.