Opening of SHIMADZU Future Collaboratory – Driving Advanced Research and Open Innovation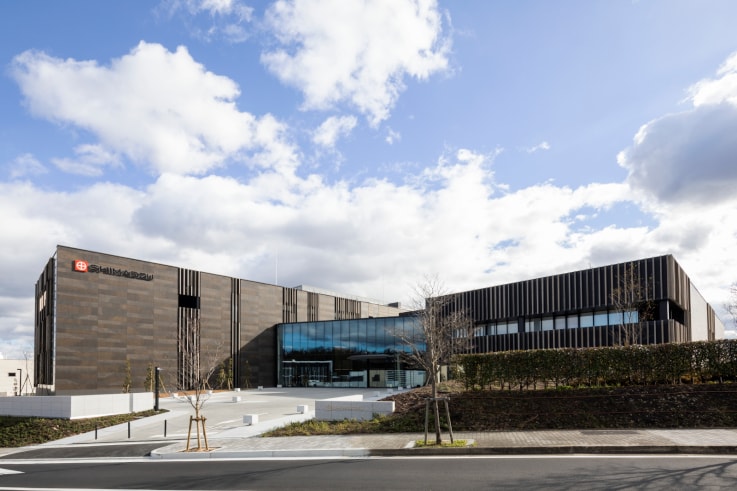 The Technology Research Laboratory is engaged in Shimadzu's core technology development and basic technology research. To elevate and diversify research and development and the creation of new businesses at the laboratory, the new SHIMADZU Future Collaboratory research facility has been opened on the grounds of the laboratory.
This new facility will drive research in the fields of advanced analysis, brain science and the five senses, innovative biotechnology, and AI. In this article, we will hear from the staff and introduce some of the laboratory's unique features.
Introducing Advanced Equipment in Four Areas
As the name implies, SHIMADZU Future Collaboratory is designed for the promotion of cutting-edge research to create the future and to provide a better environment for collaboration between researchers. The main research areas within the facility are as follows.
Area
Discipline of
Technology Research
Featured Design
Physical Laboratory Zone (P-LAB)
X-rays, radiation, light,
and other physics
•Environments that suppress vibrations
•Radiation shielded rooms and absolute dark rooms
Human Sciences Laboratory Zone (H-LAB)
Human sensation and emotion
•Rooms for observations in a variety of situations
Biological Laboratory Zone (B-LAB)
Cells, microorganisms, antibody response, and other biotechnology
•Various equipment and a cold room divided by biosafety level
Chemical Laboratory Zone (C-LAB)
Chemical synthesis, chemical analysis, and other chemical substances
•Concentrated piping for safe gas provision
•The thoroughness of waste management and chemical management
A variety of facilities to promote collaboration and communication have also been built. These include a research exhibition area, "Collaboratory Hall," with a capacity for 320 people, "Gym-Messe," a combination of a gymnasium and an exhibition (messe), and a refreshment area.
Accelerating Open Innovation and Technology Fusion
Shinji Inoue of the Research Promotion Department of the Technology Research Laboratory was committed to the planning and establishment of SHIMADZU Future Collaboratory. He has the following to say about the facility's objectives.
The objective of SHIMADZU Future Collaboratory is to promote cutting-edge research, high-level technology fusion, and open innovation.

By accelerating collaboration with external research institutes and enterprises, we aim to create the technology of worth that generate new pathways to a bright future and resolve societal challenges.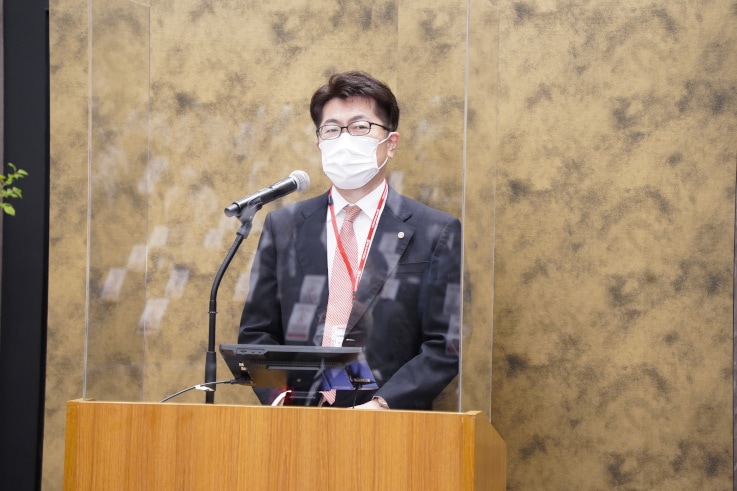 A Basis for Stepping Up on the Next Stage
This new laboratory will play an important role in subsequent challenges addressed by Shimadzu. It is already having the anticipated effect of revitalizing research activities.
Construction began in October 2020, relocation of equipment proceeded, and the opening ceremony was held on May 26, 2022.

With the new research equipment, researchers can now conduct experiments that they could not do before. I also feel that communication has become more active due to the concentration of researchers on one floor and the various innovations in the laboratory.

The facility will expand research and development centered on innovative biotechnology, AI robotics technology, and the five senses, as well as Shimadzu's key analytical and measuring businesses, core imaging technology in the medical businesses, and lasers and other light-related advanced analysis. We will address new challenges at this facility based on our corporate philosophy: "Contributing to Society through Science and Technology."
Page Title and URL Copied.