Shimadzu's Greatest Strength - Technical Expertise Maintained Since Its Founding
Shimadzu Group's greatest strength has been based on the technical capabilities and trust cultivated since the company was founded by sincerely responding to what customers want. In addition, a close relationship with research institutions that conduct research on innovative technologies, and engaging in joint research work with these institutions, have resulted in acquiring advanced technologies and identifying advanced needs. Furthermore, Shimadzu has a wide range of technological disciplines, creating a foundation to respond to new technologies, and a corporate culture that provides high discretionary freedom for Shimadzu researchers and engineers to pursue innovative solutions. These backbones have served as an ideal environment for generating highly creative and competitive technologies
Within the Shimadzu Group, the Medical Systems, Aircraft Equipment, and Industrial Machinery Divisions each focus on specific industries. In contrast, the Analytical & Measuring Instruments Division spans businesses in multiple industries, such as pharmaceuticals, foods, metals, chemical engineering, environmental, and automotive. In a broad sense, these analytical and measuring technologies can be a key to synergies in each division and thereby represent core technologies that run through the entire Shimadzu Group.
Promoting R&D to Prepare for the Next Generation
The research policy of the Shimadzu Group is to engage in developing new businesses and technologies necessary for society. This includes the research and development of core technologies that will produce innovative next-generation products, development of new products that improve upon current products and technologies, and development of highly versatile common technologies, including AI, IoT, and robotics.
In other words, we believe it is important to promote research and development with an eye toward the next generation. In an effort to support our business and achieve further growth, we are engaged in building the broad capabilities necessary for developing everything from basic technologies to products and applications.
We are also promoting the development of advanced technologies by participating in joint research and open innovation projects that combine the strengths of the Shimadzu Group with those of outside partners.
Technological innovation is a major driver behind changes in the world. My role as the CTO is to contribute to the company's sustainable growth and progress by acquiring new technologies, creating new products and businesses, and coordinating our portfolio of technologies with a view to future changes and the evolution of new technological advances.
Actively Engaging in Open Innovation
We have been implementing two major policies since the previous medium-term management plan.
One is to create hubs for open innovation. We have set up Innovation Centers in key regions outside Japan to identify local customer needs and develop application systems. In Japan, we founded the Healthcare R&D Center in June 2019 and are establishing centers of excellence in various R&D layers (product development, basic technology research, and application development), such as the SHIMADZU Future Collaboratory and Tokyo Innovation Plaza.
The other policy is to engage in organizational partnerships with research institutions that have a large number of development seeds available. The partnership matchmaking process involves talking about the research projects that may be of interest to both organizations and the technologies individual researchers can offer. In the future, we will work on open innovation for all related processes, including planning, research, product development, and application development, and also deploy organizational partnerships with research institutions outside Japan.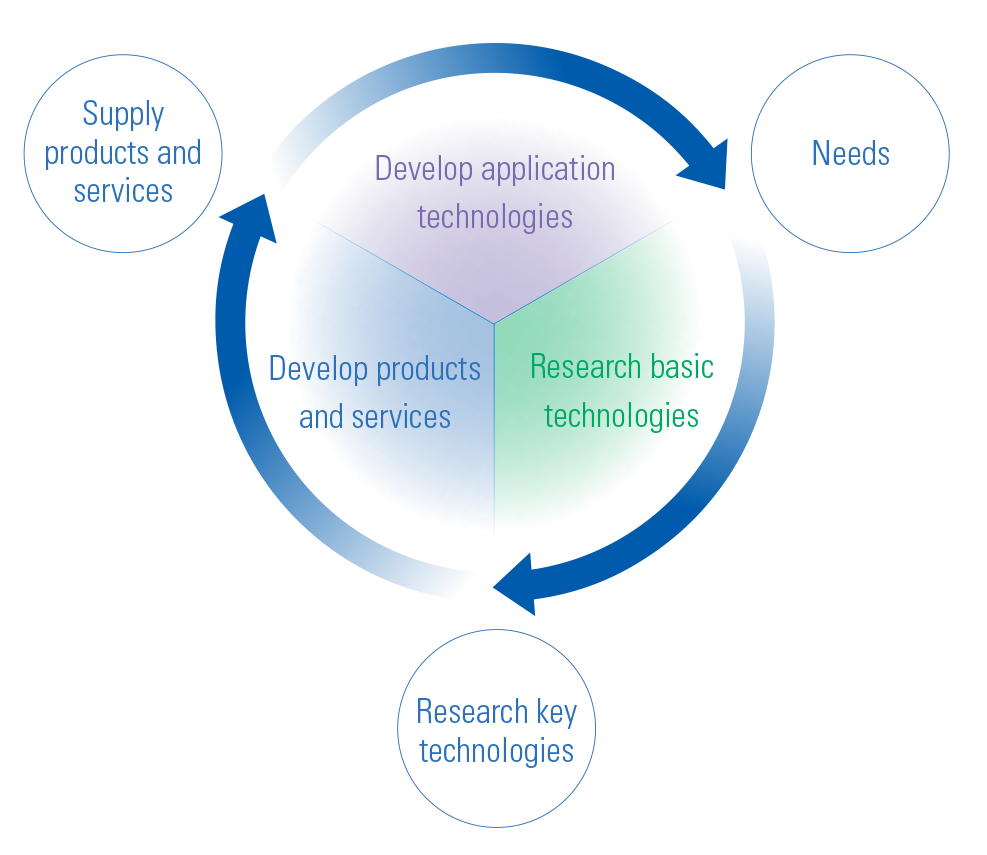 Becoming a Company That Solves Challenges in Society in Collaboration with Partners All Around the World
During the previous medium-term management plan, we promoted developing outside partnerships and actively engaged in joint research with R&D partners. However, in reality, only a few of those projects resulted in actually implementing the resulting technologies as a commercial business.
To commercialize results as a business, we need to work with a variety of partners other than R&D partners and leverage their expertise. In other words, we need to identify and work with strategic partners to jointly create important systems for commercializing R&D results and establish business partners that can help use those systems to actually deploy the businesses. Therefore, the current medium-term management plan specifies strong policies for commercializing R&D results and actually implementing the results in society, as an exit strategy for R&D partnerships.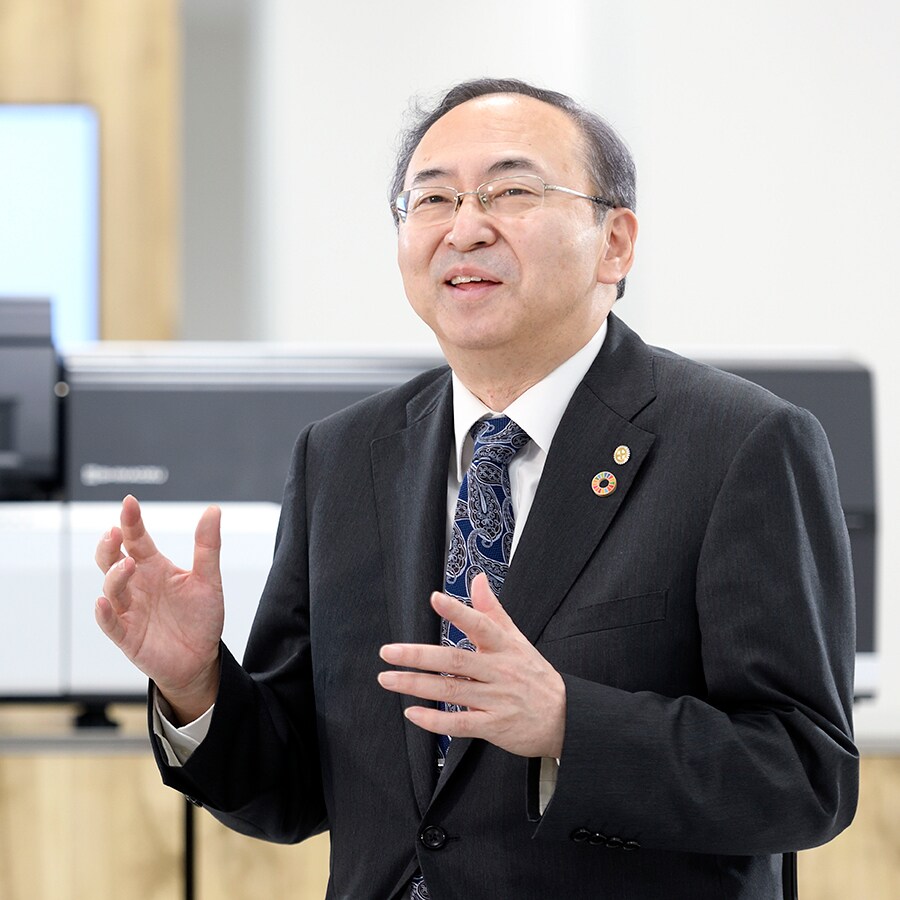 What Do We Need to Innovate?
In the past, I think researchers and engineers were generally expected to do everything by themselves, but they were also given broad freedom of discretion. That probably resulted in a more broad-but-shallow approach that was conducive to generating new ideas.
In contrast, given the increasing technical sophistication of product development work in recent years, narrower specialization is increasingly expected in an effort to improve efficiency. Specialization in product development, such as mechanical design, electrical design, and software development, is advancing, and each specialty is improving. On the other hand, it seems there are fewer people able to envision future products in their entirety. Consequently, I think there is an urgent need to develop human resources that can think about products and technologies with a broad perspective.
Furthermore, even if new ideas were generated, we lacked the systems for developing them into new products or businesses. To solve that issue, a new Startup Incubation Center was established in October 2020 to incubate new startup businesses or help launch new products.
In terms of Shimadzu Group R&D, I think it is important to engage in so-called "deep tech (deep technology)," which has been attracting a lot of attention in recent years. Deep tech refers to technological solutions based on innovative technologies that could have a major impact on solving challenges in society, but that also require a correspondingly large investment or long period to establish. Of course, even R&D work requires being mindful of short-term results, but it will nevertheless be essential to carefully consider deep tech within the scope of Shimadzu R&D. Therefore, we intend to consider deep tech very seriously, if only to ensure Shimadzu retains its key characteristics and/or pursue its uniqueness.
Contributing to Society through Science and Technology
I believe that constantly striving to implement our corporate philosophy of "Contributing to Society through Science and Technology" and serving a role in building a sustainable society will surely result in increasing our corporate value. Therefore, we are committed to ceaselessly researching and developing advanced technologies.
Biography of Mitsuo Kitaoka, Director, Senior Corporate Executive Officer, CTO
April 1982
 
Joined Shimadzu Corporation
January 2007
 

General Manager, Research and Development Department,
Analytical & Measuring Instruments Division

June 2011
 
Deputy General Manager, Analytical & Measuring Instruments Division and General Manager, Research and Development Department, Analytical & Measuring Instruments Division
June 2015
 
Corporate Officer
June 2015
 
Director, Technology Research Laboratory
June 2017
 
Managing Executive Officer
Jun. 2017
 
Director in charge of Research and Development
June 2019
 
Director, Member of the Board (to present)
April 2020
 
Senior Managing Executive Officer
April 2020
 

CTO (to present)

April 2021
Appointed to Senior Corporate Executive Officer (to present)