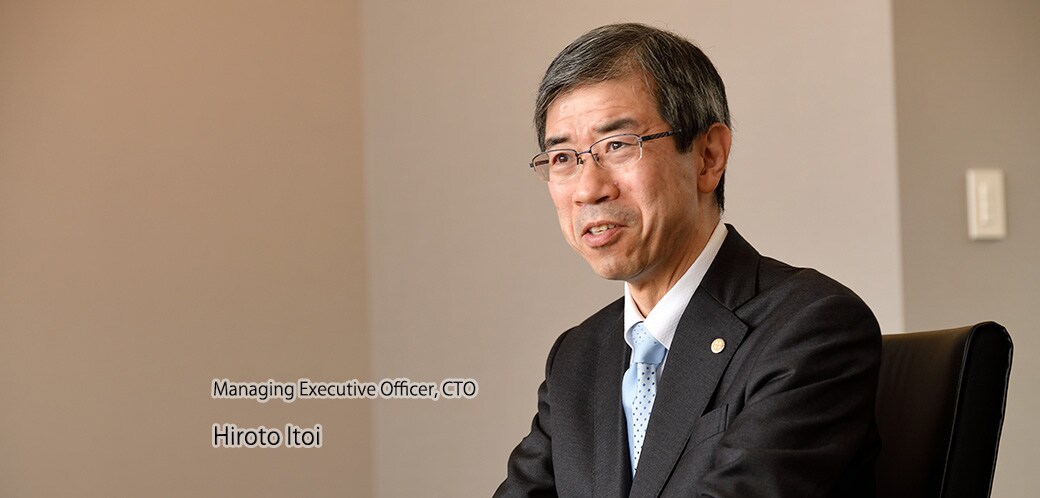 Working Closely with Customers to Solve Challenges Using Advanced Technologies Is Part of Shimadzu's DNA
Shimadzu is often referred to as a technology-based company. This key trait of technological expertise being handed down to successive generations regardless of changing times has resulted in Shimadzu's corporate philosophy, "Contributing to Society through Science and Technology", permeating into the core of every employee's DNA. Our approach of working closely with customers to continuously identify what they truly need and then offering products to address those needs has also resulted in increasing our technological capabilities.
Furthermore, Shimadzu employees tend to be very sincere and earnest. For example, we often compete in terms of performance specifications. But rather than simply focus on improving performance values, we have also worked to improve our technology and quality in terms of fully utilizing available performance for practical applications. That approach has resulted in Shimadzu developing highly competitive products and services.
As CTO, I will focus on advancing our technical capabilities, which also serve as a source of Shimadzu competitiveness, and use those capabilities to solve societal challenges with science and technology.
Promoting Information Dissemination, Digitization, Globalization, and Agile Development
In our efforts to advance our technologies and develop solutions, we will of course face some challenges. One challenge is disseminating information. In the past, we kept the content of our research and development confidential, but now we need to actively disseminate that information to promote open innovation or collaborations with outside partners, and engage in research and technology development with a more urgent sense of speed. Therefore, we will promote the adoption of digital technologies, prepare a digital technology platform where available Shimadzu technologies are visible at a glance, differentiate between technologies that should be promoted internally with high confidentiality versus those that should be promoted via partnerships with outside partners, and then actively disclose the latter. Within Shimadzu, we have been conducting technology fairs that provide an opportunity for Shimadzu researchers and engineers to show others what they are working on, but now we are considering conducting similar events for people from outside Shimadzu.
The second challenge is globalization. Open innovation sites in Japan include the Technology Research Laboratory (within the Keihanna Science City), mainly used for basic technology research, and the Healthcare R&D Center (within the Head Office compound), mainly used for product and application development. These facilities have promoted partnerships with external parties, but the reality is that there have been fewer cases of partnerships outside Japan. Therefore, in addition to innovation centers where we can globally engage in application development, I want to develop R&D and product development sites, where we can promote joint research and development collaborations outside Japan.
The third challenge is speeding up the pace of development. I intend to solve this challenge by promoting agile development. As suggested by the saying, "small start, quick win," new businesses are particularly well-suited to agile development, so we will actively incorporate it in the development process.
Rather than digitization, globalization, and agile development functioning independently, they are closely linked, such as by using the information visualized by digitization to promote agile development globally. As CTO, I intend to promote these three measures and actively disseminate technical information.
Focusing Efforts on Infectious Disease Countermeasures, Healthcare, and Green Innovation
We are currently involved in research and technology development in the fields specified in the current medium-term management plan, which are infectious disease countermeasures, healthcare, environmental/energy, materials, and infrastructure.
For infectious diseases, we will offer solutions for analyzing viruses, bacteria, and other pathogens, engage in joint research with healthcare institutions, and create systems for fighting infectious diseases. In addition, we will promote AutoAmp fully automatic PCR testing systems as testing platforms for detecting a variety of viruses other than COVID-19.
In the healthcare field, we will build a data platform that consolidates various measurement data related to health to promote improvements in health. We intend to create a system that encourages behavioral changes by visually showing health status based on measurement data and offering advice. We have already started experiments to validate the system for aging prevention and plan to expand the scope of applicable diseases. We will also focus efforts on green innovation in the environmental/energy, materials, and public infrastructure fields. Developing fossil-free fuels, such as hydrogen and biomass, or developing batteries and new materials involved in the transition to electric vehicles, will require advanced analytical and measuring instruments and technologies. Therefore, we will actively participate in various projects globally and promote working with partners in respective regions. So far, R&D has been focused on healthcare, but we intend to actively invest in the above fields.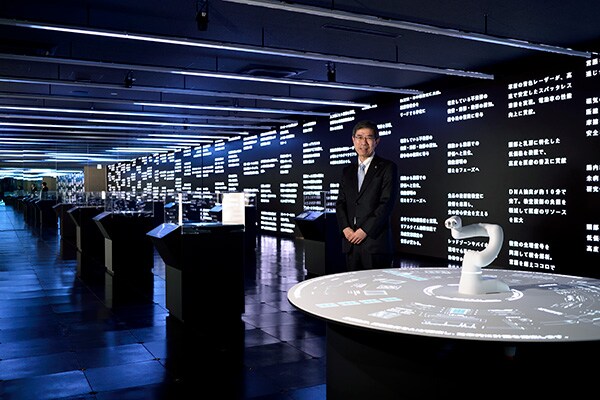 Ensuring Diversity among Researchers and Engineers and Strengthening Human Resources
Needless to say, people are the source of technological capabilities. Shimadzu researchers and engineers challenge themselves to try all sorts of things without fear of failure. However, it is also a fact that it is becoming more and more difficult to develop products and technologies by Shimadzu alone. Therefore, we will promote earning a doctoral degree or hiring people with previous experience, actively work with or engage in open innovation with startup companies, and strengthen measures to create new technologies based on discussions and exchanges of ideas between people with diverse values and experiences. Recently, the trend toward diversity has expanded, which is increasing the need for greater diversity among researchers and engineers.
We will also strengthen our specialized human resources. To strengthen our human resources with AI expertise, the AI-specific organization at the Technology Research Laboratory plays a central role in strengthening our AI capabilities throughout the Shimadzu Group. For example, we promote active information exchanges by having the AI interest group, which has about 300 participants, conduct AI workshops. In addition to strengthening AI capabilities, we intend to strengthen personnel capabilities related to the brain/five senses, biotechnology, cells, and other areas.
Promoting Strategic Intellectual Property Activities
Intellectual property represents the results produced from research and development efforts, making it a critical management resource. We will improve our ability to acquire and effectively use intellectual property that contributes to business, while also diligently respecting and avoiding infringing on the intellectual property rights of other companies. In addition to those basic measures, we will use intellectual property strategically, such as by IP landscaping (patent landscaping) to employ intellectual property information for business strategies, disseminating Shimadzu's proprietary technologies as a technology brand, expanding markets through standardization, or using an open-closed strategy to differentiate our intellectual property.
Continue to Expect Great Things from Shimadzu, a Company that Contributes to Society through Science and Technology
When I was an engineer, one thing I valued highly was using ingenuity. Rather than major creative innovations, the collective result of many small innovations can increase the refinement level of products and provide a great sense of accomplishment when the development process is finished. In my case, I was deeply involved in designing the GCMS-QP2010 and LCMS-8000 series systems, so I still feel a strong affection for those models.
I would like Shimadzu personnel involved in research and development to continually incorporate even slight innovations to develop better products and solutions, interact with people that have a variety of values, improve their own skills, and actively disseminate information.
With society currently changing at an unimaginable pace, the challenges in society are also becoming more global and complex. I view that trend as a great opportunity for Shimadzu to utilize its strengths. Consequently, continue to expect great things from Shimadzu as we "Contribute to Society through Science and Technology" by working with partners around the world to solve challenges in society.
Biography of Hiroto Itoi, Managing Executive Officer, CTO
April 1984
 
Joined Shimadzu Corporation
June 1996
 
Research & Development Department, Analytical Instruments Division
April 2001
 
General Manager of MS/GC Business Unit, Analytical Instruments Division
June 2011
 
General Manager of MS Business Unit, Life Science Business Department, Analytical & Measuring Instruments Division
June 2017
 
Deputy General Manager of Analytical & Measuring Instruments Division
General Manager, Life Science Business Department, Analytical & Measuring Instruments Division
April 2018
 
Corporate Officer
Deputy General Manager of Analytical & Measuring Instruments
General Manager, Life Science Business Department, Analytical & Measuring Instruments
April 2020
Corporate Officer
General Manager of Technology Research Laboratory
April 2022
CTO (current)