Thank You Letter Presented to the Rugby Team from A Local Police in Kyoto for Cooperating in Traffic Safety Activities!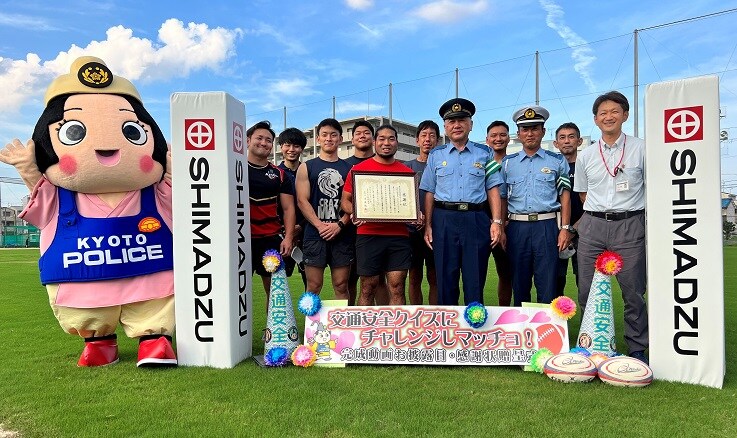 The Shimadzu Breakers, our rugby team, has received a thank you letter from the Nakagyo Precinct of the Kyoto Police Department for contributing to raising public awareness of traffic safety and preventing traffic accidents.
Cooperating in Local Traffic Safety Activities
The Shimadzu Breakers participated in activities to raise awareness of traffic safety at the request of the Nakagyo Precinct. They also appeared on KBS Kyoto Radio, and in traffic safety videos for elementary school students.
Twenty athletes and staff participated in the traffic safety activity at the Nishioji Oike intersection.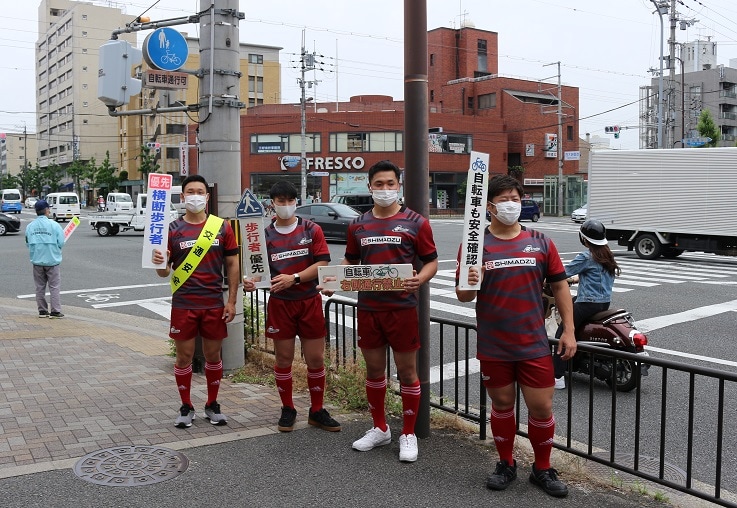 Together with the Nakagyo Precinct and the Kyoto Nakagyo Regional Traffic Safety Activities Promotion Committee, they handed out masks to passersby, as well as cards inscribed with a total of six different slogans, calling for improved bicycle safety.
Team captain Taisaku Matsusaka (Shimadzu General Services) and Aiban Mishima (Manufacturing Management Department) appeared live on a program on KBS Kyoto Radio. They introduced the initiative during the five-minute segment addressing traffic safety by the Kyoto Prefectural Police.
Aiban Mishima (Manufacturing Management Department), Tomoya Kono (Shimadzu Business Systems), and Shuhei Okura (Shimadzu Business Systems) also appeared in a traffic safety video for elementary school students. The video was shown at ten elementary schools in Nakagyo Ward.
For these contributions to traffic safety, a thank you letter was presented by the Nakagyo Precinct Chief of Police!
Comments by Team Captain Taisaku Matsusaka
We were fortunate to have a chance to participate in traffic safety activities together with the Nakagyo Precinct. We were pleased to contribute as a rugby team to the local community, and to receive this thank you letter. We are grateful for this precious experience.

My first child was born recently, which has heightened my awareness of traffic safety. It would be great if these sorts of activities contribute even a little to the safety of those who live in my neighborhood and people in the local community as a whole.

We will continue to contribute actively to the local community, aiming as a team for support from a variety of people whether internally or externally.

We strive through rugby to enliven both Shimadzu and Kyoto.
Thank you for your continued support!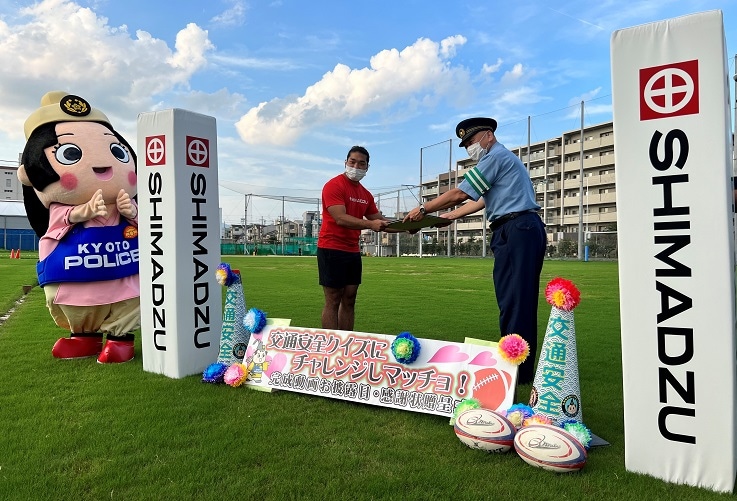 Page Title and URL Copied.