Maker Faire Kyoto 2023 - Enjoy, Learn, and Connect Through Creating
Shimadzu participated in Maker Faire Kyoto 2023, which was hosted by Keihanna Open Innovation Center (KICK) located close to Shimadzu's Technology Research Laboratory from April 29 to 30. Here we introduce how Shimadzu enjoyed engaging and connecting with visitors at its booth.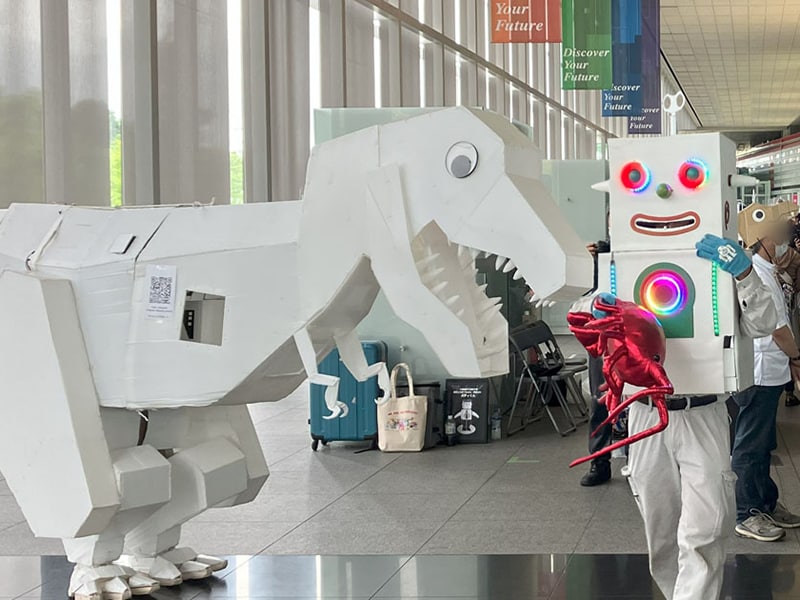 What is Maker Faire?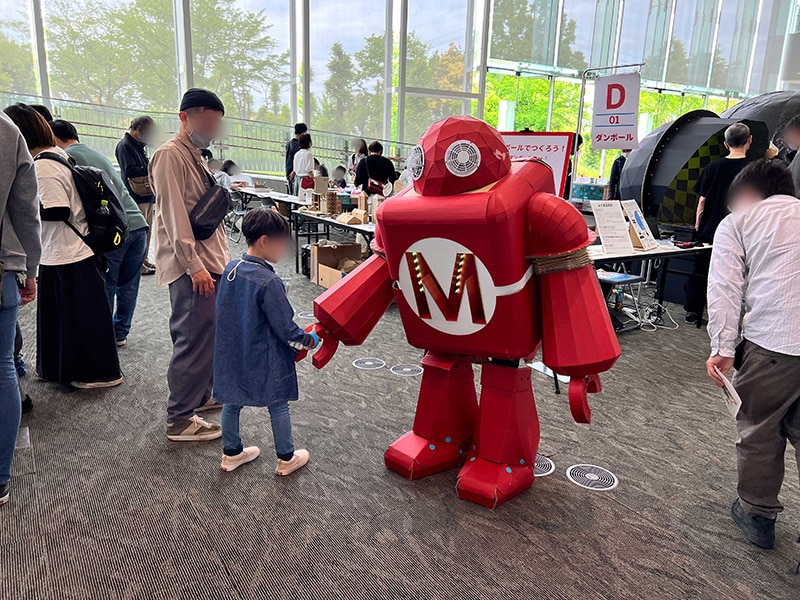 Maker Faire was born out of a community of a special magazine "Make:" published in the US about technological DIY crafts and now is an exhibition for those who love to create things that everyone finds surprising, as well as original, useful, and unique items.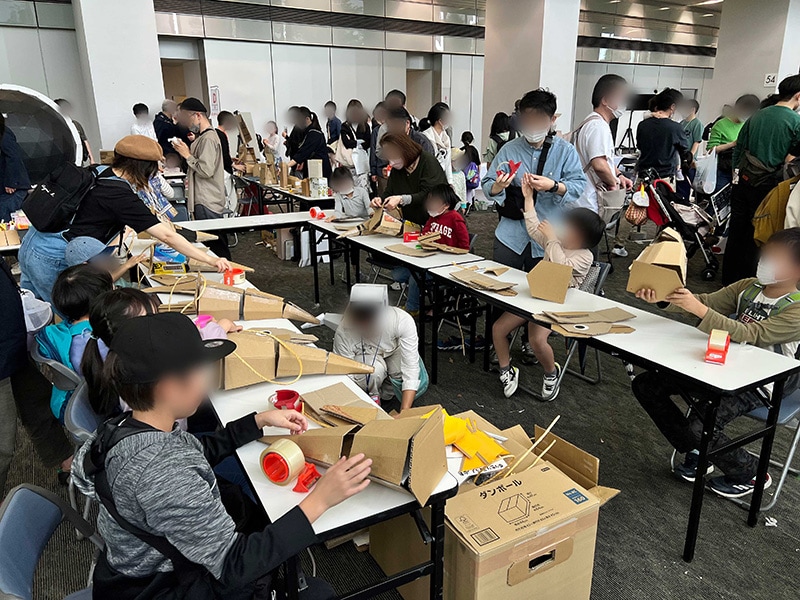 Maker Faire Kyoto was first held in 2019. This year was the second time it was held as an in-person event in four years. The venue was filled with ingenious DIY items as well as the enthusiasm of the makers.
Shimadzu Booth: Fun with Cutting-Edge Analytical Instruments Indispensable for Manufacturing!
The Shimadzu booth introduced a variety of analytical instruments and techniques indispensable for manufacturing, as well as experiments and demonstrations using them.
Energy dispersive X-ray Fluorescence Spectrometers are used to identify and quantify the elements contained in samples. They are utilized in the analysis of toxic substances in electronic equipment including personal computers and game devices. At the booth, visitors tried analyzing the precious metal elements in their own watches and rings.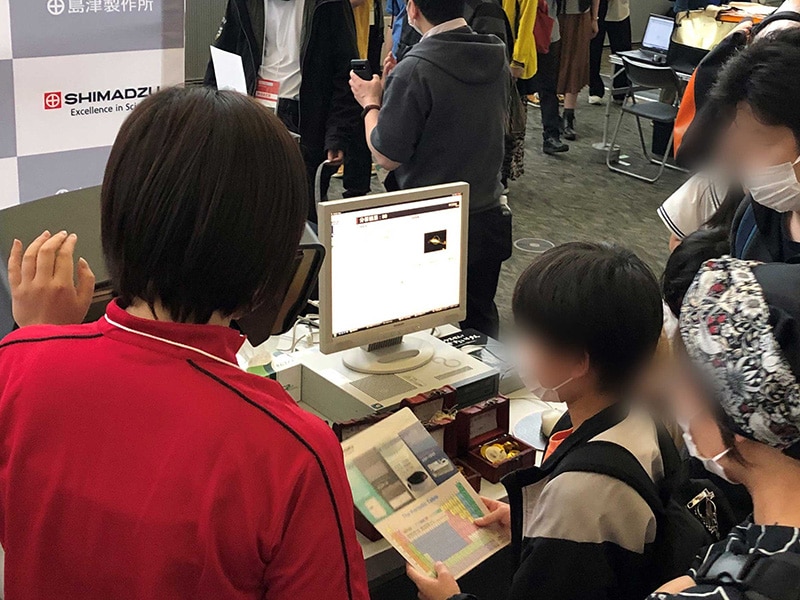 Analyzing Personal Items Using Energy Dispersive X-ray Fluorescence Spectrometers
In experiments using Electronic Balances, people learned about the precision weighing technology by finding the difference in the weight of a non-permanent marker before and after writing on a piece of paper with it and using this to determine the weight of the ink used.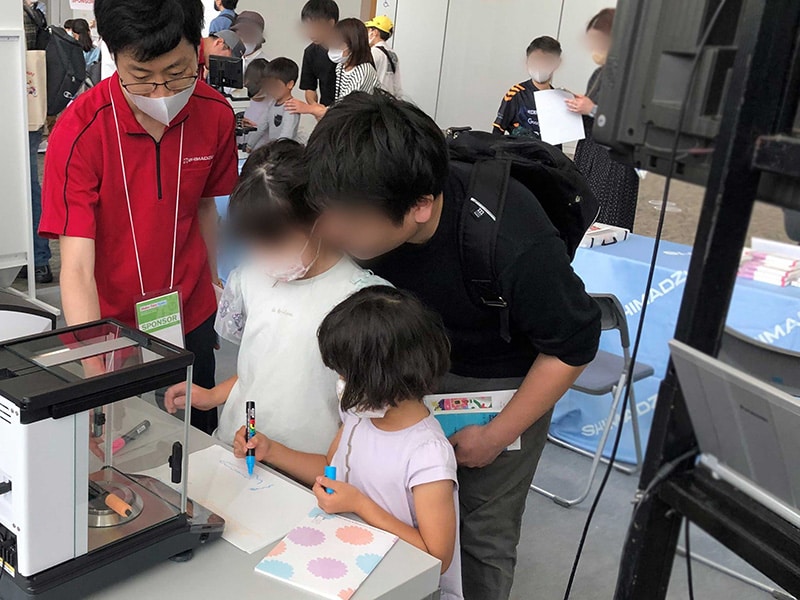 Weighing the Ink from a Non-Permanent Marker with an Electronic Balance
Shimadzu also had a workshop for children to learn about column chromatography (separation and fractionation technique of substances from a mixture dissolved in a liquid), the basic principles behind Shimadzu's flagship Liquid Chromatographs (LC), through experiments in separating and retrieving dyes.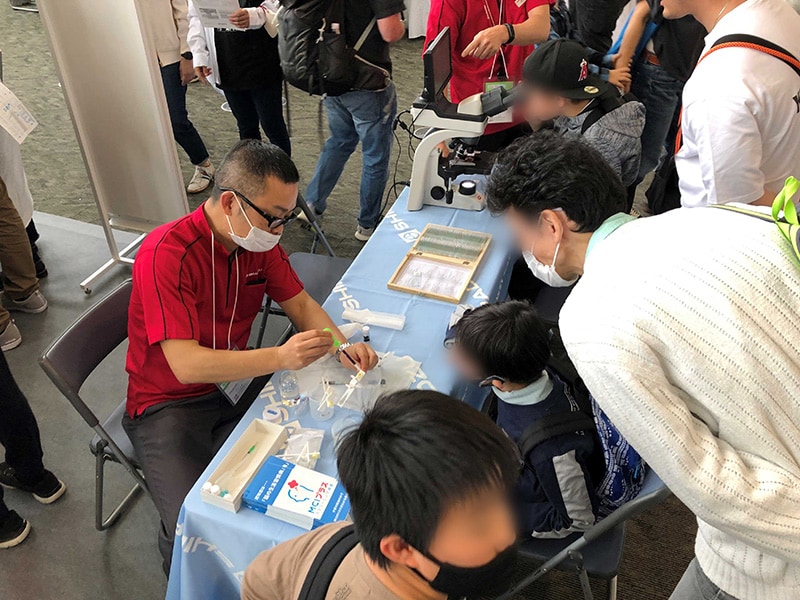 Workshop to Teach the Basic Principles of Column Chromatography
Comments from the Booth Staff

Genzo Shimadzu Sr., the founder of Shimadzu Corporation, was a person full of curiosity and always motivated to try creating new things with his interests. With his enthusiasm for invention, he manufactured a number of physics and chemistry instruments and launched Japan's first private-sector manned balloon. The participants at this Maker Faire are also filled with curiosity and like to create exciting items, from which I could see the origin of manufacturing. We would like to continue to support people who enjoy the manufacturing process.
Page Title and URL Copied.