Exhibition at JASIS 2023 Proposals to Improve Productivity in the Analytical Process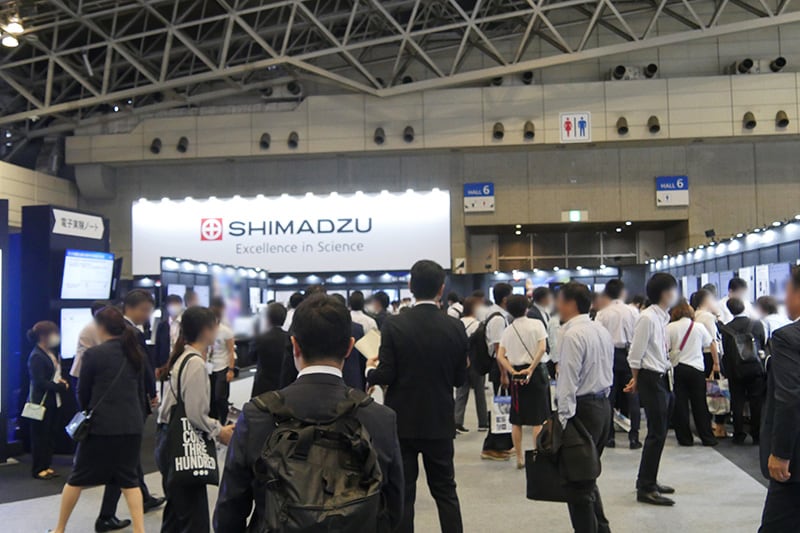 From September 6 to 8, Shimadzu Corporation exhibited at JASIS 2023, held at Makuhari Messe International Exhibition Hall (Chiba Prefecture). Let's take a look at the exhibition and a virtual view of the booth taken with a 3D camera.
JASIS
JASIS*1 is Asia's largest exhibition of cutting-edge scientific and analytical systems and solutions. It is organized by the Japan Analytical Instruments Manufacturers' Association and the Japan Scientific Instruments Association.
*1: JASIS stands for Japan Analytical & Scientific Instruments Show.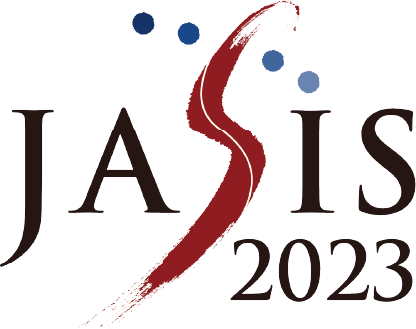 Logo for JASIS 2023
The organizations participating in the exhibition come from a variety of fields including analytical instruments, bio-related instruments, testing machines, and digital transformation (DX). Participants also come from a wide range of industries, such as electronic, electrical, and precision equipment; analytical, testing, and inspection services; pharmaceutical, reagents, and cosmetics; and food products.
According to a report from the hosts, 345 groups exhibited at JASIS 2023, and the number of participants over three days reached 16,115, greatly exceeding last year's total of 12,465.
In addition to exhibition booths, new technology briefings were also organized to present new products and technologies to the attendees. Shimadzu held 34 such seminars.
Shimadzu Booth: This Year's Theme was "AI to AX"
The theme of the Shimadzu exhibition at JASIS 2023 was analytical intelligence (AI) to analytical transformation (AX). AX is a concept that evolved from AI, which itself refers to the operation of systems and software in the same way as a human, as well as the automated judgment of results and problem solving, as conventionally proposed by Shimadzu.
With AI to AX, a revolution in the business activities of our customers is realized. Rather than just automation using analytical instruments, it involves physical automation using robots; and thanks to data sharing and analysis utilizing software networks, variance between operators at laboratories is eliminated, improving productivity in the analytical process.
Virtual Booth
*To tour the Shimadzu booth, move the cursor over the exhibition items (in Japanese only).
Main Products Exhibited and the Venue
Here, we introduce some of the products exhibited and the booth itself.
Product Name/Product Photograph
Model
Features
Brevis*2
GC-2050
Gas chromatograph (GC)

Featuring both improved productivity and space savings, this model is approximately 65 % narrower than the Nexis GC-2030, Shimadzu's top of the line model released in 2017, yet maintains its basic performance.

*2: Brevis means slim/compact in Latin.

MAP-100
Microplastic automatic preparation device
Before micro plastics are analyzed by an instrument, they must be processed to remove contaminants. This is the world's first dedicated pretreatment unit for automating the process of extracting and recovering microplastics from environmental water.
ICPMS-2040/2050
ICP mass spectrometer
This ICP mass spectrometer performs qualitative and quantitative analyses of inorganic elements. Together, the standard model ICPMS-2040 and the high-sensitivity model ICPMS-2050 support a wide range of applications. They provide highly sensitive measurements while lessening the environmental load by limiting the consumption of argon gas used during measurements.
Tm Analysis System
-
The thermostability of nucleic acids is indispensable in research and development related to the nucleic acid pharmaceuticals market, and is evaluated by an index called a Tm value. This product is the first to automate the processes from measurement of the Tm value to data analysis.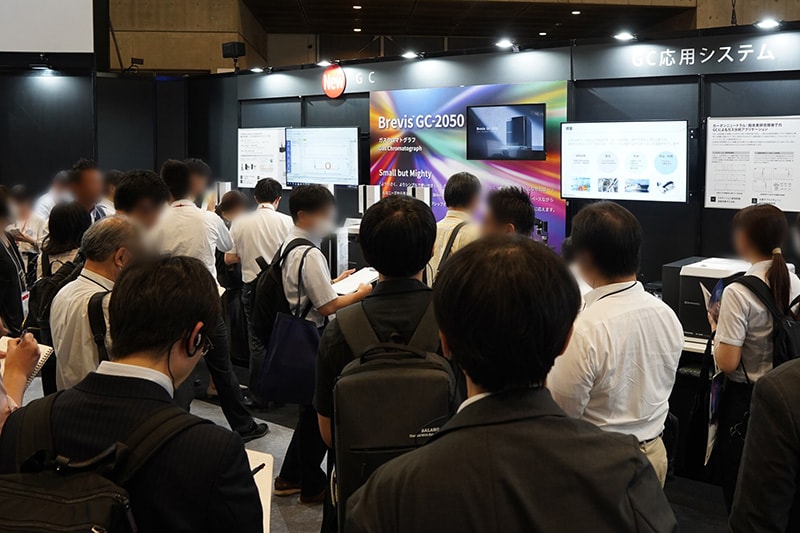 Brevis GC-2050 Exhibit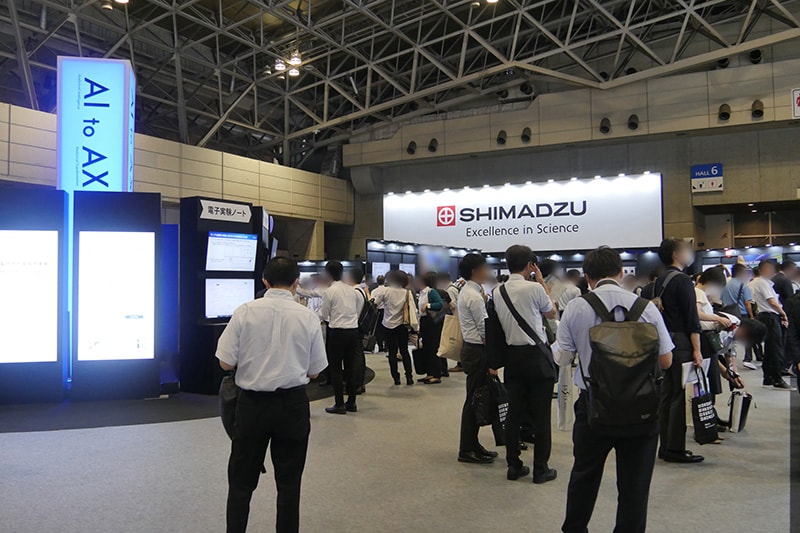 Exhibition of Software near the Bright Blue AI to AX Sign
Comment from the Person in Charge of the Analytical & Measuring Instruments Division Booth
We were grateful for so many visitors.

We put a lot of thought into the exhibit, which featured a charming booth design, color scheme, and site flow, as we continue by trial and error, aiming to consistently maximize the experience of visitors to our booth. We have constructed our booth primarily from recyclable materials for several years now, taking measures as an eco-first company to substantially reduce amount of waste after the exhibition.

Shimadzu will continue to make a variety of new proposals as a leading company in the industry.
Page Title and URL Copied.