1894 to 1916
Building the Foundation for Business Expansion
When Genzo Junior, who was no less a child of science than Genzo Senior, took over leadership of the company, Shimadzu started taking on the challenge of entering new fields. In particular, his passion was especially fueled by storage batteries and medical X-ray systems. As a result, he developed and commercialized Japan's first storage battery and medical X-ray products, which contributed significantly to advancements in industry and medicine.
1896

Succeeded in producing an X-ray photograph.

1897

Succeeded in manufacturing a lead-acid storage battery for the first time. Later in 1908, Shimadzu began selling batteries under the name "GS Battery," based on the initials for Genzo Shimadzu.
Started manufacturing educational X-ray system.

1909

Created Japan's first medical X-ray device.

1916

Started manufacturing optical measurement instruments (cathetometers).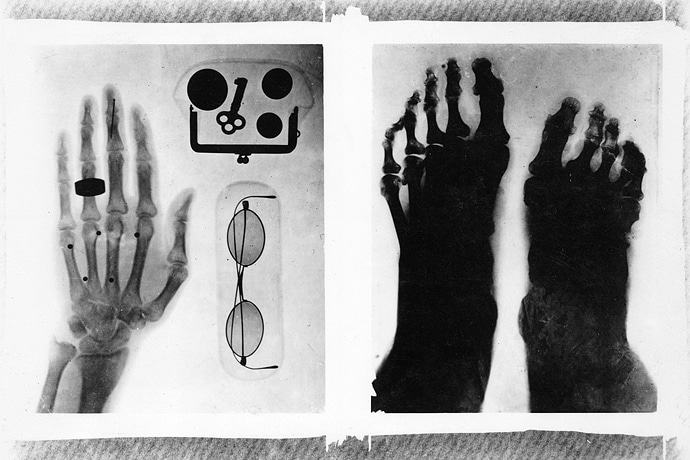 Beginning of Using X-Rays
In 1896, the year after the German physicist Wilhelm Conrad Roentgen discovered X-rays, Professor Hanichi Muraoka of the Daisan High School (predecessor to Kyoto University) succeeded in producing a radiograph. The Shimadzu brothers Genzo Junior and Genkichi offered their full support, such as by providing the laboratory, providing the Wimshurst induction electrostatic generator as the power supply, and by helping with the experiments. It marked the start of Shimadzu following a path of using X-rays, which continues to this day.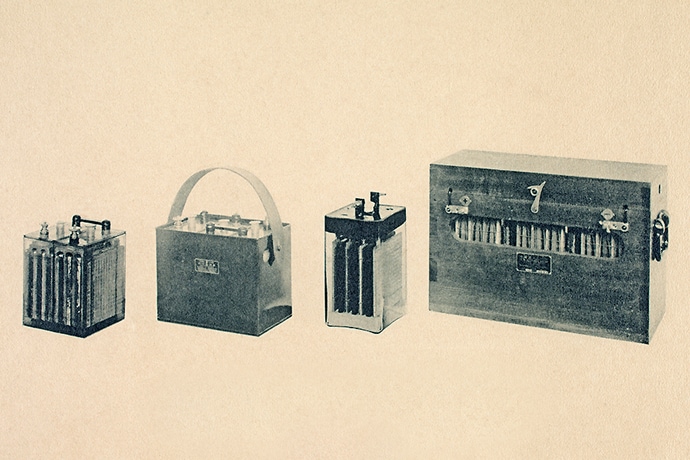 Achieving a Storage Battery Made in Japan
The business that really fired up Genzo Junior's appetite for challenges was researching storage batteries. In 1904, Shimadzu manufactured the first stationary chloride-type 150 ampere-hour storage battery in Japan. Later, in 1917, the storage battery business was spun off as the Japan Storage Battery Co., Ltd., which is succeeded by GS Yuasa Corporation today.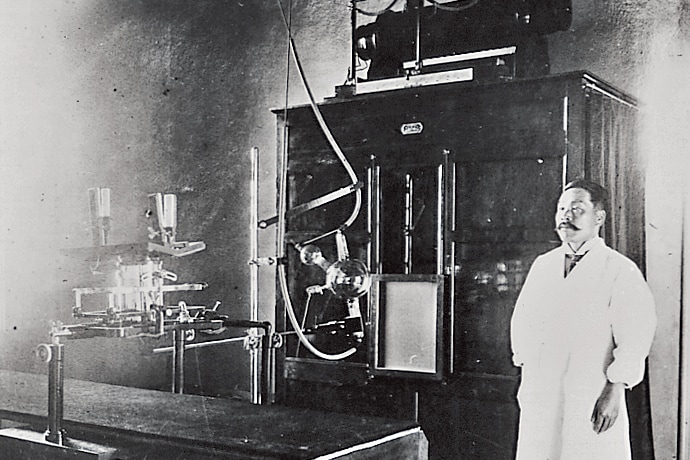 Pioneer in Medical X-Ray Systems
In 1909, Shimadzu completed the first medical X-ray system made in Japan. Two years later, Shimadzu manufactured large X-ray systems that used an AC power supply, which were delivered to the Japanese Red Cross Otsu Hospital and made Shimadzu the leader in the dawn of medical X-ray systems in Japan.