1945 to 1961
From Post-War Rebuilding to Growth
During the difficult period after the war, Shimadzu helped support the post-war recovery by producing products such as coal mining machinery required for increasing production in the key coal industry, X-ray systems for medical facilities throughout Japan, and spinning pumps and nozzles used in the fiber industry, which was an important export industry. Meanwhile, Shimadzu created many new "Japan's first" and "world's first" products more typically associated with Shimadzu, such as electron microscopes, gas chromatographs, photoelectric spectrophotometers, directly-read optical emission spectrometers, and remote-controlled X-ray fluoroscopy systems.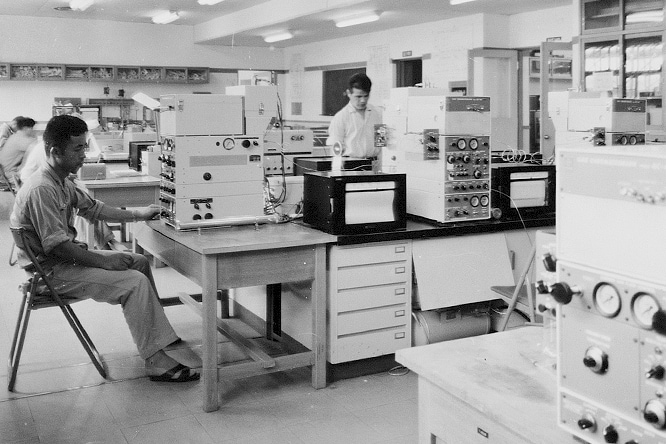 1945

Resumed production.

1947

Commercialized Japan's first electron microscope.

1952

Developed world's first photoelectric spectrophotometer.

1953

Developed the first directly-read optical emission spectrometer (quantometer) made in Japan.

1954

Established an English version of the company logo.

1956

Established the Aircraft Equipment Department.
Started manufacturing gas chromatographs.

1961

Started manufacturing remote-controlled X-ray fluoroscopy systems.
Completed a plant for manufacturing large-scale testing machines.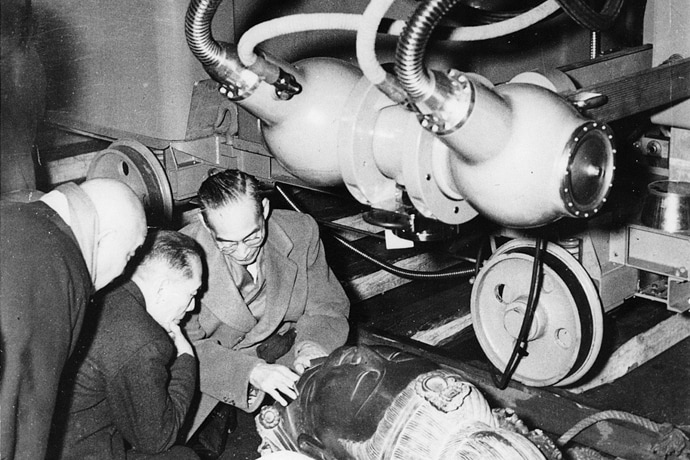 Diagnosing the Candraprabha
In 1953, a Shimadzu Weltes industrial X-ray system was used to investigate the structure inside the damaged head of a Candraprabha bodhisattva statue, which is one of three Yakushi Sanzonzo statues at the Yakushiji Temple in Nara and designated as a National Treasure. Based on the X-ray inspection results, the head was successfully repaired, restoring the Candraprabha statue to its former glory.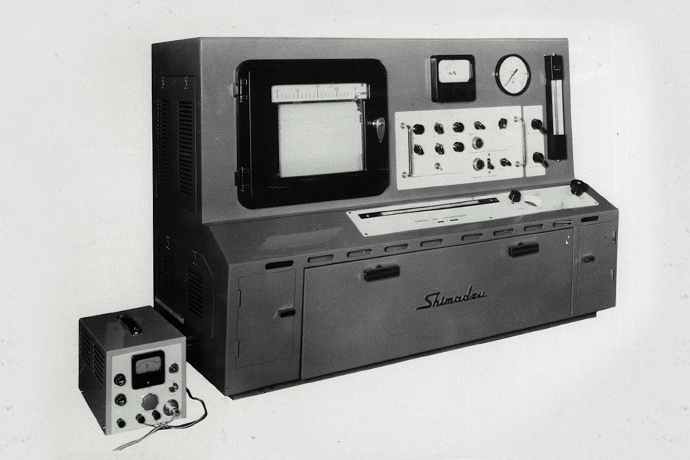 Getting a Head Start in Widespread Adoption of Gas Chromatographs
In 1957, Shimadzu was the first in Japan to successfully commercialize a general purpose gas chromatograph (GC) system, which was revolutionary for analyzing components in solvents, pharmaceuticals, petroleum products, food ingredients, and other substances. After that, the use of GC systems spread widely together with the growth and development of the chemical and food industries. Consequently, Shimadzu became the leading manufacturer of GC units and continued to develop new models to meet the needs of each era.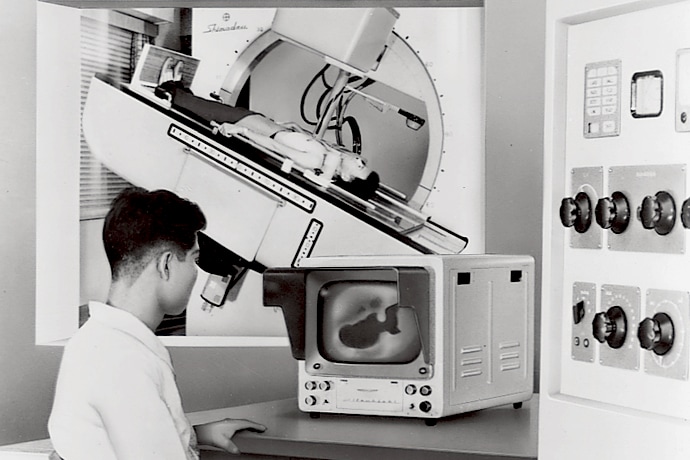 Reducing Radiation Exposure to Physicians and Technologists to Zero
In 1961, Shimadzu developed a remote-controlled X-ray fluoroscopy system in cooperation in Matsushita Electric Industrial (currently Panasonic) and the Osaka Medical Center for Cancer and Cardiovascular Diseases. The revolutionary system could be operated remotely from a separate room, while watching the fluoroscopic image on a television monitor. That meant the health of physicians and radiological technologist could be protected from the risks involved in constant exposure to X-rays.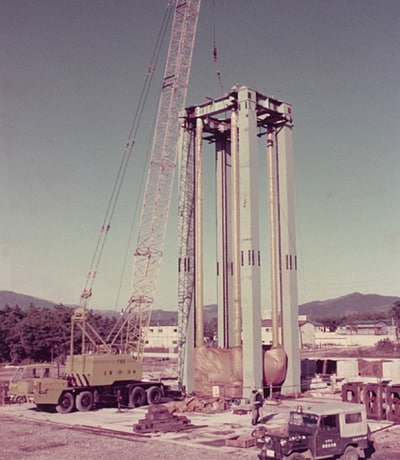 Manufacturing a Globally Unprecedented Large Structural Material Testing Machine
In the 1970s, Shimadzu bulit two extra-large testing machines that extended to a height of six floors above ground and three floors below ground at their plant specialized in testing large structural materials. One of them was installed in the College of Science and Technology at Nihon University in 1975 and the other was installed at the national Public Works Research Institute in 1978. Both systems remain in active operation today, over 40 years later.