vol.5
Motivated by curiosity:
"Science Equipment Catalog List"
The "Science Equipment Catalog List," which is believed to be the oldest product catalog published by the Shimadzu Corporation.
The following is written at the back:
"Whatever is needed, we are willing to make it."
This statement shows how much confidence Genzo Shimadzu Senior had. However, history proves that Genzo was not the type of man who was lighthearted or insincere.
He was filled with a passion for absorbing new knowledge. Moreover, his propensity for serving his customers well and satisfying their needs was evaluated highly. This eventually led to him being afforded many opportunities for meeting with important officials in the Kyoto Prefecture. However, Genzo, who started out as a craftsman, sometimes admitted that he needed a drink to build his courage before going to such meetings. Otherwise, he felt that he would not be able to speak his mind.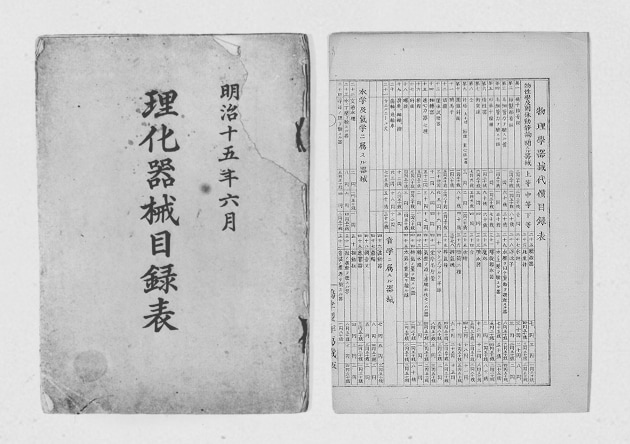 The "Science Equipment Catalog List" was published in 1882 (Meiji 15). Seven years had passed since the company was established.During this time, though, their business was not doing as well as they had hoped.
While repairing physics and chemistry instruments that had originally been imported for use in schools, they gradually began manufacturing, by making use of what they could learn.
They of course made many mistakes and complaints were often raised against them. On numerous occasions, they encountered financial difficulties. Even after establishment of the Shimadzu Corporation, it was their ability to accept orders for Buddhist altars that allowed them to manage to escape ruinous situations.
On one fortuitous occasion, just when they were worrying about how they were going to pay their employees' salaries, they were awarded a contract for making gongs (a type of Buddhist altars hung in the hall of the temple) and other items for a temple in Senbon, Kyoto. His son, Genzo Junior, who helped with the business by transporting materials and performing the excavation needed for making the molds for gongs, years later recalled that at the time his father was extremely happy to have received the unexpected work.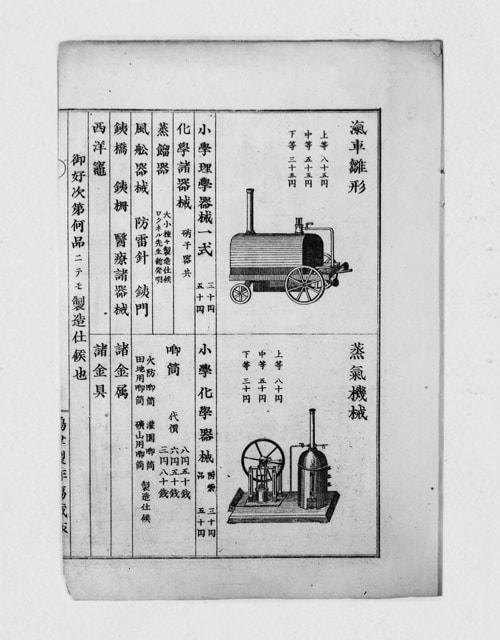 The motive force behind the craftsmanship of Genzo Senior was his unbounded curiosity. When making decisions as to whether he should accept a certain project or not, it seems that Genzo Senior did not allow thoughts as to whether he had the knowledge or not, or whether he had any previous experience or not, to interfere with his decision. This could be seen when he took on the work of making a manned balloon.
In actuality, he was most enthralled when he was able to view a machine for the very first time.
"That seems interesting." "Let us see what we can do."
Knowing full well that he would need to go through a laborious process of trial and error, he was willing to put forth his full efforts in order to meet the needs of the customer.
It is believed that he was the type of person who was filled with a sense of accomplishment after building a new device, and felt extremely happy when he was able to surprise people and see their happy faces.
Whenever he found that he was unable to make something on his own, he would task others with the project. In cases when he could not find anyone capable of making something, he would import products from the West and provide them to his customers.
One example of such a product would be Edison's phonograph.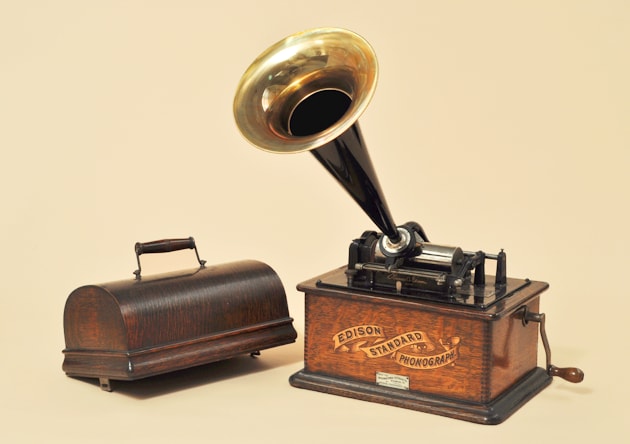 In other ways, Genzo showed his unique sensibilities by adding some fun to his science equipment, which otherwise might seem to be cold, inhuman and dedicated to function alone.
With vacuum pumps for experimental use, he designed them so a candle or bell could be placed inside a glass cylinder. Then, when the flame or sound was extinguished, the observer could easily judge what had happened. From the children's viewpoint, this would have seemed much like magic. For equipment for experimenting with lightning rods, they created a model home so as to better illustrate the effects of lightning. Of course, the purpose was not solely to teach principles. They were also trying to instill a sense of fascination toward science.
After experiencing many failures and successes, they were finally able to create a catalog that contained 110 items.
The products were broad ranging and could be used not only in elementary schools, but also for science experiments in middle schools and normal schools.
In Kyoto, there were numerous craftsmen dedicated to the making of Buddhist altars. However, no one was making science equipment. Although Genzo Senior was not filled with a great sense of confidence, he was able to maintain a strong, unwavering dedication towards fulfilling goals once he had set them.