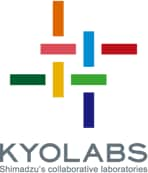 Shimadzu has designated healthcare as a key business field. For this reason, Shimadzu built a Healthcare R&D Center at Sanjo Works (Kyoto City), where the Head Office is located, to develop innovative products for the healthcare market and offer healthcare solutions for customers and society. The center opened in June 2019.
The center includes the KYOLABS collaborative research and development laboratory intended for creating revolutionary technologies.
There, Shimadzu promotes open innovation and creates new businesses by taking on challenges together with customers, with joint research based on freely inspired ideas. The laboratory will offer solutions that contribute to achieving our management principle: 'Realizing Our Wishes for the Well-being of Mankind and the Earth', by exhibiting core technologies and developing connections between people and between intangible activities and tangible things.