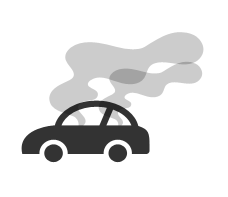 Vehicle interior air quality (VIAQ) is important when considering the health of passengers.
VOCs in car interiors
There has been progress with measures in recent years to reduce organic compounds in car interiors. In Germany, Regulation VDA 278 was created for the analysis of volatile organic compounds (VOC) and semi-volatile organic compounds (SVOC) generated by materials in car interiors. Examples of analyses in accordance with VDA 278 are introduced.
Application news/information
Aldehydes
Controls on the concentration of aldehydes are required under a variety of regulations as these substances are responsible for sick house syndrome, and are a component of foul odors. Analysis of lower aliphatic aldehydes typically uses 2,4-Dinitrophenylhydrazin (DNPH) derivatization. Examples of the analyses of aldehydes using HPLC and GC are introduced.