Qualitative analysis of microplastics in the environmental sample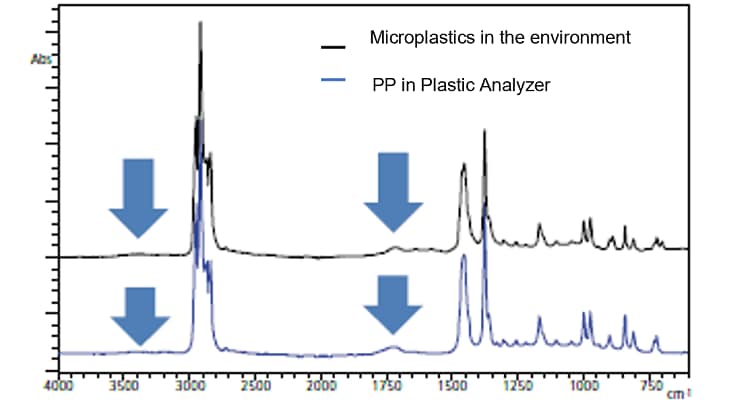 For qualitative analysis of microplastics, one suitable analysis method is Fourier transform infrared spectrophotometer (FTIR) since it excels at qualitative analysis of organic compounds. When plastic is exposed to ultraviolet light, its surface oxidizes and decomposes, changing its structure. In FTIR measurements, the infrared spectra of degraded plastics is different from non-degraded plastics. However, experienced analysts are needed to determine whether this spectral difference is caused by degradation or other factors such as elemental mixtures. Microplastics collected from rivers and oceans are degraded due to sunlight, making it difficult to analyze their spectra. The Plastic Analyzer has a library that takes ultraviolet degradation conditions into consideration, making it so anyone can perform highly accurate qualitative analysis with ease.
Applications & Movies
Never misidentify plastic contaminants!Plastic Analyzer
Analysis of microplastics easily
Analysis of Ultraviolet-Degraded Plastic by Plastic Analyzer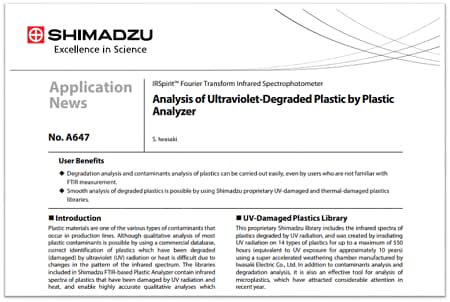 Although qualitative analysis of most plastic contaminants is possible by using a commercial database, correct identification of plastics which have been degraded (damaged) by ultraviolet (UV) radiation or heat is difficult due to changes in the pattern of the infrared spectrum. The libraries
included in Shimadzu FTIR-based Plastic Analyzer contain infrared spectra of plastics that have been damaged by UV radiation and heat and enable highly accurate qualitative analyses which reflect the state of degradation.
This article introduces an example of an analysis of a UV degraded plastic sample utilizing Plastic Analyzer.
Sample Preparation Method and FTIR Analysis Method for Microplastics Sampled from Rivers
Monitoring surveys have been conducted in recent years to obtain scientific knowledge concerning the distribution of microplastics in each of the world's countries and various other issues.
This article introduces the condition of microplastic sampling, a sample preparation method, and an analysis method using the Shimadzu Fourier transform infrared spectrophotometer (FTIR).
 
FTIR TALK LETTER Vol. 37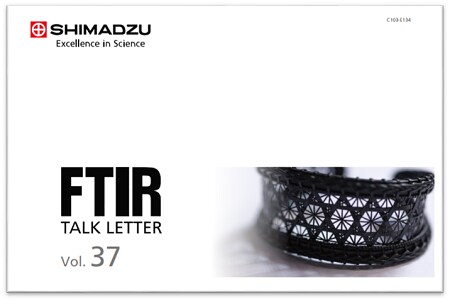 Development of Heterogeneous Catalytic Systems Based on Crystalline Mixed Oxides and the Mechanism of Molecule Activation on a Solid Catalyst Surface Using FTIR Spectroscopy------- 02
Optical Systems in Infrared Microscopes ------- 07
Features of the UV-Damaged Plastics Library ------- 10
To Customers Using Shimadzu Fourier Transform Infrared Spectrophotometers ------- 14