Toxic Chemical Substances Adsorbed on Microplastics
The possibility that toxic chemical substances adsorbed on microplastics (MPs) in the environment may impact the ecosystem by desorbing from the MPs, migrating to the bodies of living organisms, and concentrating in those organisms has been pointed out.
We introduce an example of an evaluation of the MPs adsorption characteristics of polycyclic aromatic hydrocarbons (PAHs) and per- and polyfluoroalkyl substances (PFAS), which are known to have toxicity and bioaccumulation properties. Using commercially-available particulate polypropylene (PP), polystyrene (PS), and polyethylene (PE) as MP samples, the amount of adsorption of PAHs and PFAS in water on the various plastics was evaluated quantitatively by GC-MS/MS and LC-MS/MS.
 
Fig. 3 shows the results of the analysis of the PAHs by GC-MS/MS, and Fig. 4 shows the results of the analysis of the PFAS by LC-MS/MS.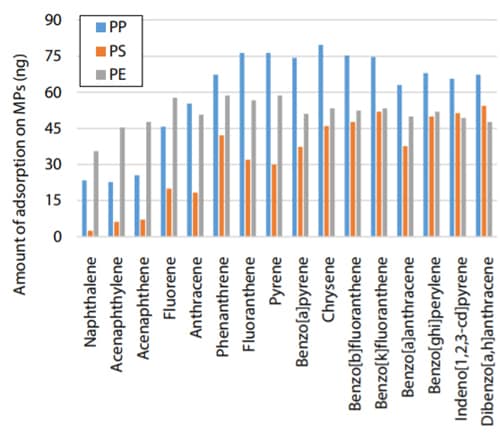 Fig. 3 GC-MS/MS Analysis Results: PAHs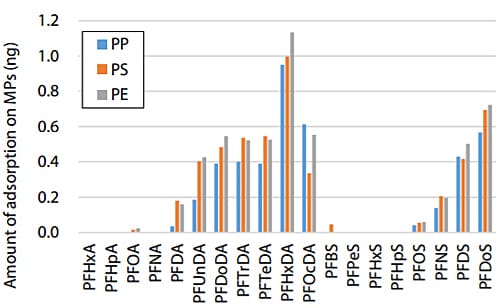 Fig. 4  LC-MS/MS Analysis Results: PFAS
Adsorption on the MPs was confirmed for all PAHs substances and for some PFAS substances. Adsorption of the PAHs on PP and PE tended to be large. However, the amount of adsorption of the PFAS tended to differ for each chemical substance.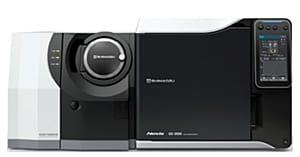 GCMS-TQ™8040 Triple Quadrupole Gas Chromatograph Mass Spectrometer
In measurement of the PAHs, a GCMS-TQ8040 triple quadrupole gas chromatograph mass spectrometer (Fig. 3) was used.