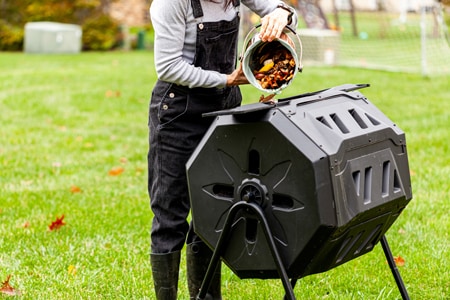 Wastes are generated in a variety of locations and contain a wide range of substances, including substances that are harmful to the human body and the environment. Wastes can also be recycled to be used again for the same purpose or transformed into beneficial new materials to be used again for a different purpose. Shimadzu offers a variety of analytical methods for such waste-related substances.
Application News
TOC and XRF
The fly ash and incineration ash generated by incineration plants and thermal power plants contain metal oxides such as silica, alumina, calcium oxide and iron as main components, as well as a few percent of incompletely combusted carbon. Elemental and composition analysis of principal components and trace heavy metals is typically conducted by ICP, atomic absorption and X-ray fluorescence, and carbon content is measured using a total organic carbon analyzer (TOC). This article introduces the total carbon(TC) measurement examples of fly ash using the TOC solid sample measurement system and X-ray fluorescence quantitative analysis applying TC results.
TOC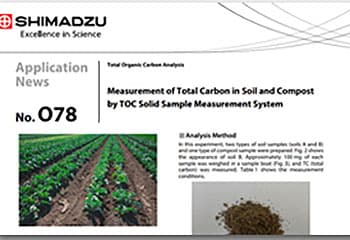 Soil contains a large amount of organic matter such as plant residue that can be decomposed by microorganisms. This organic matter plays a key role in plant growth by maintaining good chemical and physical conditions in soil and is useful in improving and stabilizing the productivity of agricultural crops. Compost, a type of fertilizer in which organic matter is decomposed by microorganisms, improves the condition of soil by supplying diverse substances and has the function of improving the growing condition of crops. Accordingly, determining the organic carbon content in soil provides a useful index for stable growth of agricultural crops and plants. The TOC Solid Sample Measurement System that enables measurement of the carbon content in solid samples. This article introduces an example of measurement of the total carbon content in soil and compost samples by using this Shimadzu TOC solid sample measurement system.
TOC
Methane fermentation is a biological process in which microorganisms decompose organic materials such as food waste in the absence of oxygen. Methane gas generated through the process is a renewable energy source and fermentation residue can be used as fertilizer. Recycling system will be developed if food processing companies adopt methane fermentation plants. In order to achieve stable methane fermentation, the ratio of carbon and nitrogen (C/N ratio) in the raw material must be within a certain range. This article introduces TOC (Total Organic Carbon) and TN (Total Nitrogen) measurement system for controlling and evaluating methane fermentation of food waste.