USP-Compliant Analysis of Vitamin in Dietary Supplement : Analysis of Cyanocobalamin
The United States Pharmacopeia (USP) is used as one standard in quality control of dietary supplements. 
Vitamin B12 is a general name for vitamins which contain cobalt. Although vitamin B12 is involved in blood formation and metabolism, it cannot be synthesized in the body and is rarely found in foods of plant origin. Because vitamin B12 deficiency occurs easily, vitamin B12 is included in many dietary supplements (1). Generally, the amount of vitamin B12 is expressed as the cyanocobalamin equivalent value. 
In USP40-NF35, "Oil and Water Soluble Vitamins with Mineral Tablets Cyanocobalamin" describes two analytical methods for cyanocobalamin, an analytical ethod by HPLC and a microbial assay (2). 
Here, a USP40-NF35-compliant system suitability test for cyanocobalamin, representing vitamin B12, was conducted using a Shimadzu Nexera XR. An analysis of a commercial multivitamin tablet was also carried out, and the compatibility of Nexera XR and Prominence™ was verified.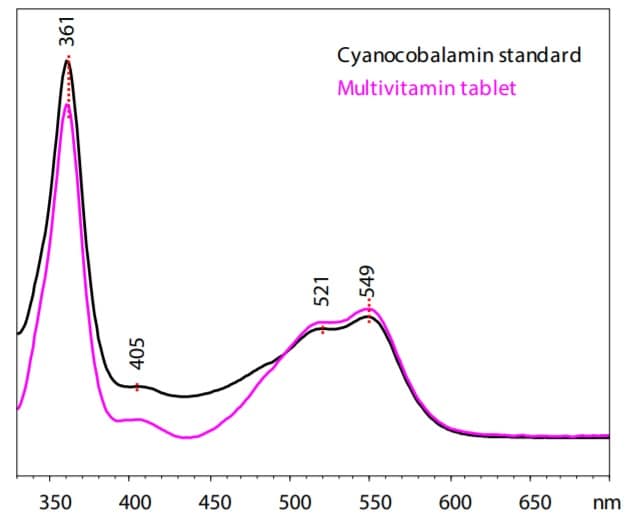 <References> 
(1) National Institutes of Biomedical Innovation, Health and Nutrition (https://hfnet.nibiohn.go.jp/contents/detail177.html) 
(2) United States Pharmacopeia 40: 7384 "Oil and Water Soluble Vitamins with Mineral Tablets Cyanocobalamin"