Project Outline of the Phase VII (2016-2018)
In efforts to further advance this dynamic joint project to manage environmental pollutants in Asia, Shimadzu Corporation and the United Nations University Institute for the Advanced Study of Sustainability (UNU-IAS) have reached an agreement to enter into the 7th phase, featuring the global monitoring of perfluorinated compounds (PFCs) in environmental water, sediment and biota samples.
The 7th phase focuses on PFCs including perfluorooctanoic acid (PFOA) and perfluorooctane sulfonic acid (PFOS) monitoring in ten Asian countries. The project's participants will collect and analyze data on PFCs with LC-MS/MS (Shimadzu LCMS-8040). The project aims to help better implement the multilateral environmental agreement of the Stockholm Convention on POPs. As part of this initiative, the project will also contribute to the capacity development of environmental monitoring, the assessment of human health and the ecosystem, and the establishment of environmental regulations and standards in the Asian regions.
Topics and Activities in the Phase VII (2016-2018)
Technical Training Workshop (July 12-15, 2016)
As a part of Shimadzu's roles for the project, a technical training workshop was held from July 12 to 15, 2016 in the Global Application Development Center of Shimadzu Corporation and Shimadzu Techno-Research, INC Kyoto, Japan. 
The workshop covered a wealth of analytical knowledge and skills necessary for PFCs analysis, from sample pretreatments for extraction of the PFCs to measurement and data analysis by triple quadrupole liquid chromatography mass spectrometry (LC-MS/MS). This phase will see an increase in the number of the target compounds to be analyzed as well as the development of a faster multicomponent simultaneous separation and detection method of PFCs in sediment and biota. This new method will shorten the instrument's run time from 30 minutes to 15 to 20 minutes per analytical run.
Sampling and Analysis Session 
Following the training workshop, each participating institute plans the sampling activity in each country, followed by a sample analysis session by LC-MS/MS (LCMS-8040) at three project's laboratories in Asia.

 Chonnam National University (Korea)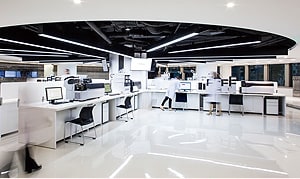 Shimadzu Beijing Laboratory (China)

Shimadzu Asia Pacific Laboratory (Singapore)
PACCON 2017 (February 2-3, 2017 in Bangkok, Thailand)
At the Pure and Applied Chemistry International Conference 2017 (PACCON 2017), the UNU-IAS will organize a special session named Persistent Organic Pollutants Monitoring and Management in Asia. In this session, the participating institutes will provide presentations of their activities in the first year of the Phase VII.