Shimadzu GC Driver for Chromeleon™ 7.2 - Features
Shimadzu GC Driver
Control Shimadzu Nexis GC-2030 and HS-20/HS-10 Headspace sampler.
The ePanel shown in the Chromeleon provides functions for the direct control of Shimadzu GC-2030 and HS-20/HS-10. It is also equipped with monitoring functions to allow system operating status to be assessed at a glance as well as a system check function for monitoring the usage of consumables by various instruments. After completing the sequence analysis, it is also possible to shutdown the Nexis GC-2030 automatically and safely by the shutdown function. As a result, this software supports total from inspection before analysis to stop of equipment after analysis Also, Shimadzu instrument control parameters are set through the method editor embedded in the Chromeleon software. These parameters are stored and handled as standard Chromeleon method files.
ePanel
Instrument Method Editor
Maximize Productivity with Optimum Sample Injection
In addition to standard liquid analysis using an AOC-20i autoinjector, the following types of analysis are also supported.
Simultaneous analysis of two lines using a dual injection system
Successive switching between liquid and headspace analysis by installing both AOC-20i and HS-20 units
​This optimal sample injection system helps maximize analytical productivity.
Using Instrument Methods for Smart Switching Between HS-20 and AOC Units
Full use of Nexis SCD-2030 features
It is possible to use features built into the Nexis SCD-2030 from Chromeleon, enabling benefits such as:
Reliable analysis thanks to excellent stability and high equimolar response
Higher productivity due to various automated features and superb ease-of-maintenance
World-leading sensitivity in analysis
Experience world-first automation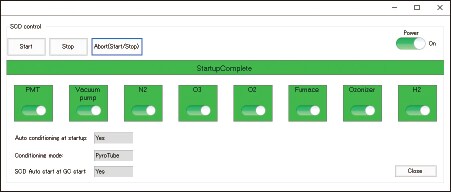 Compared to other general GC detectors, SCD detectors have many units that need to be controlled, and complicated procedures are necessary to prepare for analysis. The Nexis SCD-2030 is equipped with various automated functions to reduce the time and labor required for such procedures.
For example:
Auto-startup and -shutdown
Steps required for system startup such as vacuum pump startup, gas control, temperature control, and conditioning are carried out automatically, simplifying analysis preparations. It is also easy to check the status of the SCD detector or the usage data for consumable parts.
Automatic conditioning
The user can easily set up and run automatic conditioning to support a high-sensitivity analysis, ensuring the best performance. Automatic conditioning can also be run when restarting the device after replacement of the inner pyro-tube.
Through the automation of manual procedures, the Nexis SCD-2030 supports a more efficient workflow, and can reduce the possibility of damage due to human error.
Downloads
Download the latest brochure.