Portable functional Near-Infrared Spectroscopy System for Research
Real-Time Data Transfer Software
This supports biofeedback with the subject and brain-machine interface (BMI) to control external devices by transferring measured data to another PC in real time.
Video Recording Software
Records synchronized video images of a subject's body movements and artifact accompanied the movements during measurements by USB camera.
3D Position Measurement System Magnetic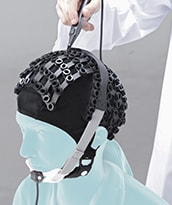 Attach the fibers to measure three-dimensional information. This is an indispensable item to achieve highly reproducible measurements.
MRI Fusion Software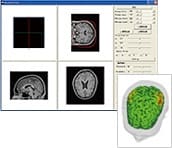 Map images based on 3D information can be displayed over individual MRI images. Using a whole-head FLASH holder permits seamless mapping of the entire brain.