Long-Travel Extensometer for Soft Materials
1000 mm Maximum Movement Distance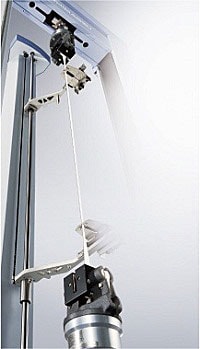 The DSES-1000 can measure elongations up to 4000% for gauge lengths of 10 mm, 2000% for gauge lengths of 20 mm, 1600% for gauge lengths of 25 mm, or 1000% for gauge lengths of 40 mm.
A floating arm mechanism (patent pending) ensures tests can be performed reliably without the arms disengaging from samples.
±0.2% Relative Elongation Measurement Precision
Offers ±0.2% precision for displacement measurements between 50 and 1000 mm, allowing measurement of long displacement distances can be measured with high precision.
Quick Clamping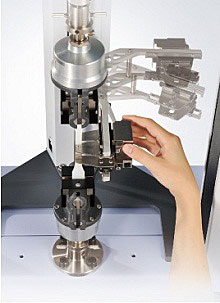 The lateral quick clamping mechanism makes it easy to center the mounted position of extensometer edge with the sample. The extensometer can also be attached to the sample first, before chucking the sample.
Note:For AG-X plus and AGS-X models, an optional left-retracting mechanism is available.
Downloads
Download the latest brochure.