Relative Specular Reflectance Measurement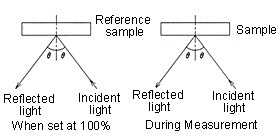 With relative specular reflectance measurement, the reflectance is calculated from the strength ratio after comparing the light reflected from the reference sample with the light reflected from the measurement sample. As shown in the figure, the reflectance of the reference sample is taken to be 100%, and the reflectance of the sample with respect to this reference sample is measured. This method is often applied to the examination of semiconductors, optical materials and multi-layer films.
Downloads
Download the latest brochure.