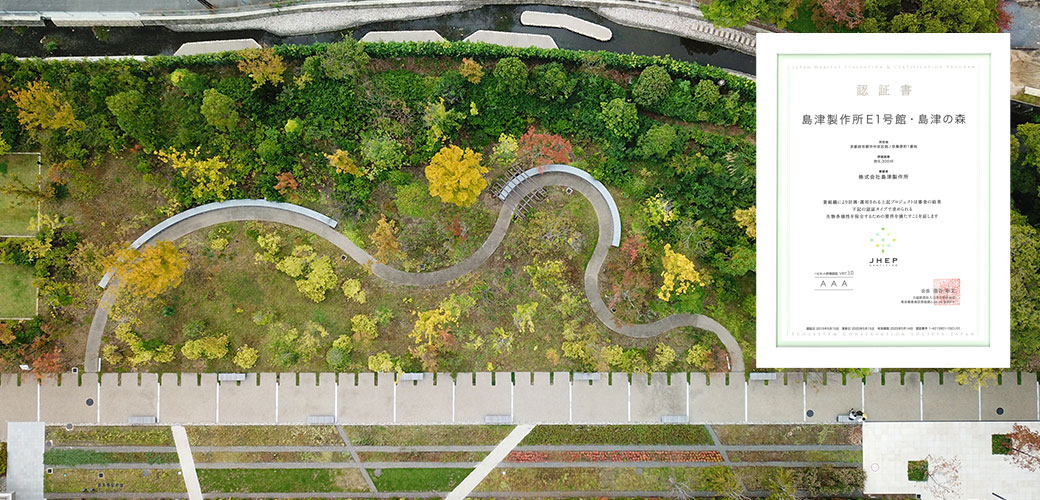 The 8,000m2 Shimadzu Forest was created in the Sanjo Works within the Head Office grounds (Kyoto City, Kyoto Prefecture) following the construction of our new Head Office building in 2014. We planted approximately 1,000 plants, and our customers and employees enjoy the area as a place to relax.
In 2015 we became the first manufacturing company in western Japan to win the maximum AAA rating awarded by the Ecosystem Conservation Society-Japan under the Japan Habitat Evaluation & Certification Program (JHEP), a system that objectively evaluates and certifies efforts to conserve and restore biodiversity. The certification was renewed in 2020 and, we maintained our AAA rating.
We preserve and nurture rare plants with connections to Kyoto. The forest also serves to bring back wild birds and other wildlife to the center of the city. The Futaba Aoi grown here is offered every year to the Aoi Matsuri, one of Kyoto's three major festivals. The Fujibakama also appears in the Tale of Genji, and each year the beautiful and elegant chestnut tiger butterflies travel from across the ocean in search of their nectar. Futaba Aoi and Fujibakama initiatives have been recognized as part of the Cooperative Project to Restore the Traditional Biology and Culture of Kyoto City under the Kyoto City Biodiversity Strategy.