Shimadzu's Measures to Preserve Biodiversity
Conservation of Ecosystem in Shimadzu Forest Within Head Office/Sanjo Works Grounds
The main measures thus far have involved summarizing countermeasures to prevent alien species that might be included in imported freight from entering the country, summarizing key points of the Invasive Alien Species Act, summarizing the appropriate procedure in the event an alien species is discovered at a port of entry, and notifying employees of that information. For suppliers not actively involved in measures to protect biodiversity, we have conducted seminars so that participating suppliers implement such measures.
Furthermore, for environmental impact assessments required for ISO 14001, we have included the impact on biodiversity as one criterion for evaluating hazardous chemical substances used within the company. Such evaluations will be used to strengthen voluntary controls on substances that have a major impact on biodiversity during mining of natural resources or emission/discharge into the environment, such as rare metals and other minerals or chemical substances that have environmental standards specified due to their impact on aquatic life.
In FY 2013, we started sourcing wood for transport packing materials from Forest Stewardship Council-certified forests and confirming that the products match the information on the certificate provided by suppliers. In FY 2016, we also started introducing certified paper throughout the company.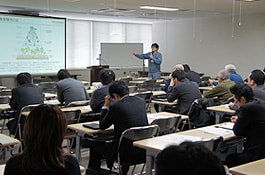 Supplier Training Workshop
The Shimadzu Corporation Forest Cultivation Activities (in Nantan City, Kyoto Prefecture), conducted continuously since 2008, provide a fun opportunity for participating new and other employees to learn about nature through protecting the forest. Through the cooperation of various outside experts, participants not only experience thinning trees, but also seeding shiitake mushrooms, holding woodworking classes for kids, enjoying making moss-ball crafts, conducting nature classes, and more. Due to the activities thus far, Shimadzu was awarded a commendation from the director of the Kyoto Model Forest Association in FY 2013 and the Kyoto Prefecture Governor's Award for promoting the Kyoto Model Forest Program in FY 2014. Also, in recognition for actively using Kitayama cedar, produced within Kyoto Prefecture, for the tables and shelves in the meeting rooms of the new Head Office building, Shimadzu also received a Kyoto Prefecture Governor's Award from a contest for using wood materials sourced from within Kyoto Prefecture in facilities.
For information about biodiversity measures in the new Head Office building, click here.
Outside Shimadzu, we conduct on-site lessons using a "bidi" card game for learning about endangered species that was created by the "Eco-Club," an environmental action group formed from women at Shimadzu.
The Eco-Club received an Excellence Award for the "Show" Category of the Biodiversity Action Award Japan
Shimadzu's environmental action group, the Eco-Club, received the excellence award for the "Show" category of the first Biodiversity Action Award Japan. The purpose of the award is to help promote biodiversity as a mainstream issue by recognizing activities consistent with the declaration of five actions promoted by the Japan Committee for the United Nations Decade on Biodiversity (UNDB-J), namely eating, feeling, showing, conserving, and selecting. UNDB-J is a Japanese organization established in accordance with the UNDB resolution adopted at the 65th Session of the United Nations General Assembly (in 2010 at the United Nations Headquarters in New York).
The Eco-Club is a team of mainly women from Shimadzu established in 1999 to create environmental teaching tools and conduct on-site environmental classes not only at work, but also for children, from the perspective and sensibility of women. In 2007, the club created a card game based on the theme of biodiversity called "bidi," which allowed for learning about endangered species while having fun. The award was presented to recognize their many years of actions and contributions to ongoing environmental education.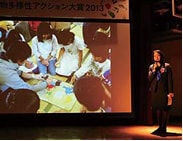 Animal Watching Event in the Shimadzu Forest
I had conducted a survey of organisms living within the Head Office/Sanjo Works property as a natural environment consultant before and then I cooperated with a nature observation tour of the Shimadzu Corporation Forest in Nantan City (in November 2016).
Unfortunately, because of the light rain and low temperatures, not very many insects or other small animals were visible, so I talked mostly on plants, topography, geology, and how they related to people's lives. My talk covered the interconnectedness between different living things and between people and other living things and even covered historical and cultural aspects, in an effort to promote an awareness of biodiversity and protecting ecosystems.
The Shimadzu Corporation Forest provides plenty of great opportunities for explaining how humans are connected to other living things. Particularly impressive were the many signs of Japanese deer impacting the forest, such as the clear deer line created by deer eating the leaves, twigs, and other vegetation up to a height they can reach, marks from rubbing antlers against trees, and deer droppings. Such impacts have become a problem throughout Japan, the Shimadzu Corporation Forest in Nantan City being no exception, and should be addressed with concrete countermeasures in the future.
Employees and experts need to discuss shared goals for what the forest should look like 10, 20, and 50 years in the future and then consider and implement a menu of activities for achieving those goals. I hope that the forest could be alternatively used for even more meaningful activities by using it as a forum for communication with other community members or for environmental education.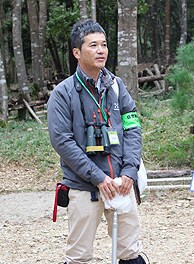 General Manager, Osaka Branch, Regional Environmental Planning, Inc. Satoshi Kamisaki,
Shimadzu Forest Within Head Office/Sanjo Works Grounds
This 8,000 m2 green space within the Head Office/Sanjo Works grounds is the first site of a manufacturing company in western Japan to earn the maximum AAA ranking by the Ecosystem Conservation Society-Japan under the Japan Habitat Evaluation & Certification Program. Planted with mainly native species, the forest helps form a regional ecological network.
The forest also started fostering and preserving an ecosystem closely tied to the development of traditional culture in Kyoto, such as Futaba-Aoi (asarum caulescens) provided for Kyoto's Aoi Matsuri Festival and, starting in 2017, Chimakizasa (sasa plamata), and Kikutanigiku (chrysanthemum seticuspe)*. These efforts were even designated as an official Cooperative Project to Restore the Traditional Biology and Culture of Kyoto City, based on the Kyoto City Strategy for the Conservation and Sustainable Use of Biological Diversity.
* Historically used in Kyoto festivals, for example, it is a rare plant at risk of extinction.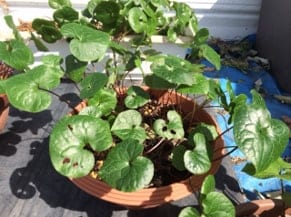 AFUHI, called "Futaba-Aoi" in Japanese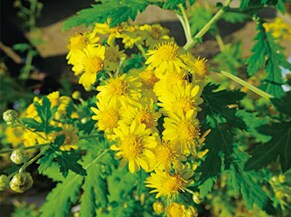 Kikutanigiku Growing in the Shimadzu Forest
The United Nations University Environmental Monitoring Project (1996-2018)
We supported the United Nations University's environmental management project - Monitoring and Management of Persistent Organic Pollutants (POPs) in Asia - implemented from 1996 to 2018. The project aimed at providing scientific knowledge and developing technical capacity for environmental monitoring of Persistent Organic Pollutants focusing on hydrosphere in East Asia.
The monitoring of perfluorinated compounds in the environment – water, sediment, biota and drinking water – have been conducted in ten Asian partner countries – China, India, Indonesia, Republic of Korea, Malaysia, Pakistan, Philippines, Singapore, Thailand and Vietnam – under the Phase VII (2016-2018) of the project.
We offered our environmental analytical technologies, methods and know-how, providing High-Performance Liquid Chromatograph-Mass Spectrometers, and contributed to analysis of target compounds and capacity development of the participants.
The United Nations University encourages the partner organizations to prepare survey report based on the analytical results for the Secretariat of the Stockholm Convention on POPs. The overall project's contribution is not only with respect to the Stockholm Convention on POPs, but also in the context of the implementation of the United Nations 2030 Sustainable Development Agenda and the Sustainable Development Goals.

Details
https://www.shimadzu.com/an/news-events/unu-ias_project/overview.html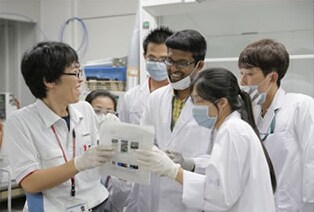 Planting trees around the world
Shimazu Group engages in tree-planting activities on a global scale.
[Germany]
Shimadzu Europa GmbH (Germany) planted 1,500 trees in a forest area with a 18 km hiking trail in Duisburg in December 2018.
The social day, at which Shimadzu employees support social projects, has become a tradition within the company since 2013. Once again, volunteers have been actively involved in their community.
The 1,200 young European oak and 300 sweet chestnut, little-leaf linden and hornbeam have been selected to fit the natural tree species spectrum, growing well in the sandy soil. Forests with these indigenous trees serve as a habitat for many rare and endangered animals, plants and fungus species. Additionally, oak and linden trees are particularly long-lived, so future generations will also enjoy this biotope.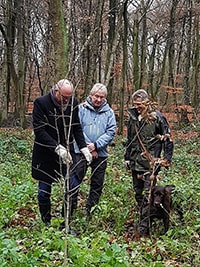 [China]
China-based affiliates of Shimadzu, 8 companies, have been participating in "Mother River Protection" program collaborated with China Youth Development Foundation since 2010. This program aims to protect river and soil environment, and promote restoration of local vegetation and forestation in the Yellow River and Yangtze River basins. To date, this program has carried out afforestation activities on a total area of 3.63 million square meters.