Issues related to the environment, food supply, and energy are becoming commonplace in the 21st century. Now more than ever, there is a desire to use biotechnology as the key to building an environmentally-friendly and sustainable social system. Bioresource engineering is the study of biological resources at the core of biotechnology. It involves discovering techniques and technologies for evaluating their practicality, and developing applications for such resources. With metabolomics as a core competency, we are working together with corporations to build the systems required for the next generation.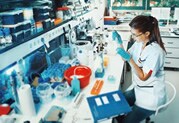 Metabolomics, which is the comprehensive analysis of metabolic products generated within organisms, is the newest "omic" field created within post-genomic sciences (sciences based on information from the comprehensive analysis of metabolites). Metabolomics has attracted considerable interest as a promising means of understanding fundamental biology and elucidating the function of genes with unknown functions. Furthermore, it may also be useful for molecular breeding of industrial microorganisms. Metabolomics, which involves a mixture of life sciences, organic chemistry, analytical chemistry, and information science, has only just started in terms of developing technologies and operating methods. Therefore, we are developing new technologies for metabolomic data analysis systems and researching new operating methods.


In an effort to promote a deeper alliance with industry, Osaka University has created a corporate-like atmosphere within the campus, based on the concept of "Industry on Campus." The Joint Research Course programs at Osaka University are research partnerships with private sector companies established for the purpose of achieving superior research results. These research programs involve faculty from the university working with researchers from a sponsor company, on an equal basis, to jointly research issues of mutual interest. The Joint Research Course system started in 2006 and currently includes over 30 courses. The system is intended to achieve different results from those from more conventional joint research programs or endowed courses. The courses are established as independent research organizations within Osaka University, where the university and the sponsor company can freely collaborate to flexibly and quickly work on research activities.
With mass spectrometers as a core product line of our business, Shimadzu Corporation is committed to helping resolve the growing number of social needs and issues related to mass spectrometers. With a very broad scope of potential applications, such as food products, healthcare, pharmaceuticals, chemicals, and the environment, it is important for us to develop analytical methods and applications that are optimized for each target field. However, the conventional approach of developing methods and applications internally is not adequate for meeting the diverse new customer needs. Therefore, we decided to partner with Osaka University in their Joint Research Course programs. By working with Osaka University to solve new and evolving societal problems, we are committed to giving back to society.