Customer's situation
In the assembly of spectroscopic analyzers using diffraction gratings, stray light and photometric range inspections are sometimes failed. In that case, extra costs such as reassembly and additional components are incurred.
The failures were caused by individual variation in diffraction gratings.
To solve this problem, they were considering measures.
Advantages of Shimadzu products
★Advantage1: Extremely low stray light gratings
Our diffraction gratings are manufactured by replicating with high precision from the master gratings with extremely low stray light which are made by holographic exposure method.
Our gratings have been well rated for their low stray light and have been contributing to the performance improvement of many kinds of spectroscopic analyzers.
We have its own Laser Stray Light Measuring System and can also provide diffraction gratings with guaranteed stray light values.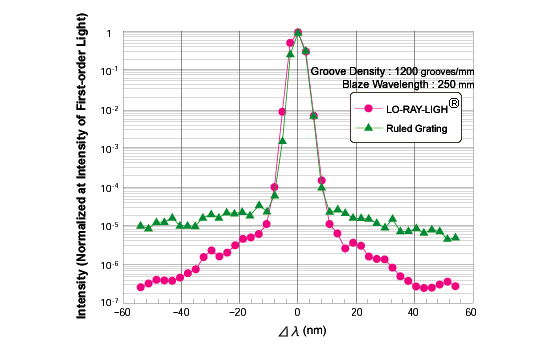 The light intensity at vicinity of first-order light of LO-RAY-LIGH®
★Advantage2: High diffraction efficiency with less variation
Our blazed holographic gratings are High diffraction efficiency with less variation. Therefore, they are suitable for spectroscopic analysis.
We have our own diffraction efficiency measuring equipment and can provide diffraction gratings with guaranteed efficiency.
*To find out more about Shimadzu blazing techniques, click here.
Benefits by using Shimadzu products
Inspection failures and rework were eliminated in the assembly process because Shimadzu gratings are "low stray light" and "high diffraction efficiency".
As secondary benefit, the quality stability and measurement accuracy were improved.
Customer's feedback
We had been thinking that the holographic gratings is the same level of stray light regardless of the manufacturer.
Replacing with Shimadzu gratings has eliminated the rework, and our production department are happy with it.
We would like to adopt Shimadzu gratings in our other analyzers.