Australia uses Japanese "snow" to treat heart patients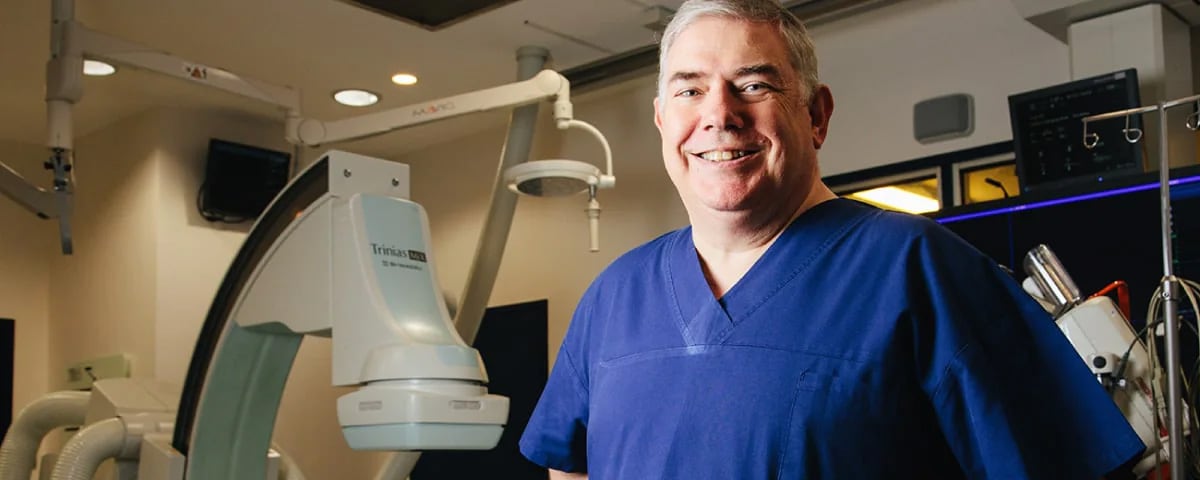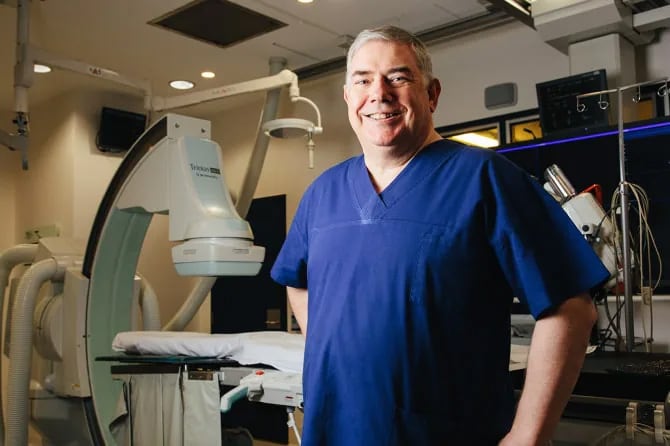 Too often, medical errors result from clinical staff having insufficient or incomplete information about their patients. Austin Health in Melbourne, Australia is working with Shimadzu to build a new digital system called Yuki that will provide precise, real-time information about patients undergoing heart procedures, alerting staff of anticipated problems.

Doctors have more data about their patients today than at any time in history, and this trend will only continue with better diagnostic tools and better understanding of diseases. Electronic health records are making patients' records readily available to hospitals across cities if not countries, and personalized medicine aims to provide a comprehensive description of the patient all the way down to each cell and gene. To help realize higher quality personalized medical practice, Dr. Mark Horrigan has partnered with Shimadzu to create a smart data management system called "Yuki", which he envisions will bring better, safer and cheaper care.
"'Yuki' means 'snow' in Japanese. Snow is like a blank canvas, which is how we felt when we started this project," he says.
Dr. Horrigan has especially seen the need for Yuki in the catheterization laboratory, or "cath lab", he directs at Austin Health in Melbourne, Australia. Some patients will visit the cath lab to have their heart and vasculature evaluated, while others need further intervention to correct narrow arteries or defective heart valves. Whatever the reason, the doctor will pass a catheter into the patient's blood vessels through the arm or groin all the way to the heart. In rare cases, the patient may suffer from bleeding or blood clots, but in general the patient should leave in no worse condition than as if visiting the dentist. However, research has repeatedly shown that catheterization procedures can leave patients with damage to completely different organs, namely, the kidneys and skin 1.
This damage is caused by the contrast agents and X-rays used during the procedure, but the damage has no immediate symptoms, and the patient is discharged before they or the clinical staff are aware of any trouble.
"Can't see it, can't feel it, don't worry about it," is how Dr. Horrigan puts it. "We found we were injuring far more patients than we imagined." The result was patients coming back weeks or months later suffering from renal dysfunction, and we were not following up on patients after high doses of radiation with the risk of subsequent skin burns.
Optimizing Data for Best Patient Care
The reason was quite simple. Clinical staff were often unaware of exposure levels to contrast agents and radiation until after the case, instead relying on standard tables that tend to generalize patient care. During a trial at Austin Health, Dr. Horrigan had his team meticulously record the amount of contrast agent that was infused into every patient during the procedure and how much remained at the end, and found that by simply increasing awareness of dose, the number of cases with complications was reduced by two-thirds.
These findings convinced Dr. Horrigan that staff were not routinely informed of the patient's condition. The solution was easy to conceive; he wanted an automated, smart system that would stay updated of the patient's condition in real time. However, building it was another matter, which is why he contacted Shimadzu, with whom he has partnered for 16 years, taking his proposal directly to Shimadzu CEO Teruhisa Ueda.
"Shimadzu has a broader focus than most companies. The mission of the company is to enhance people's lives through science. I think it is a fantastic and appropriate step for Shimadzu to move beyond imaging and become involved in other aspects of quality patient care," says Dr. Horrigan.
The result is Yuki, an interoperable platform that provides high quality health care, minimizing redundant and unnecessary information for clinical staff and alerting them immediately if a procedure is on the verge of falling outside safety thresholds.
"Quality, safety, efficiency," replies Dr. Horrigan when asked what Yuki delivers. "We need a system that contains all the information. No more. No less."
Yuki is designed to give clinical staff the best information for patient care. Rather than bombarding the staff with all the patient's records, Yuki will only give information relevant to the procedure, be it a pacemaker, coronary angiography or something else.
Importantly, Yuki provides analytics to measure outcomes and evaluate performance, aiding the staff to identify inefficiencies in the treatment.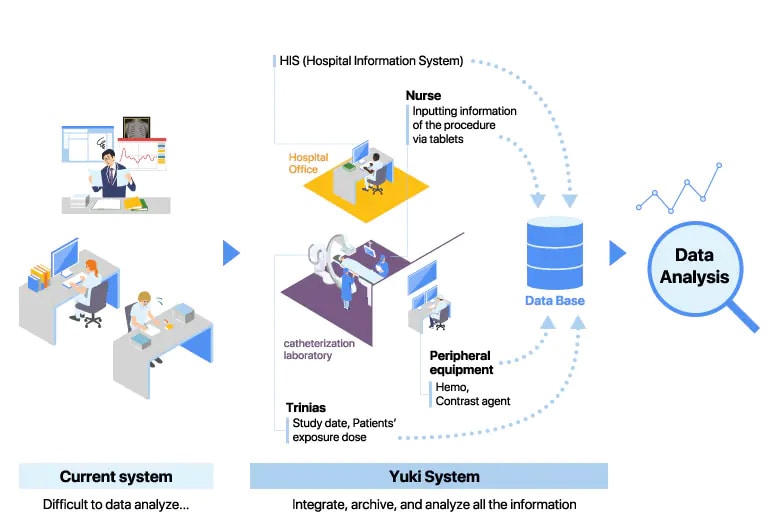 Legend: Schematic of Yuki

Yuki will "make sure we are doing the best job possible and if we aren't, to know why and what to do about it," says Dr. Horrigan.
Not Just E-health
While health care records are continuously being digitized, much of this simply involves scanning hand-written information, much like taking all the books in a library and collecting image data by scanning them. This fails to integrate digital information to support best practice.
The best systems available at present tend to be paper-based, with staff checking lists to make sure nothing is missed in patient care. However, current systems have no intelligence to assist the staff in the decision-making. Rather, staff must parse through the information on their own, which is why there is tremendous variance in the quality of care.
"Traditional systems provide documentation for medical records and are useful for administrative purposes," says Dr. Horrigan, but they do not actively work to improve patient care.
Yuki, on the other hand, will constantly monitor radiation and radiocontrast dosage, processing questions like how did patients develop renal failure or high radiation doses? How much contrast agent did they receive or radiation exposure did they have? Which patient demographics are most vulnerable to these injuries?
Reports by Dr. Horrigan and colleagues have shown that a crucial determinant in renal dysfunction is not the contrast agent used, but the condition and demographics of the patient 2. In other words, one should not assume a safe dose of contrast agent is the same for all patients. Similar research with radiation exposure is on-going.
Such calculations are not trivial for staff members, but according to Dr. Horrigan are exactly the kind of tasks upon which Yuki will thrive.
"We want to create an interactive software platform that facilitates best practice, that makes sure the system is tailoring the procedure and documentation to the patient's particular needs," he says.
* Affiliates and titles of the persons mentioned in this article reflect their status at the time of the interview.
References
Brown JR, et al. (2016) Chronic Kidney Disease Progression and Cardiovascular Outcomes Following Cardiac Catheterization-A Population-Controlled Study. J Am Heart Assoc 5(10).
Chua HR, Horrigan M, McIntosh E, & Bellomo R (2014) Extended renal outcomes with use of iodixanol versus iohexol after coronary angiography. Biomed Res Int 2014:506479.
Copied