The Most Important Thing: Communicate in a Way That Is Easy to Understand
A Lung Specialist Talks about the Past and Present State of Diagnosis and Treatment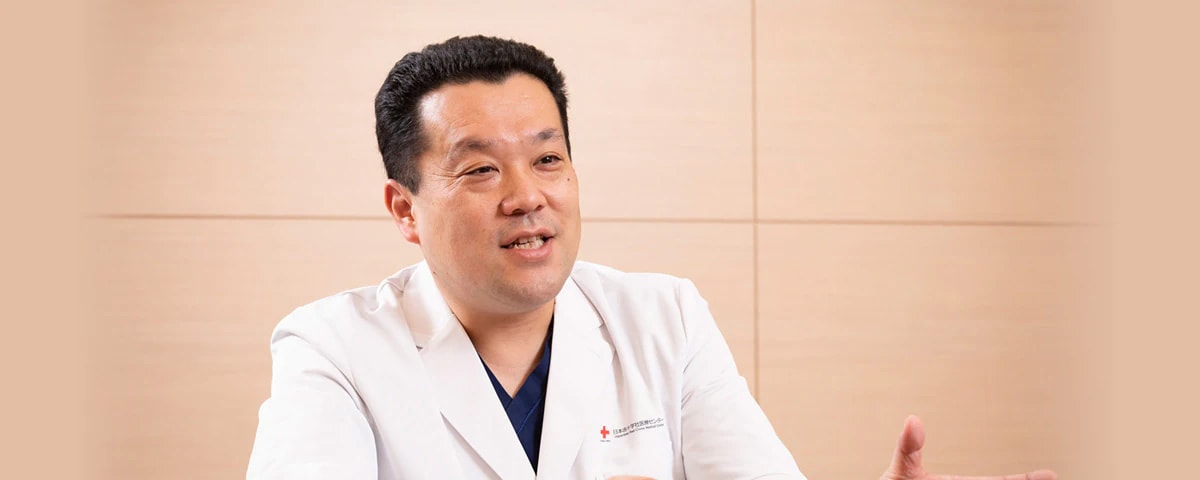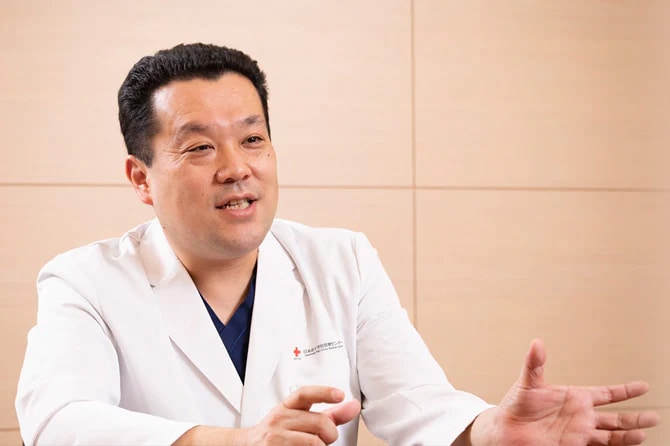 Dr. Takehiro Izumo, Department Director at the Japanese Red Cross Medical Center, has been at the forefront of testing and treatment as a physician and a lung specialist.
Dr. Izumo tells us that his most important job is to communicate effectively.
I Want to Work with People
"I originally wanted to go into the humanities," says Dr. Takehiro Izumo, Director of the Department of Respiratory Medicine, Japanese Red Cross Medical Center. "I've always liked to interact with people, and thought that I would become a lawyer or a diplomat, or something like that."
Dr. Izumo answers any question with a friendly smile and humor, in a way that is easy to understand.
"I think that the discipline of the physician is in the humanities, rather than the sciences," says Dr. Izumo. "Why, you ask? Because when you're interacting with patients day-to-day, you can't get them to trust you unless you can explain things to them clearly, from their perspective."
With specializations including the diagnosis and treatment of respiratory diseases in general, and lung cancer in particular, as well as respiratory endoscopic intervention and care for intractable asthma, Dr. Izumo has saved many people, while working on the forefront of lung examinations and medical treatment.
Tomosynthesis Enables Low-Exposure Diagnostic Imaging Techniques
The key to diagnostic imaging of lung cancer is finding shadows called "ground-glass opacity." Because it is difficult to diagnose lung cancer using general radiography (plain chest X-rays), diagnosis using Computed Tomography (CT) imaging is now mainstream. However, CT presents time constraints, as it requires multiple X-ray images, and using CT for every examination would also increase the amount of radiation exposure to patients.
Dr. Izumo is therefore focusing on a feature called "tomosynthesis," which can be added to X-ray diagnostic imaging equipment. Tomosynthesis is able to provide dozens of contiguous image slices reconstructed from volume data produced by taking a single image, to an arbitrary depth from the chest to the back. Tomosynthesis takes one tenth the time, and exposes patients to a tenth of the radiation compared to CT, which creates a 3D image by aggregating lateral tomographic images taken from head to toe.
The use of tomosynthesis is already growing in the field of orthopedics. In the respiratory field, the utility of tomosynthesis for lung-cancer screening has been reported and Dr. Izumo has verified this using Shimadzu systems.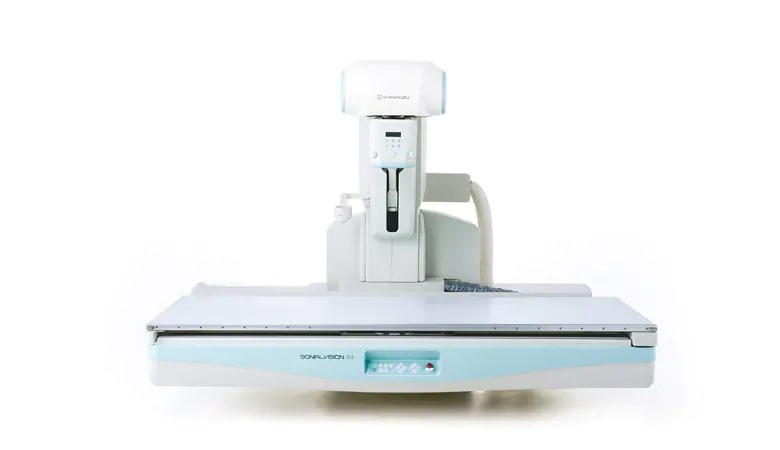 The SONIALVISION G4 LX edition X-ray imaging system is Shimadzu's latest system, equipped with an optional tomosynthesis feature. Dr. Izumo has expectations of using this feature to perform diagnostic imaging screening for lung cancer.
"If we can use this method for screening before performing a CT, we should be able to greatly reduce the burden on the patient. I would definitely like to collaborate with the manufacturer to increase the case studies for diagnostic imaging and to add diagnostic support using AI."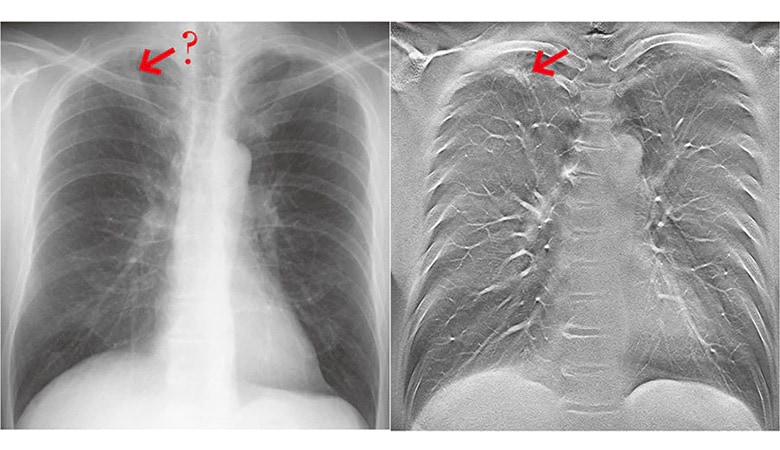 The image on the left shows a plain chest X-ray; the image on the right shows a chest image using tomosynthesis
* The image on the right was taken using the SONIALVISION safire series.
From Testing for Diagnosis to Testing for Treatment
Meanwhile, the non-surgical treatment of respiratory cancer has seen great progress in recent years. Genes and their associated mechanisms for triggering and suppressing cancers are continually being discovered, and a large number of molecular-targeting drugs have emerged that treat cancer by controlling the functioning of these genes.
"When I became a doctor 20 years ago," says Dr. Izumo, "there was unfortunately very little that internal medicine could do in terms of cancer treatment. The main drugs at the time were chemotherapy drugs that had to be taken with the expectation of severe side effects. Today, we are able to offer patients effective drugs that are tailored to each individual: 'If you have a particular genetic mutation, then you should take this drug.' Diagnosis and treatment have come to be linked."
Dr. Izumo's former employer, the National Cancer Center Japan, played a central role in this by establishing LC-SCRUM-Japan, a genomic cancer screening project that represents a partnership between industry and academia, with members including hospitals throughout Japan as well as pharmaceutical companies. The project accelerated the development of drugs that are effective against advanced cancers. The large number of member hospitals and pharmaceutical companies makes this the largest-scale project of its kind in the world.
"Lung cancer is one of the hardest cancers to detect, as well as to treat. Even now, more than 70,000 people die from lung cancer every year. Although it wasn't previously considered possible to change this situation, through this project we have made huge progress over the past ten years, to the point where we have leapfrogged other fields."
Dr. Izumo continues by saying that the changes in treatment have also changed the significance of testing.
"Liquid biopsy is a method of checking for abnormalities in the genes and metabolites using blood or urine. It can determine not only whether someone has cancer, but also what drugs will be effective. Until now, testing was used for diagnosis; however, it has now come to be used for treatment as well. Today, we need to take a biopsy of the affected area using a needle or scalpel, and examine it under a microscope, but within about five years, we may not need to use such invasive methods for testing."
In line with this trend, Shimadzu, which manufactures analytical measurement technology and diagnostic imaging technology, is working with a research partner on advanced research and development in the healthcare field. The era where cancer diagnosis becomes possible with a single drop of blood, with almost no pain or burden on the patient, is about to be realized.
As a Respiratory Specialist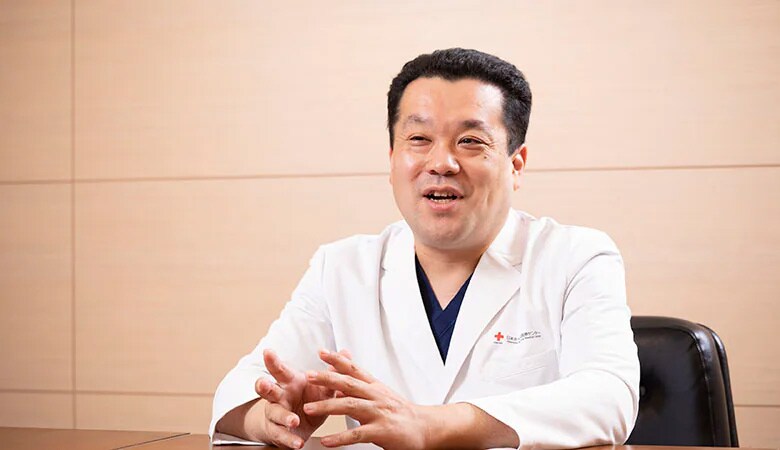 In 2020, the COVID-19 pandemic forced the medical field into a tough battle. The Japanese Red Cross Medical Center is located in Tokyo, where the dense population raised the greatest concerns regarding the spread of the virus. The center began accepting COVID-19 patients for treatment in February 2020, which is considered to have been the first wave of the epidemic. As Director of the Department of Respiratory Medicine, Dr. Izumo was on the forefront of diagnosis and treatment.
"I thought about what I could do right now; how I could help. Precisely because I'm a physician, I can communicate in a way that anyone can understand. Even amidst the COVID-19 crisis, we should have an accurate understanding of the disease rather than feel some vague fear, know what we don't have to feel anxious about, and understand what precautions we need to take against the risks. I think that is also my responsibility as a respiratory specialist."
Vaccines were developed with astonishing speed, and people have begun to breathe sighs of relief. However, Dr. Izumo tells us that this is exactly why there are still things we need to do, his face taking a tighter expression.
"Normally, a vaccine would have taken years to develop. We were actually able to develop this one so quickly because people around the world leveraged our experience with SARS and MERS, and continued to do research in preparation for the next pandemic. Throughout recorded history, infectious diseases have endangered humankind a number of times. Although the fight against COVID-19 is continuing, there is always the risk of a more dangerous infectious disease emerging in the future. We are forgetful creatures, so we need to take the memory of this pandemic as a lesson, keep a record of everything, and make it accessible to anyone. This of course goes for us physicians, as well as for companies, the media, and nations. We will do the best that we can right now for the patients of the future."
* This article is an English translation of our article originally published on the website "Boomerang". The information, including affiliates and titles of the persons in this article, are current as of the time of interviewing.
Copied